Categories:
African Boxing
,
Cruiserweights
|
Comments Off

on Emmanuel Nwodo Training Camp Notes
EMMANUEL NWODO TRAINING CAMP NOTES
HE MAKES HIS FIRST USBA CRUISERWEIGHT TITLE DEFENSE
Baltimore MD, (June 27, 2006) Right in the middle of inner city Baltimore lies the graffiti like painted and spacious Mack Lewis boxing gym opened with much fanfare in 2002 and named after the owner who once trained former middleweight champion Vincent Pettaway and Reggie Gross. Adorning its walls are posters of long forgotten fights of local legends. Occassionally Baltimore's best products like former heavyweight champion Hasim Rahman and others have found their way into its confines to train.
The reputation of the gym added to my determination to go there and interview the newly crowned and almost unknown USBA cruiserweight champion Emmanuel Nwodo, a new name making waves in the DC metro area and currently ranked number 10 by the International Boxing Federation (IBF). That in itself was something but he is now scheduled for a clear the decks showdown in the DC/MD metro area against hewn from granite Darnell Wilson the recent conqueror of former champion Kelvin Davis in an ESPN covered fight at the St. George Theater, in Staten Island, New York USA.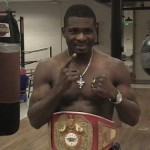 Inside the gym I found Nwodo training team composed of the bespectacled Wilson Mcklinney the head coach and Kenny Blackson already going over the game plan for the final preparation of the champion before his trip to New York for this fight. the biggest and most highly publicized fight of their careers so far judging by the weight class of the champion. Both trainers have a combination of twelve year experience mostly training the teeming ranks of rugged inner-city kids from the streets of burstling Baltimore. There was some light chatter and whispers about certain sparring partners complaining of the punishment they were receiving from Nwodo. And Wilson had everybody roaring with laugher when he proclaimed " He's (Nwodo) gonna beat the breaks off of him (Wilson)", pointing out to me about Nwodo sensational kayo of Imamu Mayfield.
With knockout dreams on his mind the champion stormed into the gym and went straight into the dressing room and appeared a few seconds later. There was further laughter in the air when he was conversationally informed about his sparring partners complaints about the punishment he had been dishing out. A brief training outline was delivered by the team and suddenly Nwodo's intense workout began starting with almost 12 rounds of skipping rope and shadow boxing. This was followed by a few rounds of working the pads with Blackson. So loud were the sounds of jabs and straight rights connecting to Blackson's padded hands that I feared for his wrists, he later admitted to me that he used to have all kinds of pains when he initially started receiving the blows from Nwodo, but he had now somehow gotten used to it, but it still hurt. The champion eventually scaled down this light workout according to Mcclinney for some neck strengthening exercises. and he was done and ready to talk to me, his eyes electric with thoughts of Darnell Wilson.
Nwodo has an interesting background for most fighters of Nigerian heritage being that he had no Olympic experience, but he was educated in India and had his first of several professional fights in Kenya, including once fighting for the African Boxing Union Heavyweight title only to suffer the ignomy of having the fight stopped in the 5thround after suffering cuts and being awarded a loss by the extremely hostile referee and partisan judges as he would point out to you with a slight trace of professional bitterness.  Since coming to the United states he has gone unbeaten in ten fights, including adding former cruiserweight champion Imamu Mayfield to his collection of victims. Here are a few excerpts from our quick conversation –
How long have you been training for this fight
Honestly, not just because of this fight but I have been training consistently for over a year, it is great that Darnell is fighting me now. I am ready
Interesting how did this fight get made
He really had no choice. You know several fighters have been ducking me. But now that I have the USBA title, they have no choice. Wilson had to fight me due to his lucky win over Kelvin Davis made him the number one challenger for my belt. (he smiles sinisterly as he fingers the belt)
How is your training camp coming, how do you typically prepare for a fight
I train for all my fights like it is my very last fight, it does not matter who I am fighting, and I am right now in the best shape of my life.
What was training like overseas
I really did not have great facilities in Africa and India but I when I was in England I trained at the Henry Cooper and at the Lennox Lewis gym in London and sparred with my good friend Howard Eastman, I had a wonderful time training in the UK.
How do you like fighting in the States
When I finally got here I had not fought for over two years, and I guess I was being picked on because I was supposed to have ring rust having not fought that long. But that is the worst mistake the made cause it gave me time to rest and take it out on my opponents, the more time you give me the stronger I get. You know since coming to the US, I have improved tremendously, I have won all my 10 fights by knockout, the only fight I had that went the distance I broke my hand.
What's your game plan to beat Darnell Wilson
As you can see I have been training very hard. This is my first US TV fight, and I am gonna put on a show. People know Darnell, the know about his heavy hands, but they don' know what I can do, people haven't seen my fights to know about me but the should ask around. I am the bigger man here. The world of boxing will find out about Emmanuel Nwodo on Friday. I am the King of the Cruiserweights, I cannot predict when I will knock him out, but whatever he does and however the win comes will be fine with me
Are you ready to go the distance
"I am ready for 15 rounds" (he retorts in righteous indignation)
Who do you want to fight if you get through Wilson
I have been getting promises that after winning this fight I will get a title shot, since I am rated by all the organization. The IBF called me for a title shot just three days after by win for the USBA belt, but I had an injury and had to pass, but hopefully I will get another shot. I don't care who the person is, be it Mormeck, Enzo Maccarilli, Steve Cunningham, I will fight anyone who give me a title shot
How has the USBA taken care of your preparation for this fight
My promoter is taking care of my expenses, me, myself and my team all chip in
What was your biggest purse
So far my fight against Richel Hersisia in Denmark was my biggest purse (checks watch)
What would you like to tell your fans
Nobody should miss this fight, this is one gonna be one of the greatest fights in the cruiserweight division cause you have two punchers ready to collide and ready to go. The should come to this fight and never blink, because it could be over in a minute. I will give the fans what the want, nobody is gonna ask for their money back on Friday. The world will know Emmanuel Nwodo
Good Luck champion
The fight is scheduled for 10PM ET/7PM PT on 6/29/07 on ESPN
Related Articles: