Categories:
Featured Article
|
Comments Off

on American Heavyweight King Search Continues- Johnathon Banks Stops the Mitchell Express Train
By Michael Amakor | December 2, 2012
If you are an American boxer, a couple of brutal knockout wins in the Heavyweight division can quickly get you proclaimed the next great phenom by an American boxing public anxious to see an exciting new protégé fill in the void left by Iron Mike Tyson.
Better still, if you are undefeated you'll field a whole bunch of questions and be interviewed by media outlets both small and large trying to feed off your buzz, and if you have an interesting story line, you may even get your story aired on HBO who'll run your story and feature highlights of your knockouts so often, you'll grow a legion of new fans and boxing experts predicting that you'll be the next great undefeated American Heavyweight to unify all the titles and bring them back home to America.
So was the curious case of Seth "Mayhem" Mitchell (25-1-1, 19kos) a former middle linebacker for Michigan State with a promising career that once saw him make 17 tackles playing against Ohio State, including leading the Spartans in conference play with 10.6 tackles a game but who was forced out of football after a series of injuries. However to his credit, he went on to graduate with a Bachelor of Arts degree in Criminal Justice and Security Management from the same school, before discovering and focusing on boxing. He turned professional in 2008 after a very brief stint as an amateur and went right on to knock out 19 heavyweights in just 25 fights.
They expectation was that if he continued his knockout streak he would be ready for a title shot against one of the German based Ukrainian born Klitchsko brothers the current world champions holding between them all of the major belts (the IBF, WBA, WBC, WBO, and IBO) and who have dominated the heavyweight division for nearly a decade knocking out all manner of ill-prepared American opponents, in just 2013! Great Expectations to say the least.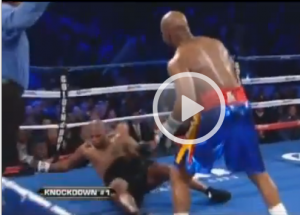 However those expectations got shockingly derailed by underdog Jonathan Banks (29-1-1, 19 ko's) who knocked out Seth Mayhem in just the second rounds to seize his WBO NABO heavyweight champion while picking up the vacant WBC International heavyweight belt to boot, the logical first series of steps in the plan for Mitchell to begin his campaign towards challenging for the world title.
If not for the all the hype surrounding the Seth Mitchell express train, unheralded Jonathan Banks a former Cruiserweight and heavyweight regional titlist might not have been perceived as the underdog, especially when you might have had to factor in his 15 years of experience in the fight game that has seen him win golden gloves and going undefeated in his last five fights including serving as an assistant to the late Emmanuel "Manny" Steward one of the best trainers in boxing who passed away just a few weeks ago.
But so goes the game in boxing once a fighter is viewed as the underdog, doubly difficult for the fighter if he does not have the TV networks, and the connected promoter or manager behind him. The fighter is usually forced to eat humble crow and will try to maintain his composure during pre-fight activities, hold his tongue when all the questions are mostly directed and monopolized by his opponent, and try not to lose his temper through it all especially if he has self doubts. Such a course might be the safe attitude to adopt so as not to provide more sound bites to be used if he gets knocked out badly and is featured in his opponents highlight reel of knockout victims certainly to be featured on HBO.
Most times a fighter in this position is too stunned or just too tired to care at how he has been manipulated into a situation where he is outnumbered by forces working against him.
So appeared to be the case for Johnathon Banks in some respects, but he carried on with his hectic schedule of dealing with the demise of his trainer Manny Steward, too being shoed in as the trainer for Wladimir Klichtsko for his successful title defense in Germany after Stewards sudden demise, and after that coming off that exhausting high profile assignment into a ring at the Boardwalk Hall in Atlantic City New Jersey to give Seth Mitchell the shock of his professional career on November 17, and perhaps in retrospect after it all, stated;
"I was very motivated for this fight. and reiterated his new status" I'm not just an opponent" something boxing is sure to remember after such a dominant performance. In his brutal post fight assessment, Seth Mitchell said "I got a little reckless and he capitalized on my reaching, countered and he (Banks) did what he was supposed to do.
And that is exactly what happened. After winning the first round, Seth was connecting with a couple of overhand rights and one particularly hard body shot that backed Banks against the ropes, he lunged in with an overhand right which missed widely throwing him off balance and allowing Banks to immediately go into counterpunching mode strafing and grazing Mitchell on the chin sending him crashing down to the seat of his pants on the canvas.
Seth beat the count, but Banks kept the fight close and connected with more inside overhand combinations, Seth briefly tried to seize control when he got the opportunity to bang against Banks body while he was on the ropes, but Banks counter-punched with some quick and sharp combinations that began connecting and sent Seth Mitchell hurtling down to the canvas for the second knockdown.
Seth beat the count, but was clueless on how to slow Banks down as he got swarmed by more frantic inside crosses and combinations that discombobulated him before the final clean cross hit his chin sending him crashing into the canvas yet again. This time the referee Eddie Cotton who had previously warned Mitchell to "show me something" after the second knockdown had now seen enough and stopped the fight, prompting the dazed Seth Mitchell already half up to his feet to crash back down into the canvas in defeat.
Typical of a fighter with a lot of backing behind him a still confident Seth Mitchell confidently stated, "I want to get back to the drawing board." and "Don't feel sorry for me, feel sorry for my next opponent" he eloquently added while responding to another question.
But now that the method to beat him has been so vividly highlighted and with his mystic now gone, he may find it difficult to intimidate seasoned fighters who would convince themselves that they could take advantage of his perceived limited boxing survival skills even though he packs a power punch, Mitchell in the end may be the one who ends up feeling sorry for himself.
Johnathon Banks on the other hand was perhaps certainly on his way to being pressured by the boxing media to give up his heavyweight dreams into becoming a full time trainer if he had lost, is now in the precarious position of being in line to face one of the Klitchsko brothers, team mates he has sparred with and mates he has trained in one form or the other in a curious game of musical chairs.
"Yes", I know how to fight the Klitchsko brothers" he said in response to a question with a chuckle shared by the spectators, but whether he is interested in that assignment or really believes he can win either of those fights is a matter for debate despite his destruction of Seth Mitchell.
Related Articles: