Posted by George Hanson., Jr Esq. on Oct 5, 2015

Categories:
Featured Article
|
Comments Off

on Friday, The Thirteenth —Sosa Pummels Pazos, Gonzales Beats Belasco by George H. Hanson Jr., Esq.
 Date:                      Friday, October 2, 2015
Venue:                   2300 Arena – Philadelphia, PA
Promoters:              Joe Hand Promotions, Peltz Boxing & BAM Boxing Inc.
Ring Announcer:       Alex Barbosa
Referees:               Hurley McCall & Gary Rosato
Coverage:               www.gofightlive.com
Photos:                   www.christoneyphotography.com
On a rainy Friday afternoon, fans filled 2300 Arena for another slice of the sweet science billed as "The Puerto Rican Boxing Classic" featuring Camden's junior-lightweight sensation Jason "El Canito" Sosa (17 wins – 1 loss – 3 draws – 12 kos) in the main event going for his 13th consecutive knockout. Sosa has been rapidly rising through the ranks since two-consecutive draws with Philadelphia's Angel Ocasio back in 2012. He is riding a 13-fight win streak with the last twelve ending via knockout including a first round stoppage of world lightweight title challenger Jerry Belmontes in his last fight on August 15th in Puerto Rico. The Puerto Rican fighter has skyrocketed into title contention and his opponent—Jorge Pazos (14 wins – 8 losses – 1 draw – 8 kos) of Guamuchil, Mexico—was merely cannon fodder for him to display his pugilistic prowess. Pazos' career is at the other end of the spectrum—a five-fight losing streak dating back to August 2012.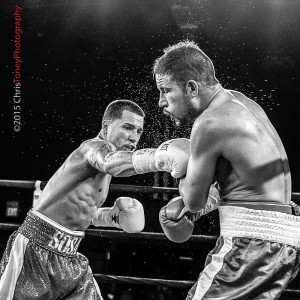 Sosa (L.) lands the right.
True to form, Sosa attacked at the opening bell whacking away at Pazos' head and body while walking him down like a Sherman tank. Pazos returned fire sending a message that despite his less than stellar dossier he wasn't here to take the path of least resistance and collect a payday for simulating a human punching bag. The Mexican fought back and stood his ground. But, Sosa was simply too strong and his body attack took a toll on the tough fighter as his left eye was swelling in the third round and a left hook had him reeling at the bell. Pazos pulled out his Schwinn ten-speed in the fourth round and pedaled around the ring with Sosa in hot pursuit landing consistently. The fifth round should have been scored 10-8 in Sosa's favor because he pummeled Pazos from pillar to post. The ringside doctor visited Pazos' corner at the conclusion of the round.
Pazos should have been affordedthe dignity of not being allowed out of his corner for the sixth round. He had fought to the best of his abilities and was simply outgunned. But, his handlers sent him out for the sixth round of the scheduled eight-rounder for the inevitable. Sosa immediately landed a combination that turned Pazos sideways and connected with two vicious left uppercuts that sent him genuflecting on one knee as though Pope Francis had just entered the building and he was preparing to panegyrize the Pontiff. The ringside doctor mounted the ring apron as referee McCall concluded the festivities at only 32 second of the round declaring Sosa the winner by technical knockout—his 13th consecutive knockout on this auspicious Friday.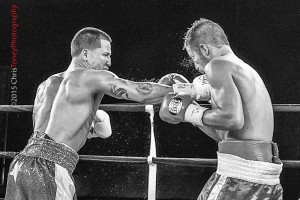 Sosa (L.) connects with a crushing right.
In a six-round lightweight bout undefeated Philadelphia lightweight Avery "A Plus" Sparrow (4 wins –0 losses – 0 draws – 2 kos) found a way to snatch defeat from the jaws of victory—being uncompromising and vigilant in his own demise—refusing to make the necessary adjustments—giving new meaning to the word oblivious. His opponent, Allentown's Jerome "The Messenger" Rodriguez (6 wins – 3 losses – 3 draws – 2 kos) was "ripe for the picking" coming off a knockout loss in his last fight in April, nine pounds lighter at 135 lbs than he was in that fateful fiasco appearing gaunt and dehydrated. The heavens had lined up all the advantages in Sparrow's favor but somehow he failed to embrace the totality of the circumstances.
Sparrow came out of the gates early setting the tone, digging to Rodriguez's midsection raking him with solid body shots. A few blows strayed south of the border and referee McCall gave Sparrow a stern warning. The southpaw Rodriguez appeared to be drained from making weight to compete at the lightweight limit and countered with a few body punches that didn't have much steam on them. Sparrow took a close opening stanza and resumed his body attack in the second round and was deducted a point midway for another punch that landed in Rodriguez's reproductive region. In the third round the referee again warned Sparrow for another blow below Rodriguez's belt-line. The combatants fought on even terms with Sparrow closing with a quick combination to edge his opponent.
After three rounds, with a point deducted and two warnings for punching below the belt-line, it was a rebuttable presumption that Sparrow's strategy for the rest of the fight would consist solely of shots to the head. Press-row discussion concluded that this would be his best avenue for success because most agreed that he was ahead on the scorecards. But, there are some fighters who don't see the potential hazard of "spitting in the wind." Thus, Sparrow continued whacking away at Rodriguez's core and lost another point early in the round with a right uppercut to the gonads. The action resumed and Sparrow landed another shot below his opponent's waist and referee McCall stopped the action with press-row on bated breath believing that he had disqualified the Philadelphian. However, the referee reconsidered and the round resumed to the end.
The fifth round opened with Sparrow pressing the action landing to the body and head of Rodriguez who returned fire but just didn't have much power behind his blows. It is safe to assume that Rodriguez will never compete below the junior-welterweight limit again. Sparrow closed the round with a good right that found its mark striking his opponent in the face.
Despite losing three points over five rounds, press-row had Sparrow heading into the final round. If he could merely avoid disqualification, it was obvious that he would garner the decision. But, Sparrow from all accounts has always been a man who marches to the beat of his own drum and wasn't about to alter his strategy to appease the referee. He continued his assault to the body, pounding Rodriguez in the privates forcing referee McCall to call a halt and disqualify him at 1:06 of the round. Like the Flying Wallendas, Sparrow had walked the tightrope once too often without a safety net and descended to his demise. Tonight, "A Plus" gets an "F Minus" for failing to switch strategy.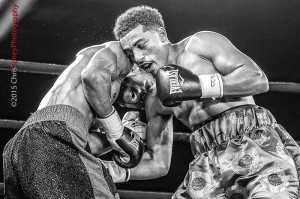 Sparrow (R.) connects south of the border.
It is axiomatic that there couldn't be a Puerto Rican Boxing Classic in Philadelphia without lightweight Victor "The Fighting Barber" Vasquez (19 wins – 9 losses – 1 draw – 9 kos). Vasquez is a fan-favorite and a huge ticket-seller dating back to his amateur days. And tonight in a scheduled six-rounder he squared off against Tyrell "Show Shocker" Samuel (15 wins – 6 losses – 1 draw – 6 kos) of Baltimore, Maryland who was returning from a 15-month lay-off. The gong sounded and Vasquez brought the fight to Samuel—who appeared to be coated with an armor of ring rust—digging to the body and finishing to the head. The Philly fighter found his rhythm as Samuel countered but it wasn't enough to slow Vasquez's progress as the Philly fighter captured the first and second stanzas in like fashion.
Samuel shed his ring rust faster than a pickpocket ataparade and won the third round by sticking and moving using his jab to offset the advancing Vasquez. The round was close but Samuel landed a good straight right before the end of the round. Samuel lived up to his moniker in the fourth round. At the conclusion of a clinch Vasquez emerged complaining of a head-butt that discombobulated his equilibrium. However, his pleas fell on deaf ears as referee Rosato didn't acknowledge the infraction.
Seizing the moment, Samuel landed a combination capped off by a sizzling right sending Vasquez to the canvas. Shaken, he was up at the count of three and passed the referee's assessment. In hot pursuit, Samuel caught up to him on the ropes, on the other side of the ring with a combination that reintroduced him to the canvas. Never short on courage, Vasquez showed his mettle and was up before Rosato could toll two. The referee made his determination and the bout resumed with Vasquez motoring around the ring while attempting to keep Samuel at bay. But, the man from Maryland cornered him in the same spot as the first knockdown and unleased a vicious left hook and right hand that connected on Vasquez's cranium forcing Rosato to intervene and call a halt at 1:29—a show shocker!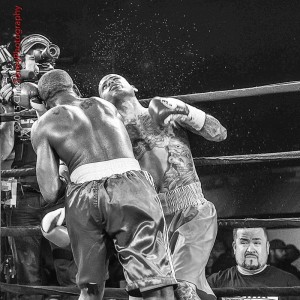 Samuel catches Vasquez on the ropes.
In their first encounter on May 8th on ESPN Friday Night Fights—the undercard of heavyweight Amir "Hard Core" Mansour's 10-round unanimous decision victory over Joey "The Tank" Dawejko—Philly junior-welterweight David "Two Gunz" Gonzales and Wilmington, Delaware's Rockin" Ryan Belasco fought to a majority draw. The dissenting judge had Gonzales winning as did ringside commentator Teddy Atlas.
"I will be more aggressive and I won't allow them to rob me" stated Gonzales (5 wins – 0 losses – 2 draws – 1 ko) in the pre-fight interview. Belasco (18 wins – 4 losses – 4 draws – 4 kos) believed that his seven-month hiatus contributed to his less than optimal performance in May and was confident that tonight would be considerably different.
Gonzales was aggressive at the opening bell working behind his jab backing up Belasco setting the tone of their scheduled six-rounder. Midway through the round while working the head and body, Gonzales went downstairs with a left hook to Belasco's ribcage and immediately went upstairs to the right side of his opponent's jaw with the same punch sending him crashing to the canvas. Belasco was shaken but managed to get upright before referee McCall reached the count of three, checked his vitals and signaled for the fight to resume. Using his jab as a range finder, Gonzales pursued his opponent attempting to strike pay dirt with another hook. However, Belasco is a cagey fighter and was able to use his legs and angles to offset Gonzales and finish the round on good footing despite absorbing a good straight right at the bell.
The next two rounds were almost identical with Gonzales pressing the action finding a home for his overhand right that repeatedly caught Belasco in the same spot on the left side of his face dislodging his mouthpiece in the third round. The fight continued in the fourth round at the same pace and tempo with Gonzales pawing with his jabs while unloading heavy hooks and overhand rights. Belasco had his moments countering and caught Gonzales at the end of the round with straight right that forced his knee to the canvas. Not missing a beat, referee McCall scored the knockdown for Belasco as the round concluded.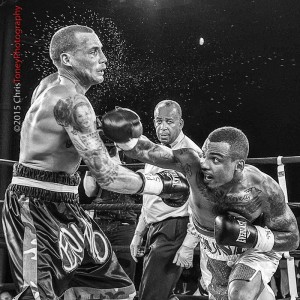 Gonzales (R.) connects with the right.
The fifth stanza was close with both combatants fighting on even terms. In theearly part of the final round Gonzales landed a huge right that appeared out of left field. However, Belasco's iron chin prevailed and he was able to absorb the shot without much damage. An illegal punch below the belt landed on Belasco who took it well. The referee saw no need for a five-minute recuperative break. With less than fifteen seconds remaining in the round, Gonzales connected with another looping right. It had no visibly effect on Belasco. Two judges had it 58-54 with the third turning in a score of 58-55 all for Gonzales who won by unanimous decision.
With several fights falling through since his last bout on March 6th—a unanimous six-round decision loss to Jeff Lentz —Philadelphia junior-middleweight Fred "Herc" Jenkins Jr. (9 wins – 2 losses – 0 draws – 3 kos) found himself in a four-round super-middleweight contest against undefeated Ismael "Tito" Garcia (8 wins – 0 losses – 0 draws – 4 kos). Sporting a small tire around his mid-section Jenkins at 163.5 lbs. tipped the scales eight pounds heavier than he was for his last fight, outweighing the much taller Garcia by two and a half pounds.
Round one, was the tactical traditional "feeling out" round as Garcia kept his distance working behind his jab as Jenkins fought behind his high ear-muff guard with his hand securely glued to the side of his head making love to his lobes. There wasn't much separating the fighters in the round. But, with a few seconds before the bell, Garcia landed a short right hook that smacked Jenkins on the side of his head dropping him momentarily to the canvas. Referee Rosato began the count as the bell rang in sync with the fallen fighter making it to his feet. Jenkins was more surprised than hurt and made it to his corner for the one-minute respite.
Garcia never abandoned his strategy of using his height and reach to keep Jenkins at the end of his jab throwing the occasional looping right around his opponent's guard. Jenkins to his credit used continuous pressure landing to Garcia's body with hooks and uppercuts. Garcia had the slight edge in rounds two and three. However, Jenkins won the final round by outworking Garcia who bled from a cut above his left eye staggering him with a hard left hook with approximately twenty seconds before the final bell. One judge had it 40-35 while the other two had it 39-36 all for Garcia the victor by unanimous decision.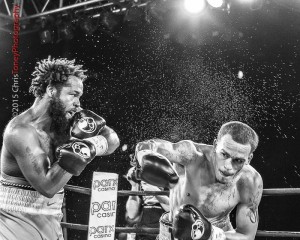 Garcia (R.) on the attack.
 Other Action: In the opening bout of the night southpaw Edgar Cortes (1 win – 1 loss – 0 draws – 1 ko) of Vineland, New Jersey andAntonio Conigliaro (1 win – 1 loss – 0 draws – 0 ko) of St. Clair, Pennsylvania excited the crowd in an action-packed four-rounder with the shorter Conigliaro decked out in his Italian-flag trunks pressuring his opponent round after round with promoter J. Russell Peltz exclaiming "This is better than Marciano vs. Walcott!" The rounds were close depending on your preference – the bull or the matador. I scored it a draw but was overruled by the judges who awarded Cortes a unanimous decision 40-36 and 39-37 twice. Philadelphia junior-welterweight Scott Kelleher (1 win – 0 losses – 0 draws – 1ko) dominated the much shorter Alberto Manuykan (0 wins – 2 losses – 0 draws) of Union City, New Jersey for three rounds of their scheduled four-rounder peppering him with jabs and straight rights having him in dire straits for the first half of the last round only to run out ofgas allowing Manuykan to mount a comeback by landing a hard hook forcing him to clutch to the final bell. All three judges scored it 40-35 for Kelleher in an entertaining bout.
Two days after the 46th anniversary of his promotional debut, "Uncle Russell"—promoter J. Russell Peltz and his cohorts—Brittany Rogers and "The Ragin' Babe" Michelle Rosado—were wildly successful with the inaugural Puerto Rican Boxing Classic. The capacity crowd reveled in the action, staying to the conclusion of the final bout—Kelleher vs. Manuykan. It was a fantastic Friday night of professional pugilism with Jason Sosa delivering his thirteenth knockout.
Continue to support the sweet science, and remember, always carry your mouthpiece!
Related Articles: