Categories:
Featured Article
|
Comments Off

on 51 year old McIntosh eyes boxing history
By Prince Dornu-Leiku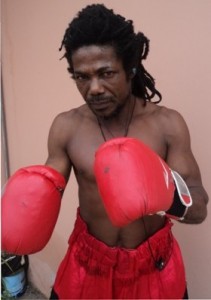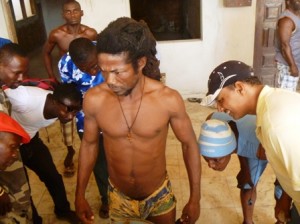 Ghana based Nigerian pugilist Simon Peter McIntosh is not giving up on the teenage dream of becoming a boxing world champ, even at the ripe old age of 51. Despite having last fought over two years ago, McIntosh, 30-15-4-2NCs (20 KOs), insists he is in top shape and even ready to beat the best pound-for-pound boxers in the world.
McIntosh, born Anazor Obele, makes a first return into the ring Boxing Day tomorrow in the Ghana capital of Accra on the 'Put up or Shut up' boxing extravaganza put together by Landmark Promotions and Management Limited under the auspices of the Ghana Boxing Authority (GBA) and the World Boxing Council (WBC). McIntosh takes on Isaac Aryee over 10 rounds in a non-title Lightweight contest.
"Tell Ghanaians and the world that McIntosh the lion of Africa is back to restore the pride of African boxing. The young guys are failing us so I have come to the rescue. The opponent tomorrow is falling because I am here on a mission and I'm beating everybody till I claim the world title, I'm serious," McIntosh told yours truly after his weigh-in earlier today.
"In 1974, I was 14 years old when I said that I wanted to be like Muhammad Ali so I started this mission long ago. So even if I'm 60, I will still realize it. Definitely, trust me, I want to create history as the oldest boxing champion ever. Bernard Hopkins holds the record at 46 years, I'm 51 and I will do it. The record must be in Africa, not America," a certainly confident Mcintosh says.
He adds: "I don't want to retire now, I will retire in four years' time. I will fulfill the expectations of all the people, the expectation that I will become world champion. Definitely I have the next 24 months to realize it and nothing is going to stop it.
"I want to beat Pacquiao and Amir Khan because of their jibes towards my brother Mayweather. I want to beat them but McIntosh will never fight Mayweather in a ring because he is my African brother."
The man whose professional career began way back in 1983, is so confident of achieving his ambitions, he tells of the training regime to realize the dream to be a record world champ.
The WABU Super Lightweight champion told Ghana based newspaper ALL SPORTS: "I am McIntosh, I don't have a wife, I don't have a girlfriend, I don't drink, I don't smoke cigarettes or anything and I am training every day. I am a world champion, I will be a world champion, believe me.
"Sugar Ray Leonard was inactive for four years but came back to beat no less an opponent than Marvin Haggler. Peter McIntosh has been inactive for only 2 years, come to the gym and see me sparring with heavyweights every day."
Certainly backing the boxer is Ken Biddle, his Ghana based American trainer who insists that McIntosh can still get to the top even if he is over half a century years old.
"The Lion is fighting to Conquer Ghana Boxing. I've seen him in training and his determination and I tell you nothing is impossible if you are serious about it. If he's serious, we'll also do everything to support him achieve his dreams," Biddle said.
Related Articles: