Categories:
Featured Article
|
Comments Off

on Broner Crushes Jason Litzau
By Michael Amakor – June 18, 2011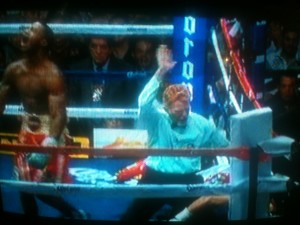 Adrien "The Problem" Broner the unbeaten WBO Inter-Continental super featherweight champion annexed and added the WBC USNBC super featherweight title to his collection of trophies by crushing the usually durable NABF super featherweight champion Jason Litzau (28-3, 21 KOs) in just one round on the Canelo Alvarez vs Ryan Rhodes WBC championship undercard at the Arena VFG, Tlajomulco de Zúñiga, Jalisco, in Mexico.
Both combatants barely threw a shot in the first minute as the both cautiously measured each other in the center of the ring.  Jason pawed to the body first, Broner followed, near the end of the second minute both combatants exchanged counters. Jason twice tried to bum rush Broner around the ring but was not quick enough, and then it happened, as Litzau backed away into the ropes from a lunging uppercut, Broner rushed forward and momentarily cornered  the off balance Jason, who braced himself to weather the coming storm. However, Broner quickly switched from his left hand and fired a straight right that crashed into Jason's jaw. Not giving Jason Litzau a break, Broner unloaded a blistering flurry of wild strafing swings that Jason slipped, until a few began grazing, then battering, and then a well placed uppercut crushed his resolve, then a few more brutal combinations to the head were to follow to seal his fate and he slumped down to the canvas forcing the referee to rush in and wave the fight off at the 2:58 mark.
With this dominant performance, the crushing of Jason Litzau, Broner (21-0, 17 KOs)0 ) is now rated number one in the world at Featherweight according to boxrec.com. In his last fight he defeated former olympian Daniel Ponce de leon (41-3-1, 34kos) after previously seizing the WBC Youth Intercontinental super featherweight, and WBC USNBC lightweight titles.
So what's next for the 21 year old Adrien Broner, only time can tell, but his confidence, ring side dramatics which included having his hair brushed after the fight and likeable personality should endear him to the fans especially since he has the knock out record to back up any perceived brashness, which you might quickly discount when you discover that he already has a four year old son.
When asked ring side post fight, about his future, he told the world,  " The sky the limit, you know we have to go back to the drawing board with the management and we'll see then"
Definetly a championship calibre fighter, but can he win the world title and become a super star, one thing's for sure, at only just 21, time seems to be on his side.
SEE PICTURES
Related Articles: