Categories:
Featured Article
|
Comments Off

on Agbeko: I will still knock-out Abner Mares
By Prince Dornu-Leiku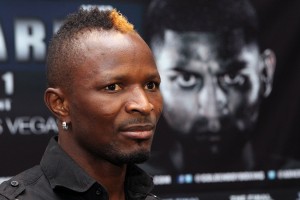 IBF Bantamweight champ Joseph King Kong Agbeko has assured Ghanaians that he will knock out challenger Abner Mares when the duo finally get to slug it out for the unification of their belts in the Don King fashioned Bantamweight finals.
"Yes I was very confident of knocking him out if the fight had happened. He is a very good fighter no doubt but I prepared very well and knew I will take him out. I can assure my fans that I will still beat him when we meet. It's a competition between me and myself to knock him out and I think I will still do it," Agbeko told Ghanaian journalists at a press conference on his return to the country.
Held last Monday at Media Centre of the Ohene Djan Stadium in Accra, Agbeko took the opportunity to explain to his countrymen what really happened that prompted the postponement of his scheduled April 23rd fight against Mares. The boxer revealed that organizers had to call off the fight after medical doctors declared him unfit six days ahead of the fight when he suffered from sudden onset sciatica on arrival at Los Angeles airport from New York.
Onset Sciatica is a severe pain down the lower back into the leg. It is caused by inflammation or irritation of the sciatic nerve, the longest and largest nerve in the body. Agbeko revealed that the effects of enduring three hours of flight delay at JFK and additional six hours of flight made him tired so much that he slipped and fell, but not that he collapsed as had been widely circulated in Ghana.
"I slipped, lost control and fell. I did not collapse as has been suggested by some people. Doctors said I need rest and after I will get back into the ring," said Agbeko who added that the fight with Abner had to be postponed also because of certain medicines given him which could have passed for steroids and consequent drug failure if the April 23rd bout had come off.
Though a date has yet to be fixed for the fight, Agbeko said he will start training again after six weeks as directed by the doctors to regain total fitness. It now looks likely that the fight against Abner Mares will happen in late July or early August. The duration may be long since his last fight against Yohnny Perez but King Kong says there will be no ring rustiness because he previously sat out for 15 months before beating Perez.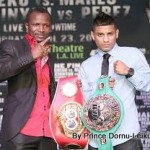 "Even though I feel better now and could even enter the ring tomorrow, I have to go by the directives of the doctors who treated me. It was the biggest disappointment in my career because I really prepared for the fight and was eager to give Ghanaians something to cheer about. But there is nothing to worry about because I will come back even stronger, everything will be alright," Agbeko said.
Related Articles: