Posted by George Hanson., Jr Esq. on Mar 15, 2011

The Mouthpiece
By George Hanson Jr., Esq.
Date:                Friday, March 4, 2011
Venue:              Resorts Casino Hotel, Atlantic City, New Jersey
Promoter:          Diane Lee Fischer, Dee Lee Promotions Inc.
Matchmaker:      Nick Tiberi
Ring Announcer:  Nino Del Buono
Referees:           Eddie Cotton & Steve Smoger
Life is filled with the unexpected. Leaving Miami earlier during the day there was no way I could have predicted that President Obama would have landed at exactly the precise moment my return flight to Philadelphia was scheduled to depart. I felt somewhat slighted that the President didn't let me know that he was coming to town. Then
again, he had no idea that I was spending the month in South Beach and would be rushing back to Philadelphia on weekends to be at ringside for my requisite dosage of the  sweet science. I guess our journeys from Harvard Square have been divergent. My afternoons were spent as a member of the Harvard Boxing Club and some Fridays found me at The Legendary Blue Horizon.
Anyway, the delay was only a half-hour and I made it to Philly by 6 o'clock, took a cab home and hopped in my car. I did my best impersonation of Wendell Scott, the first African American to obtain a NASCAR racing license, delivering moonshine whiskey in the 1940's evading the Danville, Virginia cops—dodging and weaving through rush hour traffic for the 60-mile trek to Atlantic City, arriving ten minutes before the opening bout. Reckless, yes! However, I didn't want to miss a Diane Fischer production.
In contrast to the unpredictability of life, it is commonplace that Dee Lee promoted shows are action-packed, feature at least one bout with ladies, are frequented by boxing celebrities and all are greeted by the exquisitely dressed promoter who's like family.
Tonight was no different as the beautiful Fischer was decked out in a flowing white gown, slits down the side, rivaling First Lady Michele Obama's penchant for being nattily dressed. And let's not forget to mention the classic long diamond earrings gracing her lobes. Present were many from the boxing community, but none garnered as much attention as former two-time heavyweight champion Big George Foreman. Foreman relaxed in a ringside booth and graciously fulfilled all autograph and photo requests—it seemed that everyone wanted a picture with the champ—okay, okay, I have to confess that me and Chris Toney got in the act. Check our Facebook pages!
As much as I believe one should expect the unexpected, nothing could have prepared me for what unfolded in the main event between USBA junior-middleweight champion Derek "Pooh" Ennis (22 wins – 2 losses – 1 draw – 13 kos) of Philadelphia and southpaw Giorbis Barthelemy (24 wins – 8 losses – 2 draws – 9 kos) of Hialeah, Florida by way of Cuba. After having negotiations fall through for a title fight with IBF junior-middleweight champion, Cornelius
Bundrage, Ennis was set to face former southpaw contender Deandre Latimore who suddenly caught the flu. Thus the 39-year-old Barthelemy, who was inactive from December 16, 2004 to December 17, 2010 when he resumed his career with a decision win, was brought in as a replacement. During Barthelemy's hiatus from boxing Ennis recorded 19 fights (16 wins – 2 losses – 1 draw – 10 kos) winning the USBA championship, climbing to the #9 ranking by the International Boxing Federation. Ennis' last fight, July 30, 2010, a scintillating 12-round majority decision over cross-town rival "King" Gabriel Rosado, is the frontrunner for 2010 Philadelphia Fight of the Year.
Thus, as Ennis strolled out with his entourage in tow, like everyone in the crowd I was prepared to witness the slick-boxing, fast-fisted Philadelphian display the vast array of weapons within his arsenal. However, it was fellow writer, Ken Hissner, seated to my left who noted that there wasn't a drop of sweat on the USBA champion's torso—Ennis was as dry as Bernie Madoff's bank account. Barthelemy had already been waiting for a few minutes having proudly sauntered out of the dressing room to the music of his homeland like a Roman gladiator ready to bow to Emperor Caesar before engaging in combat.
The stunning Althea Saunders who had fought to a four-round draw earlier in the evening blew the roof off the venue with her rendition of the National Anthem. Instructions were given by Referee Smoger and the bell sounded as Ennis met the Cuban in the center of the ring. It was the traditional "feeling out round" as both combatants probed for an opening behind their jabs. Ennis shook his outstretched his arms as though warming up. With about 15 seconds remaining in the round, Barthelemy caught Ennis with a right hook that didn't appear to have much power on it. Ironically, Ennis' legs turned to jelly as he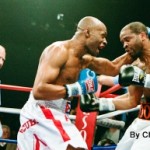 lost his equilibrium appearing like a man on ice skates for the first time. Seizing the moment, the Cuban rushed in landing a combination that deposited the champion face-first to the canvas. Stunned, mouths agape, we held our collective breath as silence engulfed the room and all I heard was Hissner's heart beating in the chair next to me. Hurt, somehow Ennis walked out of the twilight zone and made it to his feet at the count of seven before the bell sounded to the end the round. Had the fight been stopped at that moment any protest would have been unwarranted as Ennis took a few steps towards his corner before pitching forward into the arms of his trainer/father, Bozy Ennis.
Deep in Derek Ennis' chest beats the heart and will of a lion. Somehow, he recuperated, made it to his feet and was back on the job for Round 2. Barthelemy came forward throwing with reckless abandon, knowing that his opponent wasn't fully recovered. During one of the exchanges along the rope, Ennis looked to his corner, nodded as he mouthed that he was alright which brought some level of comfort to the audience. We just knew that the fog was clearing and it was going to be a sunny day. But deep down I sensed that Ennis was skating on thin ice in the middle of spring. As a member of the press, I am supposed to be objective and impartial. However, I am an insider and admirer of the sweet science. Despite an Ivy League education, boxing is my identity and the medium through which I express myself. No question I had boarded the Ennis train back in 2006 and like the majority of the audience I wasn't ready to get off until it had pulled into one of four world championship stations—IBF, WBA, WBC or WBO. This young Philadelphia warrior who had bounced back from two previous knockout losses had redeemed himself and carried all of us with him into the squared circle tonight. To gain a respite, I was wishing or hoping that Ennis could place a punch to the groin area of Barthelemy and hopefully the referee would call a foul, warn Ennis and give the Cuban the requisite five minute to recover. In turn, this would be sufficient time for Ennis to clear all the cobwebs, and box his way to a decision.
I guess Michael Vick leading the Eagles to victory over the New York Giants by scoring 28 points in eight minutes used up the one miracle earmarked for Philadelphians. Fighting off the ropes, to the behest of his trainer, Ennis got tagged with a combination that snuck past his guard. Barthelemy unloaded like a Gatlin gun landing with such frequency that Referee Smoger rushed in to rescue the gallant fighter at 1:56 of Round 2. This wasn't supposed to happen. Then again, in 1936 Max Schmeling derailed a young Joe Louis' title hopes—expect the unexpected.
Earlier in the evening, as expected, Atlantic City's lightweight Althea "Lady Thunder" Saunders (2 wins – 0 losses – 0 draws – 0 kos) and Melissa "Little Miss Tyson" St. Vil (1 win – 1 loss – 1 draw – 0 kos) of Brooklyn, New York excited the capacity crowd with a well-fought action-packed four-round draw. The opening round was close but it was the shorter St. Vil, decked out in blue, who captured the second round on my scorecard with her aggressive in-your-face style. St. Vil continued to press the action in the early part of Round 3, but tasted the thunder midway as Saunders turned the tides by driving her backward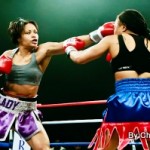 with a straight right and a sweeping hook. We had a rumble on our hands as Saunders, who won the sartorial battle with her purple outfit, came forward looking like a female version of "Homicide" Henry Armstrong, the only man to simultaneously hold world titles in three weight divisions, dropped her shoulders and stutter-stepped her way into the eye of the storm. However, St. Vil didn't come all the way from Brooklyn to concede and fought back living up to her moniker.
No surprise when St. Vil began the final round by coming out the gates like she was late for a hair appointment. Saunder regained her composure, righted the ship, and backed up her opponent in the latter part of the round with her jab. Two judges scored it 38-38 while the third had it 40-36 for Saunders, making a compelling case for mandatory eye examinations for judges. Before both women could depart the ring, promoter Diane Fischer acknowledged both combatants and announced that there will be a rematch on her next show.
Call me sarcastic, but I was always told that the truth shall set me free. In addition, when comparisons are made between members of the same family we are oftentimes told that "the apple doesn't fall far from the tree." This couldn't be truer of Floyd Mayweather Jr. whose father Floyd Sr. was also an accomplished boxer. However, in the case of Camden, New Jersey's welterweight Lewis Cream, grandson of former heavyweight champion Jersey Joe Walcott (Arnold Cream) and middleweight Isiah Seldon, son of former heavyweight king Bruce "The Atlantic City Express" Seldon, not only did the apple fall far from the tree, it never landed in the orchard! Neither Cream nor Seldon share any pugilistic similarities in style and talent with their famous grandfather and father, respectively. The younger Cream, a crowd-pleasing slugger with crippling power in both hands is in direct contrast to his legendary grandfather, who was a Picasso with boxing gloves masterfully painting pugilistic pictures. Walcott's grandson, who fights with reckless abandon, was known for his heavy hands in the amateurs—he creamed most of his opponents, knocking them senseless.
Cream was successful in his professional debut sending Yehudy Vargas (1 win – 0 losses – 0 draws – 0 kos) of Trenton, New Jersey to the canvas in the opening round and again in Round 3. Surprisingly, Vargas made it to the final bell losing a unanimous decision by scores of 40-34 on all three judges' scorecards. Lewis Cream is a high-wire act without a safety net. He is exciting to watch because whenever he fights you can bet that someone is going to get hurt. The irony is that you just know that unless he learns the art of boxing one day it will be him who comes crashing to the ground.
Atlantic City's Isiah Seldon (3 wins – 0 losses – 0 draws – 1 ko) entered the ring to much fanfare with his entourage and father/trainer leading the ring walk for his scheduled four-rounder. When the bell rang he rushed out and commenced to launching haymakers at Juan Zapata (1 win – 4 losses – 0 draws – 1 ko) of Trujillo, Honduras. Not wanting to disappoint his fans that were screaming instructions and relishing in the young pugilist's total disregard for defense and a jab, Seldon threw wide punches attempting to decapitate Zapata. The wind generated from the missed hooks almost blew me out of my press row seat. Towards the end of the opening round, Seldon was rattled as he walked into an overhand right thrown by the Honduran that began in Miami and connected with his chin. Throwing caution to the wind, Seldon and Zapata continued their slugfest fighting evenly in the second round. Unlike his father, Seldon never worked behind a jab or boxed from long range. It was either he was going to gun Zapata down, or vice-versa in their shoot-out. To the delight of the capacity crowd, Seldon dropped Zapata twice in the third round with wild combinations, forcing the referee to call an end to this entertaining bout at 2:36.
Other Results: In the opening bout of the evening debuting lightweight Eduardo Torres of Vineland, New Jersey knocked out an advancing Marcus Smith (1 win – 3 losses – 0 draws – 1 ko) of Glassboro, New Jersey with a picture-perfect straight right that sent him to the canvas for Referee Smoger's ten-count at 41 seconds of Round 1. Smith was out before he hit the canvas. Newark, Delaware's "Joltin" Joey Tiberi (2 wins – 1 loss – 0 draws – 2 kos) dropped Shawn Hodson (1 win – 5 losses – 0 draws – 1 ko) of Franklin, Indiana twice in the opening round forcing Hodson's corner to throw up the white flag of surrender at 2:36 of the schedule four-round lightweight bout. Super-middleweight Todd "The Viking" Eriksson (2 wins – 5 losses – 2 draws – 1 ko) of Dover, New Jersey won a four-round split decision over Lawrence Jones (3 wins – 4 losses – 2 draws – 1 ko) of Washington, D.C. by scores of 39-37 twice, the dissenting judge had it 39-37 for Jones, similar to my scorecard. The southpaw Jones landed the cleaner shots and out-boxed Eriksson who pressed the action, eating many shots along the way. Debuting Camden, New Jersey heavyweight Ali Santos won a four-round split decision over Eric Newell (1 win – 0 losses – 0 draws – 1 ko) of Philadelphia by scores of 40-36 and 39-37, as the third judge didn't score it for Newell.
As expected, it was another exciting night of the sweet science by Dee Lee Promotions Inc. Big George Foreman wasn't the only boxing celebrity enjoying the action-packed night. In attendance were the Bayonne Bleeder—Chuck Wepner (Joey Eye's inspiration for becoming a cutman), Virgil "Quick Silver" Hill, "Merciless" Ray Mercer, The Honorable Judge Jacqui Frazier-Lyde, Demetrius Hopkins, Prince Badi Ajamu, Lavarn "Baby Bowe" Harvell, Mike "No Joke" Stewart, Chuckie "The Professor" Mussachio and Jaywon Woods.
The Ennis train was unexpectedly derailed. However, despite the minor setback we all remain firmly in our seats waiting to get back on track in the direction of a world championship. Maybe tonight's loss will be a distant memory when Ennis wins the world junior-middleweight championship and is invited to board Air Force One to meet President Obama. I couldn't help reflecting on my journey from Miami to Atlantic City as I waited patiently on the Walt Whitman Bridge at 2 o'clock Saturday morning reading Diane Fischer's biography included in her press packet. I didn't know that the bridge would be closing at fifteen-minute intervals after midnight due to ongoing construction—expect the unexpected.
Continue to support the sweet science, and remember, always carry your mouthpiece!
Related Articles: