Categories:
Featured Article
|
Comments Off

on Arreola vs. Stiverne, Iron Boy News & AZ Gold & Silver
Arizona Boxing News & Notes With Don Smith
Arreola vs. Stiverne, Iron Boy News & AZ Gold & Silver
Boxing Fans,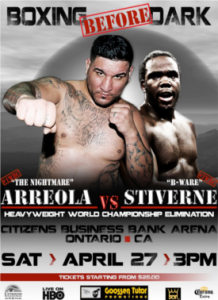 Christmas is over, New Year's resolutions are broken, Florida State is BCS National Champion and boxing fans began 2014 optimistically hoping this is the year, Manny and Floyd sign on the dotted line to meet; so, their spirited, but contrived "Soap Opera"saga can finally end. Happy New Year! Another story-line that could dominate online boxing tabloids in 2014 is the retirement of WBC Heavyweight Champion Vitali Klitschko and a return match between Cristobal"The Nightmare" Arreola (#2 contender) and Bermane "B WARE" Stiverne (#1 contender) to decide who will inherit Vitali Klitschko's WBC belt. It would fulfill A life long dream for Arreola who yearns to become the first World Heavyweight Champion of Mexican descent.
The eventual victor and new champion will face the winner of an elimination process featuring #3 ranked Deontay Wilder, 30-0 w/30 knockouts, #5 ranked Mike Perez, 20-0,#4 ranked Bryan Jennings, 17-0, and # 6 heavyweight Dereck Chisora (19-4). Disappointed legitimate contenders left out of the process include: Robert Helenius 19-0, Malik Scott 35-1-1 and Tyson Fury 21-0.
According to multiple printed statements,Reigning WBA Heavyweight Champion Wladmir Klitschko would like to unify the titles if politics allow. Arreola vs. Stiiverne promises to be a mega hit for PPV providers. The cost to view the Arreola/Stiverne fight will be provocative and should motivate millions of penny pinching boxing fans to call friends and relatives and ask for a PPV invite. Sounds like a party is coming near you.
Arreola is very popular in Arizona and may setup training camp in the Cactus state for his toe to toe love fest with Mr. Stiverne. Cris spent a month in Phoenix preparing for the Mitchell fight and was very comfortable working out at United Central Gym where he found competent sparring foes (including Rico Hoye) and a workable facility. Cris told me he stays out of trouble when he trains away from home. Too many temptations in California. Details of the title bout are forthcoming. You have to pawn your gold teeth for a seat at the venue,but it might be worth it and alas; the heavyweight division is interesting, once again.
Team Riddell: Brandon, Ryan and Tim Riddell got their New Years wish,all three have 2014 fights on tap. Brandon (1-0) will box on the Iron Boy X1 Card on 2/22 at the Celebrity Theater in Phoenix while 130 lb. Tim makes his professional debut at the Arizona Events Center in Mesa on March 15. 122 lb. Ryan heads to Airway Heights Washington (6 miles West of Spokane) for the National Championships at the Northern Quest Resort & Casino on January 18-25. 18 year old Ryan had serious thoughts of turning professional this year, but has decided to take a shot at the Olympics in 2016. Danny Jr. the fourth member of the Riddell Team is battling weight issues. Danny currently tips the scale at a robust 165, 25 lbs over his prescribed fighting weight of 140. Trainer & Manager Danny Riddell Sr. told me, the decision to get into fighting shape is up to Danny. And if he doesn't, his prospective career may end before it starts.
AZ. Gold & Silver: foul weather delayed the USA Boxing Youth & Junior National Tournament in Reno for one day, but it didn't dampen the spirit of the young men and women who traveled to represent their gyms and states. It is an annual event worthy of national attention; but, unfortunately amateur boxing in America gets far less media coverage than the glorified Westminster Kennel Club Dog Show commands. Maybe someday ESPN and other sports media conglomerates will throw amateur boxing a bone and begin showcasing the skills of young amateur pugilists ,across the country,what a refreshing concept. NBA Hall of Fame player Charles Barkley go it right when he described boxing as one of the two most courageous sports, football was the other sport praised by Sir Charles and rightfully so. His opinion was aired recently on NBC Sports Radio Network.
The Arizona boxing contingent sent to Nevada was comprised of 22 young warriors, 2 women,20 men and 2 coaches: Sonny Gutierrez (Sonny's Gym in Avondale,Arizona) and Juan Mendoza (Fuentes Gym in Phoenix, Arizona). Monica Suazo (Wolfpack Boxing Tucson, Arizona) qualified for the tourney, but was removed for disciplinary reasons; therefore the 141 lb. pugilist was excluded from making the trip. A sad situation for the popular teenager. Her mentor (Coach Ray Mitchell) told me Monica apologized and will take some time off from boxing to clear her head and regain focus. Growing up takes time.
Team Arizona left Reno with 2 medals in tow. 106 lb. Fernando Martinez (Fuentes Gym in Phoenix) won Gold while teammate Ariel Arismendez (132 lbs.) grabbed Silver. 123 lb. Southpaw Edward Ceballos (Fuentes Gym) looked like a medal contender until he suffered an injured index finger on his left hand during his second bout in the tournament. Despite winning, the scrappy Phoenix fighter was medically disqualified; therefore ending his quest for national recognition and a position on the podium. Fernando, Ariel and Edward are considered 2016 Olympic prospects. Ariel, a high school student in Tolleson, Arizona , has two goals in mind, a Gold medal and a career in medicine. Ariel trains at Sonny's Gym in Avondale, Arizona.
Here is a complete list of Arizona boxers who competed in the Tournament: Jacob Ponce (Knockout Gym-Phoenix), Alejandro Campa (AZ Boxing Academy-Avondale), Raul Anaya (Broadway Gym- Mesa), Kevin Carbajal (Fuentes Gym-Phoenix),Alejandro Dominguez (AZ Boxing Academy-Avondale), Andres Gaytan (Salvation Army-Phoenix), Alfredo Escarcega (AZ Boxing Academy-Avondale), Cynthia Arellano (Salvation Army-Phoenix),Eban Vargas (Gene Lexis Boxing-Mesa), Jovani Valenzuela (Salvation Army-Phoenix), Karim Cuevas (knockout Gym-Phoenix), Christopher Gonzalez (Tucson, Arizona), Gabriel Quijada (Fuentes Gym-Phoenix), Armando Gaytan (Salvation Army-Phoenix), Robert Garcia (Siege MMA & Fitness-Peoria ),Adrian Servin (Knockout Gym-Phoenix), Omar Samaro (Gene Lewis Boxing-Mesa), Arnold Alejandro (Phoenix), Eriberto Moreno (Paradise Valley Gym-Phoenix), Jose Barrera (Broadway Gym-Mesa).
In retrospect, a few surprises for the Arizona Team. Eban Vargas (Gene Lewis Boxing) was expected to reach the semifinals and perhaps the finals;but the young man expended too much energy in a losing effort in his preliminary bout, Robert Garcia (Siege MMA) was considered a finals candidate but stalled in his semifinal match. Adrian Servin (Knockout Gym) was a favorite,but lost in the semifinals. And Arnold Alejandro (Phoenix) fought in tournament;but none of his teammates (interviewed) knew who he was or what gym he trained at. I tried to solve
the mystery of his identity; however the issue remains unresolved, Sorry Arnold!
Iron Boy News: Iron Boy Promotions is planning 10 boxing shows in 2014. All presentations will be in Arizona and in addition to continued use of Phoenix's intimate Celebrity Theater, Iron Boy will produce and present shows at the Arizona Events Center facility in Mesa, Arizona. The center played host to the last year's Annual Arizona Golden Gloves Tournament and GG returns to the venue on March 7-9.
The center presents MMA matches on a semi regular basis,so the venue s for fans of boxing.First Mesa show is scheduled for March 15. Popular Abel Ramos (8-0) fighting out of Casa Grande is mentioned for the main event and other performers expected to grace the marquee include: light welterweight Jose Marrufo (4-2), welterweight Mario Ramos (17-7), Super Bantamweight Emilio Garcia (7-1-0), lightweight Julio Sarinana (2-0) and light welterweight Tim Riddell in his highly anticipated professional debut. Mike Sanchez is the official match maker for the event.
Iron Boy X1: Alexis "The Beaver" Santiago (15-3-1) defends his WBC USNBC title vs. Hanzel Martinez (20-0-1) on 2/22 at the Celebrity Theater in a scheduled for 10 round contest. Former world heavyweight champion Siarhei Liakhovich (25-6) will try to make skeptical boxing fans forget his Wilder loss (1st round KO) with a victory against a TBA opponent in a scheduled for 8 round match. Also on the Iron Boy X1 Card: Joey Ruelas (6-0-1), Carlos Castro (5-0), Francisco C. De Vaca (4-0) and rising prospects, Alexis Zazueta, Carlos Castro and Francisco C. De Vaca. Tickets are currently on sale through the Iron Boy website, Celebrity Box office and Ticket Master.
Boxing Noise: Undefeated lb. (Abel Ramos (8-0) fighting out of Casa Grande Arizona, will face hard hitting Maurice "Mighty Mo" Hooker (Dallas Texas) on the January 17 Friday night Showtime under card in Memphis Tennessee . A big step for the 22 year old Ramos who know a win over 24 year old Hooker (12-0-1 w/ 9 KO's) could mean big paydays down the road. Abel is on my list of best boxing prospects in Arizona with Jose Benavidez Jr., Trevor McCumby, Joey Ruelas, Alexis Zazueta and Francisco C De Vaca aka "Panchito"……Boxing Mentor Damien Stone (Stone Hard Gym)will make his second appearance in the Kryene Justice of the Peace court on 2/10 to face one count of prostitution. He was arrested on Friday December 13 in Chandler, Arizona. Judge Rogers appointed an attorney for the 39 year old Illinois native. ……After a long absence from the ring , 28 year old Phoenix light welterweight Jorge Marquez travels to Fort Washington Maryland to fight 20 year old Mike Reed (6-0-4 knockouts) on Friday January 17. Marquez works out at United Central Gym in Phoenix. Jorge needs an upset win to get his boxing goals back in the game…. Fan Base Promotions Official Ralph Velez still talking about putting together a big show in Phoenix, but no details.
More Boxing Noise:Phoenix Featherweight Paul "Ziggy" Romero is working out at Hammer Gym in North Phoenix. Trainer George Garcia believes the former amateur champ can make some noise in the featherweight division if he keeps his head on straight and continues to workout daily at the gym. Garcia is working on a March fight date in California…..Heavyweight hopeful Shane Olivea (former NFL Lineman) can be see on you tube jumping over a high hurdle from a standing start. Shane stands 6′ 4″ and weighs 300 lbs. The 31 year old San Diego Charger hopes to make his professional debut this spring…..Luis Olivares was forced to cancel his 12/20 bout in New York due to flu like symptoms. No word on next fight…..Ray "Lightning Jr." Lampkins has switched from United Central Gym to the Phoenix Boys Center…..,Mario Esparza trains at United Central and Phoenix Boys Center. He isn't on the Iron Boy 11 Card (2/22) at the Celebrity Theatre. One insider told me Mario's "poor" performance (Draw) in his last bout is making promoters think twice about putting him on future shows. His work ethic is being questioned…Coach Ray Mitchell (Wolfpack Boxing in Tucson) is raving about 141 lb. amateur prospect Sherry Whetten who has 20 bouts under her belt. She sounds like someone to watch…Lightweight contender Ray Beltran is considering moving back to Phoenix where his parents live…….Bantamweight Candido Lopez (1-0) and Featherweight Chris Lopez (7-1) have relocated to Miami Florida. The Lopez brothers were very popular n Phoenix and hopefully the transition will be beneficial to their boxing careers….. Azteca Boxing Club (Phoenix) took a team to Pasadena, California for the Silver Glove Regional Tournament and returned with two Gold Medals. Good Job!….Mo Sullivan's Eclipse Gym in Tucson is now Arizona Combat Academy. UFC fighter Drew Fickett trains there….Robert Garcia is now working out at Siege MMA & Fitness after ending his tenuous relationship with Peraza Boxing in Peoria. Y.A.F. boxing program has reopened after a 3 week holiday sabbatical.
Jurisprudence: 23 year old Joseph Jessie Corrales and 22 year old Robert Chavez, suspects in the Alexis Urbina Murder, appeared in a Phoenix Court on January 9 and were told to return for a pretrial conference on 2/18 and the defendants were issued a trial date of July 22. According to a spokesperson for the Maricopa County Attorney's office, the July 22 trial date isn't set in stone. Both men have legal representation appointed by the court. Members of the Urbina family are expected to attend the trial which is open to the public. Corrales and Chavez have entered not guilty pleas. Until Next Time!
Related Articles: