Categories:
Featured Article
|
Comments Off

on Aspirant IBF Commissioner Lama May Mayele on mission to revive African boxing
By Prince Dornu-Leiku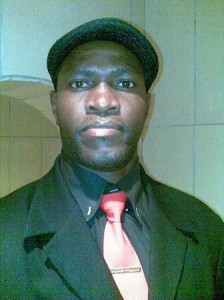 Former boxer Lama May Mayele insists the time for African boxers to dominate the sport globally and financially has arrived amid revealing the desire to personally spearhead the bid as head of the International Boxing Federation (IBF) on the continent as Commissioner.
Lama-May, born in the Congo DR but now resident in South African believes his vast experience both as a boxer and administrator places him in good position to assume the role of the IBF Commissioner. He promises to revive professional boxing in Africa, instilling modern trends and providing the platform to entice corporate Africa to come on board and support the sport financially.
"Boxing is big business and we are blessed in Africa to have so many boxers from many countries who are all very good. All we need to improve and develop is to run the sport professionally and do it as it's done in the US and all over the world. We can only convince the big businesses to support us with their money if we are professional," Lama May told this Ghana-based writer via phone.
39 year old Mayele currently runs the Kanopo Life Protection, a security company specializing in guarding, VIP protection, bouncers, property and event protection, bodyguard, car guarding, security officers, medical and study assistance in South Africa and also a gold and diamond buyer.
So why does the former Congo DR Super Welterweight champion believes this is the perfect time for him to assume such top position in African boxing? What new thing is Lama-may bringing on board that could bring African boxing and boxers into a force to reckon globally.
"I have been in boxing all my life and I also have experience with karate so I know what has been happening with these sports and their administration. I will make sure that promoters and businessmen who will invest in boxing should be good managers as well. Everyone must adhere to professionalism as we strive to instill it in the boxers," Mayele explains.
He insists that boxers must also gain financially from their tradebeacuse it must be their job and only sourec of livelihood. The canker where many of Africa's sportsmen end up as paupers, Mayele believes should be a thing of the past.
"I'm concerned with getting boxers or any sport pay very well those practising it because it's their life put at risk and imagine some one who never went to school but practising sport for a living, why not get paid?" the Congolese quizzed.
"There is always a budget collected by a Sport Minister from the government each year, why was he given that money? It's to make sure that every sport federation also get their budget from him. If there is a good control of it, no one will complain. Those who put their life and time in sport must also
wine from it," Mayele added.
Also a former Cruiserweight vice champion of Pretoria Kickboxing in South Africa, Mayele added also reveals a comprehensive programme to involve all of boxing's stakeholders in the administration and promotion of the sport in Africa.
"I would also include everyone who has something to offer African boxing, former champions, legendary coaches, managers and administrators will all be considered. I will travel all over Africa to get a closer collaboration with all the national associations and to supervise professional administration everywhere," he said.
He is also adamant that he will supervise a total upheaval in the fortunes of boxing to such a positive extent that world title fights will become a common feature in Africa. "We will also create the enabling environment for big world title fights to be promoted in Africa.
"If we could bring the biggest fight in history to Africa back in 1974, why not now when we have developed in terms of technology and infrastructure? Expect more world title fights in Africa when I become Commissioner," said Lama May citing the 'Rumble in the Jungle' world heavyweight title bout between Muhammed Ali and George Foreman nearly four decades ago.
Related Articles: