Categories:
Featured Article
|
Comments Off

on Beibut Shumenov – A paper Champion or the Real deal
By Michael Amakor | April 19, 2014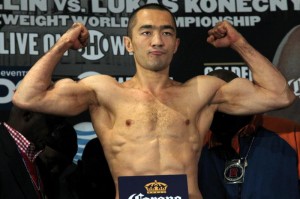 WBA and IBA Light Heavyweight champion is a man of few words.
Some people may ascribe that to not being a native English speaker, others might discern that he might be the kind of guy that prefers actions to words and in his particular case to knocking out his opponents in the ring.
With a professional record of nine knockouts in 15 fights its not hard to believe that is the case.
In only his fourth professional fight he seized the vacant WBC Asian Boxing Council and the interim PABA light heavyweight titles in 2008. He also won the WBO Asia Pacific light heavyweight title in his next fight and defended it against a former world champion in 12 competitive round and went on to stop another former champion in defense of all those belts in 2009 in four short rounds.
In 2010 he won the WBA World and IBA Light Heavyweight title in only his 10th professional fight against a tested champion in a rematch after a controversial majority decision loss in their first fight.
He has made five defenses of the WBA & IBA title all except two by knockout.
When you also take into account that he was an Olympian who represented Kazahkstan at the 2004 Olympics you might begin to understand that you need to pay attention to this guy.
That would be the typical response of a casual boxing fan.
To the dedicated boxing fan, the expectations and criticisms are harsher and as uncompromising as the sport itself.
Beibut Shumenov is a Paper Champion opined fellow champion and knockout artist Sergei Kovalez.
Another online publication has him on the shortlist of paper champions.
Wikipedia describes a paper champion as a champion who holds an official title but lacks the caliber of a real champion, but therein lies the delemna because Shumenov actually has the caliber proven by the opponents he has defeated.
That idea might have become more ingrained in the minds of real boxing fans because of his inactive status in the last couple of years, but in a press release last year he stated
"We tried to make a couple of unifications and different fights that for one reason or another fell through," he explained. "We tried to made unification fights with [Nathan] Cleverly and [Chad] Dawson when they held belts, but they weren't interested in fighting me. I've wanted to unify since I first won my WBA belt and we tried against then WBO champion [Juergen] Braehmer who literally ran out of town instead of stepping in the ring. A unification fight is still a goal of mine.
Eventually he made a return to the ring against Tamas "Tomi Kid" Kovacs (23-0, 14 KO's) a former World Boxing Organization (WBO) European and World Boxing Federation champion whom he sensationally knocked out in 2013.
And now all of a sudden he is in a Super Fight against the ageless warrior legend Bernard The Executioner Hopkins his IBF counterpart in a unification contest at the DC Armory on April 19.
"I'm very excited that I'm going to fight one of the greatest fighters ever. I know that I've never faced anyone on his level and I know it's going to be the hardest fight of my life. But I will do whatever it takes to win this fight. And I'll do anything possible and impossible to get the victory.
"People will find out on April 19 that I belong in the elite level. That I am the best light heavyweight champion in the world. I'm looking to make a statement to the world.
The odd makers would beg to differ, they have Hopkins at -200 and Beibut at 160.
But the fact of the matter is that there is a real possibility of Beibut pulling the upset of a life time.
Not only is Shumenov 19 years younger than Hopkins he also posseses knockout power with a crude unpolished style that could be difficult for even the experienced Hopkins to decipher in time before a well timed power punch ends it all for the 49 year old Hopkins.
Hopkins as usual has been super confident occasionally throwing veiled insults at the unified champion causing him to harden his tone
[Hopkins} "You're mistaken if you think going into this as if I'm fighting a 50-year-old man. On Saturday night we are going to see who is taking whose belts. I'm fighting for the honor and the glory to be acknowledged as a great fighter. I prepared for this fight like it's my last. I'm a man of my word, so you're going to see a great fight Saturday night.
Let's see if Shumenov can back up his words or the paper champion tag might stick when his career is remembered by boxing fans.
See you Ring side
TICKETS: Tickets priced at $25, $50, $75, $200 and $300, plus applicable taxes, fees and services charges, are on sale now and available online at http://www.ticketmaster.com, all Ticketmaster locations or by calling (800) 745-3000. The DC Armory Box Office will be open on fight night only from 3 p.m.-10 p.m. ET.
Related Articles: