Categories:
Featured Article
|
Comments Off

on Beltran Fans Scramble to Watch, Rumble in the Desert & More!
Arizona Boxing News & Notes With Don Smith
Boxing Fans,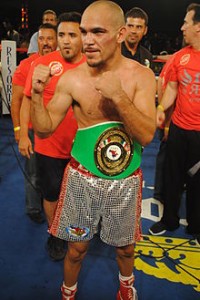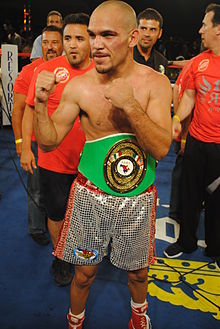 Arizona Boxing Fans wanting to watch the Saturday, September 7 WBO Lightweight Championship  tussle between challenger Ray Beltran and reigning champion  Ricky Burns can watch the contest over Wealth Television. Click onto www.wealthtv.com to subscribe. Since the fight is broadcast live from Glasgow, Scotland on British Summer Time; here is a conversion tip on the time difference between Scotland ad Arizona. Scotland is 8 hours ahead of Phoenix time piece settings.  For example, as if you need this teaching moment, noon in Phoenix translates into 8 p.m. in Scotland.
Burns is the betting favorite and one pro boxing . com scribe has the contest ending after 9 rounds with Burns a TKO winner. The online publication writer thinks Burns is too strong and aggressive for the underdog Beltran. I take the opposite view. Beltran is hungry and he knows a win over Burns could mean a big payday meet up with Terrence "Bud" Crawford or  Miguel Vasquez.  Ray  has waited a long time for a world title shot and he is very grateful to the Champion for the opportunity. In my opinion, Burns will have to knock Beltran out to win and I don't see that happening unless a nasty cut  forces a stoppage to the  fight. To win,  "Sugar Ray" needs to get inside and do some early damage. My prediction: Beltran in 10 or less.
Where and how to view to view the fight might be a problem for fight fans in the U.S.A.! Wealth TV isn't well known in America and the service charge may stop hard core boxing fans from channeling in. Unfortunately, the usual alternative choice doesn't appear to an alternative. Sports and Topless bars in Phoenix are going to skip showing the fight. In fact, the majority of Gentlemen's clubs, in Phoenix, no longer offer pay per view sports because their dancers claim pay per view events cuts into their lap dance action.
The Twin Peaks Restaurant & Bar on Camelbackk Road & 20th Street in the Town & Country Shopping Center was going to offer Beltran v. Burns, but owner Andy Bayless decided there were too many technical hoops to go through to fulfill a promise he made to boxing trainer Tony Vargas, a friend of Raymundo Beltran. Twin Peaks will show the Mayweather v.
Alvarez showdown on September 14 for $10.00 viewing fee. Special amenities will be given to all who come to watch.
The pay per view packaging decisions  were decided by Team Burns, so Beltran Fans will have to either cough up and subscribe to wealth TV or watch it on the computer. Good luck and remember, it's a daytime showing (noon) in Arizona which means the event will compete with 8 collegiate football games airing at the  same time. Being champion has it's advantages.
Gym Fundraiser:  Chino Valley, Arizona doesn't have a gym  for kids to workout their teenage frustrations,so Larry Scott asked his fellow  Hell's Angels members  to join him at Doreen's Bar & Grill in Chino Valley on August 24-25 to raise money to open a "free to kids" boxing & fitness facility for kids who reside in the small town.  This is the third year the controversial motorcycle club has held a charitable event in Chino Valley in an effort to reach their socially conscious goal.  The event featured 8 boxing matches, bike run and other fundraising activities. More importantly, almost $5,000.00 was raised and I was told a suitable and affordable building has been secured for the project. The organizers are now purchasing boxing and fitness equipment needed to furnish the facility. If anyone would like to make a donation; call 928-632-2323 and ask for Mike. No word on when the gym will officially open. The event was incident free and law enforcement was close by to monitor the event. Crowd was estimated at 600-700 for the two day affair. Special kudos to the organizers.
Rumble In The Desert: On September 7, The Ultimate Boxing Organization (UBO) in conjunction with R Promotions hopes to take Arizona boxing to the "next level"  with his boxing event at the Casino Del Sol in Tucson, Arizona. Promoter Rene Nunez told me his show will feature top level professional and amateur fighters. When I asked for a bout sheet, I was told it would be emailed to me. I'm still waiting. I hope the show at Casino Del Sol Casino in Tucson is successful. Nunez cancelled his 8/17 show at the Celebrity Theater due to a lack of ticket sales. Rene thinks the"Rumble" show will do well because he knows the Tucson market. sad news, matchmaker Tony Esquera has split with Nunez over philosophical difference and financial considerations. Tony is very bitter. Mr. Nunez didn't return calls. Ticket prices for the show start at  $12.00 for lawn seats and VIP seating can be purchased for $50.00. For more information call 502-867-8459 or 520-358-2451. Expect 7 pro fights and 4 amateur bouts. Headline bout features light middleweight Leosvy Mayedo(3-0) v. Moses Alvizo (2-6). Drive safe and enjoy the fights.
  For The Record: Last column incorrectly reported that 19 year old featherweight  Brandon Riddell (Hook City Gym) was making his professional debut  on the 8/17 Celebrity Theater R Promotions  fight card that was  was cancelled due  to a lack of ticket sales. Brandon record is 1-0 with one knockout. His brothers: Timothy, Ryan, Danny Jr. box as amateurs and expect to turn pro in due time.  Ryan fought and defeated Edgar Brito on the Iron Boy 8 card at the Celebrity Theater in Phoenix. Although I conceded Riddell earned a narrow victory, it wasn't pretty and I expected more from both fighters. Riddell thought I was a bit rough on him and Brito supporters thought I was too easy on Riddell. So you want to be a journalist? 17 year old Ryan wants another shot at Brito who recently signed with Iron Boy Promotions and will make his pro debut on September 21 at the Celebrity Theater on the Iron Boy 9 Card. A rematch between the two fighters  could be a good draw down the road. Good luck to both guys.
Special Mention: South Mountain boxing coach  Juan Martin Varela  is inviting amateur boxing fans to his smoker on September 7 at the Victory Outreach facility, 4655 W McDowell Road in Phoenix. Volunteer members of the Arizona boxing community will be on hand to collect contributions to help Juan and his family combat growing medical bills. Jose Varela, Juan's Dad, is battling health issues, please help if you go.. For more  information, Call Juan at 602-327-6901. The event is sanctioned by USA Boxing Arizona. www.usaboxingaz.com 
Comeback Stalled: Arizona super bantamweight Noel Mendoza (6-3) returned to the ring last year and the result wasn't pretty, highly touted Julian Ramirez (8-0) knocked the twenty six year old Mendoza out in the first round of a scheduled six round bout held at a popular casino in Temecula, California, Riverside County. It  was his first battle in two-three years and the KO loss left him pondering his future. After careful deliberation,  he went back to the gym determined to resurrect his career.   On Saturday, August 24, the gutsy Mendoza fought twenty  year old boxing sensation Joe Diaz (7-0) in a scheduled six round contest that was an under card feature of the WBC Featherweight title scrap between Johnny Gonzales & Abner Mares which was televised on Showtime. Diaz knocked out Mendoza at 1:54 in the third round. In the main event, Gonzales knocked out Mares and some boxing scribes are calling his victory the upset of the year. Remember, each year contains 12 months. As for Mendoza, it's time for the affable pugilist to sit and ponder his career direction  some more. Please, take your time.
Homecoming: it would happen eventually, but when? Now we can spill the boxing beans, undefeated  Glendale, Arizona boxer Luis Olivares (4-0) will make his Arizona Professional boxing debut on September 21, less than a month away from his 21st birthday, on the Iron Boy 9 show  at the Celebrity Theater in Phoenix, Arizona. The deal needed a signature, but details were ironed out last week. All four of his light welterweight victories are the result of  East & West Coast Triumphs. His last scheduled  two fights were cancelled due his  battle with dehydration and more recently, his scheduled foe failed to show. His appearance on  the Iron Boy Show is exciting news for Arizona boxing fans, Luis was a very popular figure  in Arizona Amateur boxing circles before he turned professional this year. . Rumors suggest Luis that he may be leaving the light welterweight division and start fighting at 130. Luis trains at the Busted Knuckle Gym in North Phoenix. No official word on who he will box Luis at the Celebrity venue. Alexis Santiago headlines the show. Tickets are on sale at the box office. click on www.ironboypromotions.com for updated info.
Quick Jabs: Heavyweight Rico Hoye continues to spar with Chris Arreola at United Central Gym in Phoenix. Rico emailed me to suggest he may fight on November 3, in Milwaukee, Wisconsin but  the former Contender  contestant is overly cautious about packing his bags because boxing is very capricious. His only roadblock in returning to ring action is the system  Arreola shuts down his Arizona training next week. He told fans and writers that he hates Seth Mitchell (his 9/7 Showtime opponent) and dthe big guy promises a knockout victory. Paul Romero  1-0-1 is back in a gym working out. Fan Base dropped him because they thought he didn't work hard enough at his craft to keep in the organization. Romero has a chance to prove Fan Base wrong if he gets busy and produces. His last fight was on an Iron Boy card when he fought Jensen Ramirez from Tucson. Officials called the contest a draw and Paul  went ballistic seconds after the verdict was delivered.. Veteran trainer Ernie Gonzales Sr. is working with him at a Phoenix gym and if Romero can dial his emotion down a decibel or two;watch out….25 year old Tony Ventura (135 lbs) hopes to turn pro before the end of this year. Tony graduated from Avondale High School and hit the books at Glendale Community College for a year and a half before  deciding to focus full time on boxing. He is a very confident young man and we wish him the best….boxing publicist and media specialist  Michelle Rosado has reportedly moved to Las Vegas. Good luck Michelle, break a leg….light heavyweight Eddie Martinez Jr. is now training at Rodriguez Gym after leaving trainer Tom Garcia….Phoenix lightweight Juan Garcia (18-3) aka Juanito packed his bags and headed for Glasgow  Scotland, on Sunday 9/25) where he will spar with Raymundo Beltran in the Ray man's prep for Ricky Burns on September 7 in Glasgow…..Juan was rumored to fight on the September 21 Iron Boy 9 card at the Celebrity Theater in Phoenix; don't know if his work with Beltran  will change that dynamic if it was planned…..Former USA California Boxing Champion Rollin Williams (Arizona Native) will fight on September 14 in Austin Texas. I didn't stutter. Rollin is 4 7 years young and his last professional fight was in 1993. Apparently he got the itch. Rollin has a gym (Top Level) in Phoenix where he teaches boxing and mentors kids. Good guy, good luck….David Benavidez won his pro debut in Rocky Point, recently. Brother Jose Benavidez Jr. helped him prepare. Obviously, Jose Jr.'s hand is A okay…..Top Level Gym is hosting a "smoker" (King of the Ring) on August 31 at the ARCH Center, 1550 W. Colter, in Phoenix. First bell 2 p.m and the menu is scheduled to set the table with 20-25 bouts…….The Duce Sports Bar, 525 S. Central in Phoenix, is thinking about hosting a boxing event in the near future…email:[email protected] for more info…..Hot boxing prospect Diego De La Hoya has signed with JDLH Management. Diego will make his pro debut on Fox Sports 2 and Fox Deportes on September 12…..Olympic Gold Medal Wrestler Henry Cejudo is 4-0 as an MMA fighter. When he wrestled at Maryvale High School in Phoenix, his record was 150-0. The guy is a winner. Co-author of a best selling book (American Victory) and his remarkable  story was adapted to the screen and stage. Henry's next bout will be announced on Monday, September 2…. Boxer Arlo Arguetta (5-0) will be introduced at the Rumble in the Desert show at the Casino Del Sol in Tucson. …. undefeated   super bantamweight  Carlos Castro (4-0) has split with Trainer Andy Soto. The 43rd  Annual Copper Gloves Tournament returns to the Arizona State Fair this year on October 16-17. The event is free with a state fair general admission ticket. Always, a lot of fun.  A word to Iron Mike, stay sober; your family needs you. Until Next Time!
Related Articles: