Categories:
Featured Article
|
Comments Off

on Beyond the Spotlight: An Inside look at Seth Mitchell's Training Camp
By Michael Amakor | August 29, 2013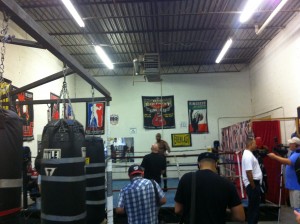 If you are a boxing fan, you might already be a fan of promotional shows like HBO'S Boxing's 24/7 or ALL ACCESS: Mayweather vs. Canelo currently on Showtime which chronicles the lives and training camp of fighters as they prepare for super fights on these TV networks.
Those shows by these TV networks tend to quickly gloss over the decrepit boxing gyms were boxers train and instead focus on catching the featured fighter hitting the speed or heavy bag from excellent camera angles or sometimes the just shoot the scenes from well appointed venues hastily converted into boxing gyms for those fights, the end result of course is that it just looks glamorous.
But with all things on TV, especially elaborate shows like 24/7 and ALL ACCESS, you could easily be misled into thinking that boxing is a glamorous sport and that all its practitioners enjoy similar fanfare and elaborate training camp venues.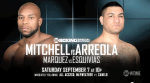 Those thoughts ran through my mind as I arrived at the Dream Team Boxing Gym where the current WBO NABO and WBC International heavyweight Seth "Mayhem" Mitchell (26-1-1, 19KO's) currently prepares to defend his titles against former title challenger Chris "The Nightmare" Arreola (35-3,30KOs) in the sternest test of his career to date on Showtime on September 7.
Located on a side street off a major stem road in Clinton Maryland, it is the least likely place you would expect a boxing gym to be located, being as it is sandwiched between some car shops, and across the street from a residential area. However, once you walk into the gym, the familiar tools of boxing become apparent in all its primal starkness and you realize this is the reality of boxing at its very core, and if you are not a true fan of the sport you might be appalled, but some famous boxers have been quoted as the saying that they prefer old gyms like this because it brings back the hunger that drove them to stardom. At the end of the day, all you really need in a boxing gym is some sort of ring, a couple of speed and heavy bags, some skipping rope, a few medicine balls, and some hand weights, like the Dream Team Gym does.
Typical of small gyms like the Dream Team Gym littered across the country, the walls are adorned with posters from some classic fights and not so popular club brawls and amateur tourneys, with championship belts won by star pupils strapped unto the walls, and badly battered heavy bags with gray maskin tapes wrapped around it to hold it all in and together from the pounding they repeatedly were going to take from boxers.
The champ was in the ring by the time I arrived and had already began his routine which was quite interesting to behold even if it was for the benefit of the camera's and attending pressmen, and it is best described as watching a craftsman hone his tools in preparation for a long hard day at a construction site.
First off, the champ Seth, started off with a couple of stretches and calistinics to get warmed up followed by some shadow boxing, and then an intense couple of rounds of hitting the pads with his trainer Adrian Hunter, afterwards he proceeded to skip rope. Also lurking around the gym was the hulking 250 plus pound heavyweight Alvarado Gomez a fighter similar in size and physique to Arreola, one of Seth's sparring partners on hand to be called upon. By they time Seth was finished his routine he looked liked a caged animal ready to be unleashed and you could feel the heat oozing off of him, see the sweat, and hear they edge in his voice during follow-up interviews.
We are looking to a victory and we will capitalize on Arreola's bad habits, echoed his manager Sharif Salim.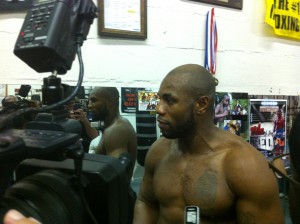 The hopes of Seth and his team underscore the stakes in this fight. Seth is the WBC number two ranked heavyweight contender, a win against #3 ranked Arreola could potentially position him for a fight with WBC#1 rated Bermane Stiverne for the right to fight Vitali Klitchko, the current champion. That fight with Stiverne gets more interesting because the winner of that fight might actually be declared the champion if Vitali Klitchko retires as is rumored, or opts not to face Stiverne and gets stripped. The other worry for his team was that not too long ago, the once undefeated Seth seemed on a roller coaster ride towards a title shot, but after a shocking 2nd round knockout loss and uninspiring rematch win in his last fight, Seth's ability to win against a formidable knockout artist like Arreola has been brought into question, and there was no escaping the skepticism from the waiting press men in attendance.
Seth conceded "They only thing I give him (Arreola) the advantage over is experience, I don't concede to anything else, either speed power, boxing IQ, any of that I just think I am better than him"
Its all about Hard work and Dedication, We are going there (California) to Win summarized Andre Hunter after he finally had a chance to catch his breath after all that pad work.
The team plans to wrap up its camp this weekend and head to California on Tuesday. This 12 round heavyweight fight between Seth Mitchel and Chris Arreola will headline the boxing show at the Fantasy Springs Resort Casino, in Indio California and will be televised live on Showtime, beginning at 10 p.m. ET/PT. Don't Miss it
Related Articles: