Posted by George Hanson., Jr Esq. on Apr 25, 2012

Categories:
Featured Article
|
Comments Off

on Bos Neˊ—Wilson Ultimately Implodes Taylor
By: George Hanson Jr., Esq.
Date:​                        Saturday, April 14, 2012
Venue:​     ​                Bally's, Atlantic City, New Jersey
Promoter:​                Peltz Boxing Promotions
Matchmaker:          J. Russell Peltz & Brittany Rogers
Coverage:                 www.gfl.tv
Ring Announcer:   ​Larry Tornambe
Referees:                   Earl Brown, David Fields & Earl Morton
Photos:                      ​www.christoneyphotography.com & www.keyartphoto.com
My friend Ricardo Michel sat in the packed Philadelphia church holding his mother's hand as a card from his friends—Michelle and Barack—The First Lady and the President, was read acknowledging the death of his father offering some comfort as he kept his eyes glued to the casket bearing the stalwart of the Haitian society who left an indelible mark on all present. Everyone knows that on a fight day Saturday, I follow a stringent routine of waking up early and making my rounds to the dry cleaners and then the Marian Anderson Boxing gym returning home at 2pm to study fight records and films in preparation for a night of the sweet science. However, protocol had to be broken because I could never miss the funeral to celebrate the life and legacy of this incredible man who touched so many lives especially the Haitian community which filled the pews of St. Francis de Sales on this sunny morning.  Like my father, I am sure that Edner Michel Sr. told his children that they had to be twice as good to succeed in this country. No surprise that Ricardo received his MBA from the Wharton Business School at the University of Pennsylvania and after a career in finance was appointed by the President to a post in Washington, DC.
Edner Michel Sr. was a remarkable man who migrated to the US from Haiti in the late 60's bringing the entire family shortly thereafter—settling in the City of Brotherly Love. An entrepreneur who ran his own auto repair shop specializing in foreign cars he was given the moniker "Bos Neˊ by his loyal clientele. However, his passion was his family and helping others. Thus, I listened, my two semesters of college French proving invaluable, as the entire Mass was conducted in French. I have often said that had I not been born a Jamaican, I would have wanted to be Haitian!
Like Edner Michel Sr., Garrett "The Ultimate" Warrior is an exceptional father, husband and entrepreneur. There is no doubt that his well mannered and bright children will one-day grace the classrooms of Ivy League universities. Wilson doesn't work on automobiles; he tunes up other pugilists who have the courage to risk their health by stepping in the squared circle to face him. The Philly fighter is a murderous puncher with Nyquil in both hands. Call me egotistical or insane but I have first-hand knowledge of this pugilist's power and prowess. Marian Anderson Recreation Center is where he hones his skills. Many nights after the boxers are finished with the ring me and some of the older guys engage in our "round robins" where we take turns sparring to the body—no blows to the head since we have nothing to prove and want to keep our marbles intact.
Our nightly round-robins have been going on for years and Wilson has always been a willing participant working on what he calls his "inside game."  Even though he was always wore 16-oz gloves, I felt the heat and sting of his punches piercing through my core like a hollow-point bullet penetrating cardboard. Thank God my trainer Charles Ramey taught me how to pick off shots with my elbows and reroute the force of punches by jabbing an opponent's shoulder blades in the midst of a combination.  There is little doubt that Wilson would have easily broken or fractured a few of my ribs had I not used these proven tricks. I cannot imagine getting whacked on the side of the head by him sporting 10 oz. Reyes! Then again, I am fortunate that I have been sidelined with a torn Achilles and have been unable to participate in our nightly rituals. The Lord works in mysterious ways, I can limp around with my cane but I doubt if I would be able to move with severely damaged ribs.
Andres Taylor has to be commended for agreeing to a rematch with Wilson after being gifted with a 2010 eight-round majority draw in his hometown of Johnstown, Pennsylvania. Lateef Kayode vacated the NABF cruiserweight title to face 43-year old Antonio Tarver instead of Wilson. BJ Flores and his promoter turned into the Tin Man and are on their way to Oz in search of some heart. I can't blame Taylor, he is a fighter and a win would not only get him Wilson's USBA cruiserweight belt but also the vacant NABF title and the opportunity to be rated in the top 10.  Kudos to Taylor and his management team for their mettle.
I never felt that the fight would go the distance and stated so in an article entitled Nosferatu—Rise of the Ultimate Warrior and the King! Wilson's improvement under new trainer Rodney Rice is the reason for his meteoric rise up the rankings littered with the bodies of knockout victims. He is a puncher of the highest order and I am fearful that one day he will land a blow and the ringside doctor will be unable to revive the victim—if you don't believe me come down to the gym and let him hit you in the body with one of his Bruce Lee six-inch punch to the body. Yes, Wilson is a fan of the legendary martial arts icon and spends hours in the mirror perfecting short distance punches that can crumble walls.
The fight should have been over in the first round when Wilson dropped Taylor with a blistering left hook high on the temple that short-circuited his wiring and deposited him on the canvas. Instead of rising to his knee and clearing his head, Taylor's machismo caused him to get up quickly. For some inexplicable reason instead of wading in for the kill, Wilson took his foot off the gas and coasted for the remainder of the round.
The fight was a sharpshooter's showdown as Wilson even though he didn't throw many punches; he was extremely accurate with earth shaking consequence. Every time he landed a punch the results were evident as Taylor either wobbled or clutched to survive. However, Taylor had his best round when he shook Wilson in the fifth with a punch that landed high on his head. Shaken but not in dire straits Wilson nodded at his corner to signal that he was alright, kept his composure and his distance.  The battle continued with Wilson firmly in control probably forgetting that he is being paid a flat rate for the fight. Maybe he thought that he was being paid for the number of rounds logged.
Nobody can question the heart and courage of Taylor who found his jab and right uppercut in the 9th and 10th rounds. Spurred on by his adoring fans including his children, Taylor seemed rejuvenated—as comedian J.B Smoove would say, "Earlier he was juvenated, lost it and got juvenated again, thus he was rejuvenated." Working from behind the jab with his forever-sinister grin, Taylor caught Wilson with several uppercuts over the course of the two rounds; maybe the tide was turning as the man from Johnstown was mounting a charge.
So much for rejuvenation as Wilson listened to his trainer Rodney Rice and went back to work in the 11th round, advancing using his jab and landing vicious hooks. He was back in charge removing all doubts that he was abdicating his throne. The fight should have been halted when Wilson landed a vicious combination capped off by a thunderous right that sent Taylor crashing face first to the canvas. Press row muttered in unison that the fight was over. To everyone's surprise, Taylor rose slowly on wobbly knees tethering as though he was in a hoola hoop contest and was warming up. He took the count and made it back to his corner.
There is an old adage in boxing that a corner has to protect a fighter from himself. Taylor wasn't going to quit and should not have been allowed to continue. Call it stupidity or an unwavering belief in their fighter's recuperative abilities but Taylor's corner ushered him out for the final round. I dreaded what was going to happen because Wilson came out of the corner with a diabolic look on his face wanting to close the show in dramatic fashion. He probed and boxed looking for the opening to light the dynamite in his gloves. The furious fighter was like a demolition engineer strategically placing explosive material at the base of a building trying to time detonation.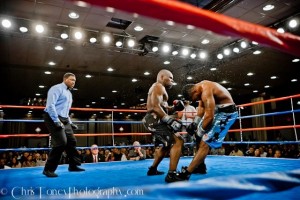 Wilson (L.) watches as Taylor falls asleep.
With about fifteen seconds left in the round Wilson placed a right uppercut that found its mark at the pit of Taylor stomach then he immediately drilled a short six-inch left hook that penetrated the right side of his adversary's head. It was more of a lethal injection with a gloved syringe than a punch as Taylor slumped fast asleep before falling backwards, his head hitting the canvas as referee Brown rushed over to remove his mouthpiece. Wilson strolled to the neutral corner his handlers' celebration turning immediately into concern for his fallen foe that lay comatose not moving a muscle. The crowd was silent and we heard Taylor's young daughter crying near press row worried that her daddy was gone forever.
After a few minutes the courageous fighter came out of the haze and was sitting up being checked by the ringside doctor.  Announcer Tornambe announced Wilson as the victor and new NABF cruiserweight champion by knockout at 2:50 mark of the final round. It is evident why Freddie Roache did not risk Lateef Kayode being rendered hapless on the canvas by the shore. We all know that Don Quixote, Wile-E-Coyote, Lateef Kayode or any coyote would have suffered Taylor's fate! Let's assume that the sanctioning bodies will force one of their champions to swap punches with Wilson.
If you are a boxing promoter and you have read this far please sign Detroit lightweight Chris Finley (4 wins – 4 losses – 0 draws – 4 kos)! The kid is better than almost every young pugilist who is being protected and given opponents from the graveyard. Promoter J. Russell Peltz signed Haitian sensation, Atlantic City lightweight Osnel "Prince" Charles (9 wins – 2 losses – 0 draws – 1ko) to a promotional deal after the plucky fighter won eight in a row fighting in his opponents' backyard—capped off with a scary first-round knockout of Anthony Flores in his last bout on June 25th. This bout reiterated what I already knew—both fighters are talented fearless and have a beard!
Finley's entrance music Let's Get It Started by The Black Eyed Peas was the precursor to what was about to unfold. The bell rang and immediately Charles attacked trying to decapitate the Detroit fighter with a crippling left hook. The young man who was discovered on the mean streets of the Motor City by trainer Andrea Darnel as an eight-year old defending his younger brother absorbed the blow and fired back with a wicked right hand. The shot almost imploded Charles but the Haitian wobbled, caught his balance garnering and eight-count from referee Morton. How he made it out of the round is a testament to his heart, chin and strong will.  After a close second round in which Charles split Finley's mouthguard with a left hook sending both pieces orbiting the ring causing a halt in the action. In the third stanza lightning struck again as Finley looking like Tommy "The Hitman" Hearns, sent Charles to the canvas with a devastating right hand that caught him as he was pulling out with his chin unprotected after an exchange.  Wisely, Charles kept his distance for the remainder of the round with Finley in hot pursuit.
After a close fourth round Charles struck Finley with a devastating overhand right—the same shot that left Anthony Flores motionless on the canvas for nearly five minutes.  Like Charles, Finley has granite in his chin because he remained erect and was able to stay composed and avoid getting caught with anything of consequence for the remainder of the round. Knowing he was ahead on the scorecards, Finley boxed from a distance in the last round using his jab controlling the action winning a unanimous decision 59-53 and 58-54 twice earning the respect of his foe and the audience.
It's unfortunate that the referee Fields became the deciding factor in an interesting match-up between undefeated Philadelphia junior-welterweight Naim "The Dream" Nelson (5 wins – 0 losses – 0 draws – 0 kos) and the effectively unorthodox Dontre King (6 wins – 9 losses – 2 draws – 2 kos) of Cambridge, Maryland who was riding a three-fight win streak. Press row and Uncle Russell—promoter J. Russell Peltz—couldn't help commenting that both fighters wore exact replicas of the same trunks sporting similarly colored shoes. However, it isn't difficult to spot King in any encounter because he fights like a praying mantis with an uncanny ability to throw punches from angles that would cause most fighters to rupture a trapezius muscle.
The opening round was close with Nelson advancing and King, chin high in the air, surveying the landscape pecking away with his jab occasionally throwing a sweeping right. An accidental clash of heads cause a slight cut near Nelson's hairline. King closed the round out with a few body shots. The 21-year old Nelson was busy in the next two rounds as he attacked the body pressing the action. King, who befuddles most opponents and has deceptive power, kept poking away, attempting to land his right hand. In the fourth stanza Nelson caught an off-balance King with a right hand that sent him careening into the ropes. Instead of calling a knockdown, Fields immediately stopped the fight, much to the dismay of King and the audience. Nelson was declared the winner by technical knockout at 1:53.  I hate to be disparaging but, the referee's judgment was probably out to left field! Fight fans were denied two extra round of what was shaping up to be a tactical fight of contrasting styles. Nelson was ahead but King is never out of a fight because of his unusual style and ability to strike from anywhere.
Other Results: The show opened with undefeated Atlantic City super-middleweight Gabriel Pham (4 wins – 0 losses – 0 draws – 2 kos) pitching a shutout winning a four-round unanimous decision over debuting 34-year old Michael Mitchell of Patterson, New Jersey. The chiseled Mitchell was aggressive throughout the fight but the southpaw Pham was just too technically proficient working behind a long right jab dropping the straight left occasionally to keep his adversary at bay. All of press row agreed that Philadelphia junior-welterweight Korey Sloane (2 wins – 3 losses – 0 draws – 0 kos) should have be awarded a four-round unanimous decision over tough and recklessly wild Julio DeJesus (5 wins – 1 loss – 1 draw – 3 kos) of Franklinville, New Jersey. However, we were mildly surprised when after using his jab to control most of the action, Sloane left the ring with a majority draw as one judge had it 38-38 and the other two had it 39-37 for Sloane and DeJesus respectively.  Featherweight Joshua Rodriguez (1 win – 0 losses – 0 draws – 0 kos) of Millville, New Jersey blanketed the slick boxing, debuting, southpaw Elvis Rodriguez of Manchester, Connecticut like a hound dog hunting a possum enroute to winning a unanimous four-round decision by scores of 40-36 twice and 39-37. Maybe he had a hot date awaiting, for in the last bout of the night Philadelphia light-heavyweight Todd Unthank-May (2 wins – 0 losses – 0 draws – 1 ko) rushed out his corner landed a right followed by another right then a left hook that sent Ronnie Lawrence (0 wins – 1 loss – 0 draws) of Pottstown, Pennsylvania to the canvas forcing referee Fields to end the carnage at 27 seconds of the opening round of the scheduled four-rounder.
My day began with the celebration of the life of a great man who was an equally terrific father, community leader and auto mechanic.  It concluded with the jubilation of another father who is destined for greatness but in the squared circle. It was another "super-sensational" night of the sweet science as The Ultimate Warrior in dramatic fashion shook the rankings of the cruiserweight division with another devastating knockout.  I heard that Andres Taylor told the emergency medical technician who assisted him that Garrett Wilson was unusually strong in comparison to their first encounter. Yes, I understand Taylor's comment but I haven't witnessed any growth in Wilson's head literally or figuratively as in the case of a certain Filipino pugilist whose ascension has been wrought with steroid allegations. Yes, Wilson's punches are harder and more potent— there has been growth in his technical proficiency especially how he shifts his weight behind shorter more compact punches!
We will remember Edner Michel and we can't forget Garrett Wilson—two men who never met—two mechanics—one tuning up cars and the other tuning up fighters. Congratulations Garrett "The Ultimate Warrior" Wilson!
Rest in peace Bos Neˊ.
Continue to support the sweet science, and remember, always carry your mouthpiece!
Related Articles: