Posted by George Hanson., Jr Esq. on Jan 28, 2016

Categories:
Featured Article
|
Comments Off

on Boxeo en la nieve—Blanco Decisions Ocasio
The Mouthpiece
By: George Hanson Jr., Esq.
Date:                           Friday, January 22, 2016
Venue:                         Sheet Metal Workers Hall, Philadelphia, Pennsylvania
Promoters:                   Hard Hitting Promotions in Association with Danny Garcia's Swift Promotions.
Ring Announcer:          Alex Barbosa
Referees:                    Shawn Clark & David Franciosi
Matchmaker:               Wilbert Ruiz
National Anthem:       Kathy Ocasio
Photos:                      www.christoneyphotography.com
A snowstorm looming in the wings—Frosty the Snowman with his britches at ankle-length squatted ready to defecate and deposit an estimated twenty-four inches on our beloved city—wasn't a deterrent as the Philadelphia fight faithfuls poured into the venue for another slice of the sweet science. Boxing is in the bloodline of the City of Brotherly Love—our fifth sports franchise. Thus, it was no surprise that the opening show of 2016 was well-attended despite the warnings of the weatherman.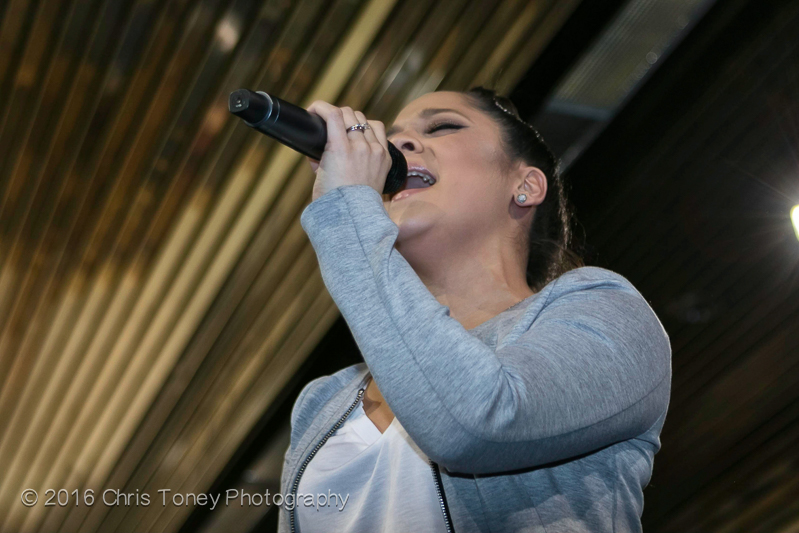 Kathy Occasion belting out the anthem.
On October 30th undefeated Philadelphia lightweight Angel Ocasio (8 wins – 0 losses – 2 draws – 2 kos) returned after a three-year absence from the ring to win a hard-fought unanimous six-round decision over rugged Bryne Green of Vineland, New Jersey. The twenty-six year-old Ocasio was able to shed some ring rust in hope of reclaiming his old form. In tonight's eight-round main event he faced the tall, rangy Reynaldo Blanco (9 wins – 2 losses – 0 draws – 4 kos) of the Dominican Republic now residing in Carolina, Puerto Rico for what was billed as the NABA US lightweight championship.
Ocasio waited patiently in his corner as his wife Kathy belted out a wonderful rendition of the national anthem demonstrating that her husband isn't the only talent in the family.
The gong sounded and Ocasio met Blanco in the center of the ring in a tactical opening round with each fighter trying to reveal enough yet conceal more than the other could evaluate and counter. It was a chess-match with both fighters using their jabs with none of their heavy artillery landing.
However, Blanco took command in the second round by going to Ocasio's body with a hard right hook sometimes turning it into a straight right. He kept his foot on the gas appearing to be one step ahead of his opponent using his length and proper spacing to counter while always keeping Ocasio at arm's length. It was a masterful display of the sweet science as his body attack slowed down the Philly fighter who seemed to be one step behind his nemesis who used every inch of the ring to his advantage.
Ocasio fought back and was never in any serious trouble. But, Blanco seemed to be reading his thoughts knowing his next move countering and defending his attack piling up round after round reminding us that maybe an opponent of this magnitude was a little too much at this stage in Ocasio's return to the squared circle. No surprise that Blanco won by unanimous decision 80-72, 79-73 and 77-75 capturing the NABA belt and celebrating in the ring for several minutes with his handlers.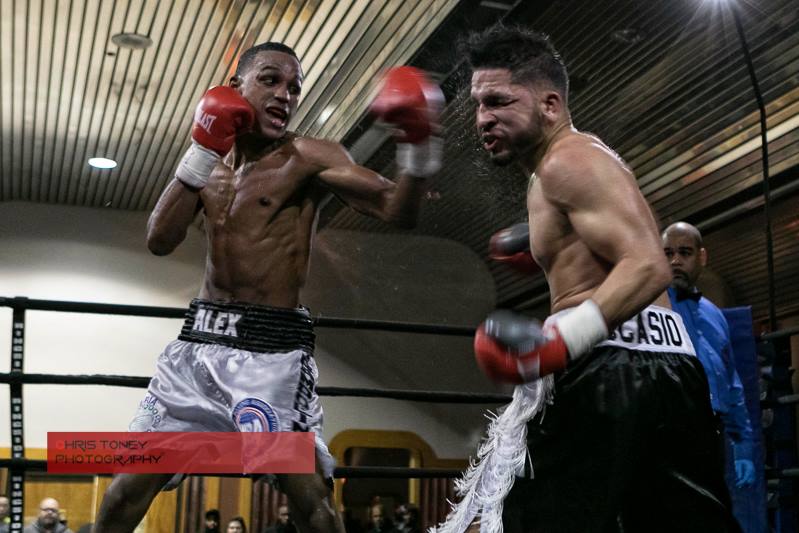 Blanco (L.) landing the left hook.
Philadelphia junior-middleweight and Danny Garcia's acolyte Saud "Savage" Clark (5 wins – 1 loss – 1 draw – 4 kos) hopped all over Julian Valerio (2 wins – 3 losses – 0 draws – 1 ko) of Brooklyn, New York at the opening bell of their scheduled four-rounder beating him from pillar to post all over the ring hitting him with everything except the referee. Clark pinned Valerio on the ropes and was a whirlwind winging away with wide left and right hooks. Like a lion lying in the tall grass on the Serengeti Plains waiting to pounce on his prey, Valerio waited patiently and countered with a devastating right hand while Clark was cranking up another left hook. The punch landed squarely on Clark's chin sending him sprawling to the canvas on his back as the audience held its collective breath in disbelief. Referee Clark reached the count of ten before Clark was upright on unsteady legs. Valerio was declared the winner by knockout at 1:59 of the opening round leaving everyone flabbergasted.
There is an old adage that it "takes two to tango." And nothing was more apparent than the co-feature in which lightweight Jonathan "The Last Inca" Maicelo (22 wins – 2 losses – 0 draws – 12 kos) of Callao, Peru now fighting out of North Bergen, New Jersey had an unwilling dance partner in Samuel "Bruno" Amoako (21 wins – 5 losses – 0 draws – 15 kos) of Accra, Ghana. Maicelo pressed the action at the opening bell of the scheduled six-rounder but Amoako was content to motor around the ring with both gloves pressed against his ears masquerading as earmuffs picking off shots reminiscent of his countryman former IBF welterweight champion Joshua" Grand Master" Clottey's abysmal performance against Manny Pacquiao on March 13, 2010.
Maicello raked Amoako to the body with hooks and uppercuts but the Ghanaian must have taken a vow of non-violence because he rarely returned fire. Instead he covered up showing his defensive prowess throwing the occasional jab or beckoning with his gloves for Peruvian to "come on." It would have been more entertaining had a heavy bag been hung in the ring and Maicello paid to hit it for six rounds. Watching two snails race across a concrete floor would have been more appealing than watching this one-sided fight with only one contestant focused on fighting. The judges were all in agreement as Maicello won a unanimous decision 60-54 on all three scorecards.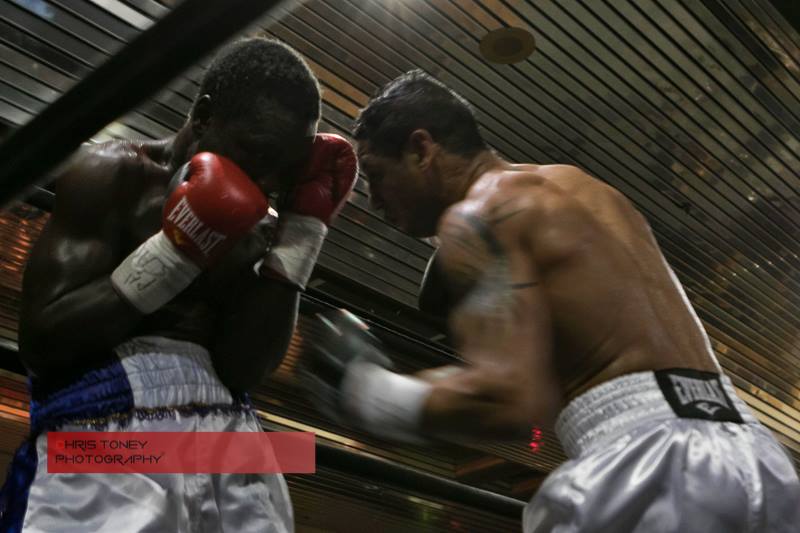 Maicelo (R.) working the body.
With rapper Fetty Wap blaring over the house speakers on the track RGF Island the exquisitely tatted New Jersey lightweight Alberto Manukyan (0 wins – 3 losses – 0 draws) entered the ring for his scheduled four-rounder against debuting southpaw Luis Del Valle of Philadelphia who made his entrance after Fetty completed the hook about stacking his money just to spend it. Looks and entrances oftentimes are deceiving. Because Del Valle dominated his adversary from the opening bell stalking and jabbing—countering to the head and body—appearing to all the more experienced fighter instead of one making his first professional appearance. Manukyan fought back but Del Valle was just too sharp, landing crisp and swift combinations neutralizing his opponent. It was an impressive performance for the Philly fighter who captured a unanimous decision by scores of 40-35, 40-36 and 39-37.
There is something special about Delaware's light-heavyweight David "One Two" Murray (2 wins – 1 loss – 0 draws – 2 kos). If fighters were drafted like players in the NFL, Murray would be an early first round pick from a small college—another Steve "Air" McNair. It is only fitting that Murray was fighting on a card promoted by Hard Hitting Promotions because the 6 feet 1 inch boxer has dynamite in both fists. With hands held high, Murray jabbed the shorter Heriberto Salaman (0 wins – 2 losses – 0 draws) of Puerto Rico. Trying to gain a competitive advantage and disrupt Murray's momentum, Salaman switched to the southpaw stance and attacked with reckless abandon.
Towards the end of an uneventful opening round a one-two combination from Murray landed squarely on Salamon's face sounding like the sonic boom of a bullet passing through air. Salamon hurt and frozen momentarily didn't have time to recuperate as Murray unleashed a vicious left hook that ricocheted off his jaw spiraling him to the canvas in a hapless heap. Surprisingly, Salamon made it to his feet as referee Franciosi tolled the count of four. However, Greg Sirb, Executive Director of the Pennsylvania State Athletic Commission never allowed referee Franciosi to do his job. The obtrusive Sirb called a halt to the bout at 2:46 declaring Murray the winner by technical knockout of the scheduled four-rounder.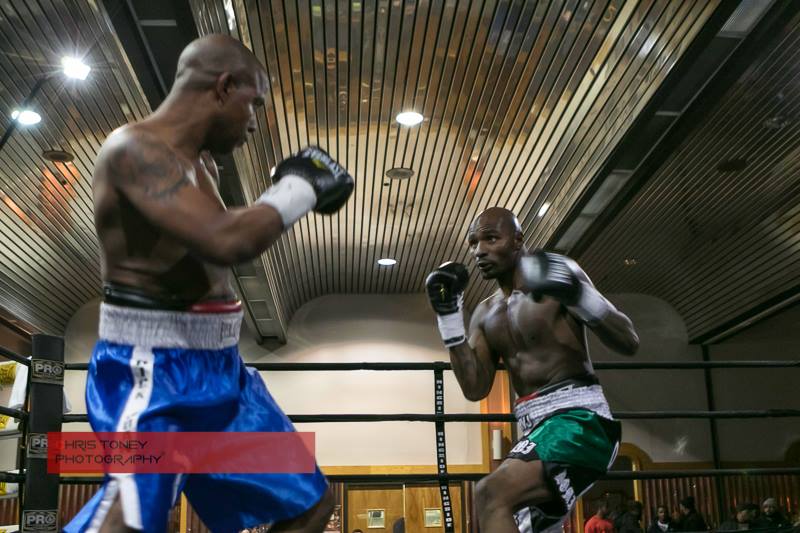 Murray (R.) moving in on Salaman.
In a four-round junior-middleweight bout featuring debuting fighters ex-Marine Idemar Cordero of Philadelphia squared off against Luis Ramos of Puerto Rico. Cordero hurt Ramos in the opening stanza with a straight right and was relentless in his attack for the remainder of the round working behind a stiff jab. They were boxing on even terms in the second round when Cordero hurt Ramos with a left hook and a straight right to the body forcing the Puerto Rican to clutch his opponent in order to gain a respite from the onslaught. But, Cordero was able to gain separation and immediately cornered Ramos and rained down punches from every angle forcing referee Franciosi to rescue the helpless fighter from serious punishment. Ramos was declared the winner by technical knockout at 1:57 of the second round.
In the opening bout of the evening undefeated southpaw super-middleweight Noel "Soldier Boy" Godson (5 wins – 0 losses – 0 draws – 4 kos) of Newark, New Jersey was impressive in winning every round in a scheduled four-rounder against Victor Kpadenou (10 wins – 9 losses – 0 draws – 5 kos) of Cotonou, Benin now fighting out of Silver Springs, Maryland. The dreadlocked Kpadenou was relentless from the onset. But, Godson was just too defensively adept and offensively accurate standing in front of his adversary picking off shots while countering effectively to the head and body hurting his opponent in the opening stanza with a right hook. The rugged Kpadenou attacked Godson's head and body with some vicious hooks. However, Godson was just too skillful and crafty. The last round was close as they fought toe-to-toe fast and furious to the end. All three judges saw it 40-36 for Godson.
A victorious Godson and his handlers.
Despite Greg Sirb, Executive Director of the Pennsylvania State Athletic Commission, barking orders, yelling making his presence known it was another exciting night of boxing in the City of Brotherly Love—The Capital of Boxing. Sirb's crassness has become part of the vulgarity of the boxing business in Pennsylvania. The audience remained intact despite Sirb and the snowstorm which commenced after the opening bout. In a fight town inclement weather and a diminutive blowhard modern day Mussolini are just part of the price paid to enjoy professional pugilism.
Continue to support the sweet science, and remember, always carry your mouthpiece!
Related Articles: