Posted by George Hanson., Jr Esq. on Mar 27, 2014

Categories:
Featured Article
|
Comments Off

on Boxing is Cool in Philly!—Pooh Ennis Returns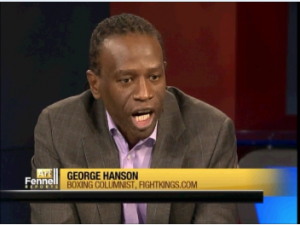 The Mouthpiece
Boxing is Cool in Philly!—Pooh Ennis Returns
By: George Hanson Jr., Esq.
Date: Friday, March 14, 2014
Venue: Sheet Metal Workers Hall, Philadelphia, Pennsylvania
Promoters: Cool Boxing Promotions
Ring Announcer: Nino Del Buono
Referees: Benjy Esteves Jr. & Hurley McCall
Matchmaker: Wilbert Ruiz
Photos: www.christoneyphotography.com
Boxing is a religion in Philadelphia—the City of Brotherly Love—it is stained in the fabric of this historic city. I heard that a visitor once stated that "Philly is the only place that you will witness two winos fighting on a street corner and they are both hooking off the jab." Fact or fiction —it doesn't matter because Philadelphians are confident that it accurately depicts normal dispute resolution between two inebriated comrades. But, despite the sweet science's ubiquity—boxing gyms littering the landscape—there has been a paucity of professional shows over the past year. With The Legendary Blue Horizon's shuttering in 2010—Peltz Boxing Promotions taking comfort in Atlantic City—Joey Eye and David Feldman taking residence nearby at Harrah's in Chester, Pennsylvania—upstart Shaylyte Entertainment relocating to Las Vegas and KEA Boxing Promotions heading back to North Jersey—only four shows were held within the city limits in 2013. Thus it was refreshing that early in the year long-time boxing aficionados Humberto Perez and Richard Caraballo formed Cool Boxing Promotions joining Greg Robinson's Power Productions as the two remaining purveyors of professional pugilism.
Tonight's main event featured Philadelphia favorite son— former USBA junior-middleweight champion Derek "Pook" Ennis (23 wins – 4 losses – 1draws – 13 kos) returning after a14-month hiatus. Ennis, a graduate of Cheyney University has always taken a cerebral approach to the art of boxing. Blessed with incredible speed and reflexes prize fighting has always been an effortless undertaking for the talented boxer. Thus, tonight he mesmerized the capacity crowd showing no sign of ring rust as he navigated the squared circle in the six-round main event against Puerto Rico's Emil Gonzalez (11 wins – 6 losses – 1 draw – 8 kos). The Puerto Rican pugilist, a high school gym teacher, fought hard with every ounce of energy and will power he could muster. But Ennis was just too skilled jabbing, parrying—landing punches to the head and body pitching a shut-out— winning every round.
I have a natural propensity to see the invisible and perceive the imperceptibly. Some would claim that I have an unchecked imagination—my faithful reader Delma Colmenero from El Paso, Texas would agree.Therefore, midway through the fifth round Gonzalez unloaded what seemed to be a 12-punch combination and the elusive and supremely talent Ennis picked off the first eight shots with his gloves—pulled out a cell phone out of his left glove—ordered a pizza—threw the phone to his trainer and father Bozy Ennis in his corner—and deflected the other four punches with his right glove while smiling and laughing at the crowd like the reincarnation of heavyweight champion Jack Johnson. It happened so quickly only a trained eye like mine could have caught it all. No surprise when the scored were announced and Ennis won a unanimous decision by scores of 60-54 and 59-55 twice.
In the match-up of southpaws, Glassboro, New Jersey's super-middleweight Derrick "Take it to the Bank" Webster (15 wins – 0 losses – 0 draws – 0 kos) and Lester Gonzalez (12 wins – 11 losses – 4 draws – 3 kos) of San Diego, California locked horns in a competitive six-rounder for what was billed as the IBS National Title. It's not my intent to disparage, diminish or discount but frankly I have never heard of the IBS. There are so many belts being doled out by countless alphabet organizations that they have become irrelevant. Fortunately I too have been able to secure four belts in my closet—three from Neiman Marcus and one from Walmart!
For six rounds Webster and Gonzalez fought on even terms with neither man gaining a marketable advantage. Webster jabbed, moving laterally as Gonzalez who promised that he was going to separate the 6 feet 4 inch pugilist from his senses launched overhand lefts in hope of sending him to dreamland. The rounds were close but Webster was busier edging them out with his long, lengthy jab. The highlight came in the fourth round when Webster backed into his corner, dropped his hands and invited Gonzalez to attack. Not one to pass on an opportunity, Gonzalez went in and rained down several punches, most missing their target. The remaining two rounds followed the script of the previous four as Webster controlled the pace with his jab and won a majority decision 59-55, 58-56 with the third judge scoring it a draw 57-57. Webster has no need for suspenders as he added another belt to his waist. It is time for the undefeated super-middleweight to showcase his skills on one of the major networks.
I never thought I would see lightweight Damon Allen fighting in Philadelphia. After compiling an impressive amateur record of 150 wins and 11 losses capturing numerous amateur titles, it was axiomatic that he would have been swept up in the gale-force winds of hurricane Al Haymon. Allen, similar to WBC & WBA champion Danny "Swift" Garcia had to be on the radar of the reclusive, boxing power broker who is rarely seen but is always heard. Nevertheless, Allen was signed by local D & D Management—Doc Nowicki and Dave Price—and has remained undefeated in five fights since joining the punch-for-pay ranks in April 2013.
Tonight, the gifted and talented boxer made it six in a row as he controlled the action in a scheduled six-rounder against tough Hector Marengo (6 wins – 6 losses – 4 draws – 4 kos) of Arecibo, Puerto Rico. In the opening round Marengo strolled out of his corner and landed a straight right that forced Allen to the ropes. But, there is much that has been learned from an illustrious amateur career as Allen righted the ship, worked behind his jab and settled down in a pattern that was effective for the remainder of the fight. Early in the fourth stanza he blasted Marengo with a blistering right that wobbled the Puerto Rican pugilist. Allen poured it on for almost thirty seconds landing to the head and body having many believing that the fight was about to end. However, Marengo was able to survive the round and was able to trade toe-to-toe with Allen in the final round. It was a boxing exhibition by the twenty-one year old Philly fighter who won a unanimous decision by scores of 59-54 and 58-55 twice.
Milton Santiago Jr is a special young man and boxer. It was December 7, 2007 when he fought at The Legendary Blue Horizon on the undercard of Lenny DeVictoria's sixth round technical knockout of junior-welterweight Elad Schmouel which garnered him Philadelphia Fight of the Year at the inaugural Briscoe Awards. It was an 11-year old Santiago who squared off against Josh "Thunder" Rosas in a three-round exhibition at half-time as part of the Holiday's Children Show. Santiago was a bad man as a youngster— winning a hoard of national amateur championships— being granted an exemption on the age limitation by the Pennsylvania Athletic Commission allowing him to compete in the professional ranks on February 7th. Much can be learned from the 17-year old high school junior who handled himself with the eloquence and skill of a seasoned professional at Monday's press conference. Unlike many young pugilists he was prepared, poised and captivating in answering questions and deflecting concerns. "During the fight, I block everything out, I only hear my dad."
Santiago entered the ring tonight for his third professional fight. The bell rang and he immediately attacked twenty-three year old William Lorenzo (3 wins – 14 losses – 0 draws – 1 ko) of Puerto Rico. Trying to decapitate his adversary the 17-year old pugilist stayed close, working the body and head—switching intermittently to the southpaw stance—wreaking havoc much to the delight of his fans. Round after round Santiago fought at close range outworking his opponent placing shots to the bread basket and head trying to crush Lorenzo like the previous two opponents who never made it out of the opening round—lasting a combined three minutes and thirty-seven seconds. Lorenzo's pride and chin allowed him to survive to the final bell as Santiago won a unanimous four-round decision by scores of 40-36 twice and 39-37.
The son of the promoter—nineteen year-old Philly flyweight Richard "Time Bomb" Caraballo (0 wins – 1 loss – 0 draw) exploded on debuting southpaw Jose Garcia of Puerto Rico, attacking at the opening bell applying constant pressure in every round, winning a unanimous decision 40-36 on all three scorecards. Decked out in an exquisite purple outfit, Caraballo was searching for the knockout as he placed some hard shots to Garcia's mid-section. It was the perfect strategy against a novice professional who connected with a straight left but was unable to land it effectively with power.
In an entertaining four-rounder debuting Philadelphia lightweight Sefullah Jihad Wise had to solve the conundrum of the unorthodox James Gooding (1 win – 4 losses – 1 draw – 1 ko) of Tampa, Florida. The southpaw Wise attacked the body working behind his jab while Gooding showboated throughout the fight. In the fourth round Gooding backed up and launched a three-pointer—hands above his head, stood on his toes, replicated the motion of a basketball player launching a shot— reminiscent of Miami Heat's point guard Ray Allen's seminal shot in Game 6 of last year's NBA finals against the San Antonio Spurs. Creative and entertaining but it had no effect on the outcome as Wise captured a unanimous decision by scores of 40-36 twice and 39-37.

With four more shows planned for the rest of the year, Cool Boxing Promotions has found its pulpit at a great accessible venue with free parking as it joins Power Promotions in preaching the gospel of the sweet science in the City of Brotherly Love. With Manny Rivera at the marketing helm and Kurt Wolfheimer as the publicist the converts will be lining up on Delaware Avenue. Amen!
Continue to support the sweet science, and remember, always carry your mouthpiece!
Related Articles: