Categories:
Featured Article
|
Comments Off

on Boxing Journalist Turns Actress
May 13, 2014 by the FightKings Team [FKT]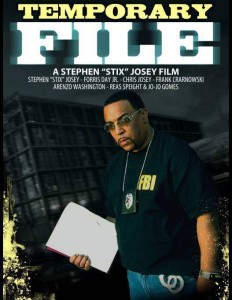 When you search www.fightkings.com you would have seen the countless boxing interviews and reviews of the fight game by our correspondent, Pattee Mak. She is usually thinking outside of the box and not only goes after boxers to interview but goes after many different interesting individuals/topics to cover. This time the tables have turned and fightkings is excited to interview her along with the Producer and Director, Stephen "Stix" Josey the CEO of Stix Productions and CEO of MSJ Productions, Film & Music and the Associate Producer, Chris Josey of MSJ Productions, Film & Music regarding their upcoming movie "Temporary File". The movie is about FBI Agent Jackson who is played by Stix, who is assigned to a special case known as the temporary file. Agent Jackson then discovers that due to corruption within the bureau, those are his true enemies. Pattee was casted as "Linda" in the film.
FKT: WOW Pattee, We are so excited for you. Congratulations. How did this role come about?
Mak: I ran into an old friend of mine, Mark Del Negro. We started chatting about the ins and outs of the movie business and I mentioned to him that I would love to get into acting. A few weeks later Stix and Mark were chatting and he told Mark to text me to ask me if I would play his wife Linda in a movie. I was honored and so excited that I jumped to the opportunity. Linda's name came about in honor of Stix's late mother who recently passed away on October 1, 2013. It was funny because I knew little about the film and I didn't know if I would have a speaking role or not. As we were driving there, I started to think to myself, hmmm wife… What kind of scene will I be playing? Would I have to kiss my friend?
FKT: You played Linda in the movie and this is your fist movie role. Did the acting come easily for you?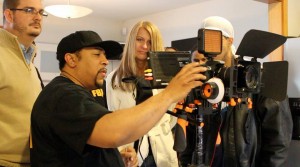 Mak: Actually I was surprised on how easy it was for me. I put myself into character and wanted to bring out the emotional aspects along with facial and body movements all at once without looking fake or too programmed. I found Linda was an easy role for me to get into even though my husband Ryan, who is played by my friend Mark, wasn't the easiest man to be married too. Overall I loved it!
FKT: How comfortable were you on camera?
Mak: I was very comfortable on the set and everyone was very professional and easy to work with. I've worked with others in the past on camera and also a big thanks to you for making me your co-host on many blog talk radio programs. I felt extremely comfortable. Otherwise I'd probably be very nervous and have an anxiety attack.
FKT: This question is for Stix. This is Pattee's first movie role. Tell me about her performance during the shooting of the film?
FKT: Pattee had an excellent performance. Prior to the shoot, she was given direction as to how the scene would be shot. During the shoot, she followed direction well. She portrayed confidence and was very believable. She added a little bit of humor to her performance and I definitively look forward to working with her again.
FKT: Awhhh thank you Stix. I'm definitely looking forward to working with you as well.
FKT: Boxing here at fightkings is our passion. Have either of you thought about incorporating boxing in a future movie and/or maybe even casting a pro boxer in the film?
Stix: Absolutely. I'm linking up with Pattee now and thinking we still have known names out there that need exposure. Once the funding is in place it would make a great biography of someone's life. In pictures you can make movies about them because their lives are interesting.
Chris: And I think it would be awesome. A lot of boxers have gone through struggles to get their name out there. They fight for a living and some of their stories need to be told also.
Stix: And to answer that their fight in life is 100 times harder in life than in the ring.
Mak: I agree with both of you. There are so many boxers out there that have struggled outside of the ring and can relate to how boxing has saved them.
FKT: Pattee, you train boxing in your spare time, can you see yourself playing a female boxer in the ring?
Mak: That would be a role I would love to take on. I have trained boxing for almost 10 years and have seen the inside of many different gyms. I definitely have the muscular frame for it, sometimes too muscular, and if someone actually tweaked my body positioning there would be no stopping me. I'm always up for any challenge.
FKT: Stix and Chris, do you feel that Pattee will be a beneficial part of future films that you will be directing or casting?
Stix: Absolutely. I feel as though being a director and producer in this being her first movie my goal is to work with her in the future as a business women. She is someone who will be an asset in anything she puts her hands into and brings it to the next level. As a filmmaker, I want her to be a part of the team.
Chris: I wasn't present during her filming but I've reviewed the scene that she was in and I was impressed and will definitely place her in future projects in front of the camera and behind the camera.
FKT: Chris and Stix, do you see a correlation between making a movie and preparing for not only a fight but a championship fight?
Chris: The number one priority is to have the best performance you can for the people, the fans. If you do a sloppy job preparing for the fight or making a movie, then you won't give the fans what they really want to see.
Stix: It comes down to every aspect of the business has to be in order. To the mind being fined tuned and the body has to a prepared for war and you have to be prepared to win the war and not just the battle cause the battle comes from within. The battle becomes assuring that the cast is there and making sure that you are getting your 5 miles in per day or possible 10 miles for the day. 100 sit ups to the medicine ball. Then the crafts services, meaning such as food, you have to be in tuned. Having enough of film, batteries charged. Now once the movie is done now comes postproduction so your body is ready to go to the fight. Be prepared mentally and ready to go to your performance to show it off. It doesn't matter how well you prepare, if your performance stinks it's in correlation to your movie being a disaster.
FKT: Stix, Chris and Pattee I wish you all the best of luck.
Stix: We wish you and fightkings the best of luck and we wish Pattee the best of luck. I love what you are doing and tying the two together and bridging the two worlds together. I can't wait to make this new film together. I'd love to make a movie about the death and life of boxing. Cause with boxing you live.
Chris: Thank you. I really appreciate you taking the time to interview us and hopefully we will see more of each other in the future and the red carpet.
Mak: Thank you so much. You are soooo good to me and I appreciate you taking the time to interview Stix, Chris and myself. I'm totally excited come June 20th at the red carpet premier. Michael if you were closer I'd love to have you attend. Anyone interested in attending the premier if you are near Springfield, Massachusetts it will be at the Springfield Entertainment Cinemas, 1250 Saint James Avenue, Springfield, Massachusetts at 7:00 p.m. As always what to wear… what to wear.
To find out more information about the movie "Temporary File" you locate them on facebook: https://www.facebook.com/pages/TEMPORARY-FILE/292619690901423.
You can also locate Pattee Mak on facebook and on @Patteemak. Photos courtesy of Stephen "Stix" Josey.
Related Articles: