Posted by George Hanson., Jr Esq. on May 14, 2012

Categories:
Featured Article
|
Comments Off

on Bugs Bunny is A Cat! —Smith Outfoxes Ferrante. Vasquez Schools Fernandez
The Mouthpiece
Bugs Bunny is A Cat! —Smith Outfoxes Ferrante. Vasquez Schools Fernandez
By: George Hanson Jr., Esq.
Date: Friday, May 4, 2012
Venue: Harrah's Chester Casino & Racetrack, Chester, Pennsylvania
Promoters: Joey Eye Boxing Promotions & David Feldman
Ring Announcer:   Larry Tornambe
Referees:           Benjy Esteves Jr. & Shawn Clark
Matchmaker:             Joey Eye
Coverage:                 www.gofightlive.com
Photos:                     www.christoneyphotography.com
Percy Rodgers is a remarkable individual and we became fast friends while working on a consulting engagement early in the year.  Rodgers, a musician who once played a gig with Patty Labelle, recently retired from a high-level managerial position in the casino industry to start a third career as a consultant.  He is the consummate professional who not only has the ability to find solutions to complex business problems but also has a knack for thinking "outside the box" in discussing life's absurdities. Thus, during our afternoon sessions in the concierge lounge we found time to explore the species of our beloved insouciant, wily trickster— Bugs Bunny—and what would happen if he were indeed a cat!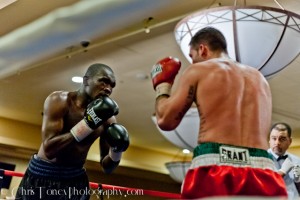 Since Bug's debut in 1938 at Leon Schlesinger Productions (later Warner Bros. Cartoon) the world has accepted that he is a gray hare or rabbit. Bunny is the ninth most portrayed film personality in the world; yet nobody has ever questioned his family background doubting whether or not he could be a feline in disguise. Maybe, our debate was just the tired rambling of two consultants fueled by the merlot and coffee served in our hotel lounge. Rodgers and I never found conclusive evidence to disprove our theory that Bugs Bunny was a cat. However, sitting at ringside it was evident that Philadelphia pugilist Dhafir "No Fear" Smith is the gloved equivalent of the famous cartoon star—pulling out every trick in the book out boxing, outfoxing, containing the aggression of Tony "Boom Boom" Ferrante over ten rounds. Bugs Bunny might not be a cat; but Smith is a sly old fox!
Tonight's main event featured the twenty-nine year old Smith (25 wins – 22 losses – 7 draws – 4 kos), who joined the punch-for-pay ranks at eighteen back in 2001, against rugged fellow Philadelphian Ferrante (12 wins – 3 losses – 0 draws – 7 kos) two years his junior. Despite slight age differential, Smith has more than three times the number of fights as his opponent. Over his eleven-year career he has lived up to his moniker of "No Fear" by taking on all comers—his biggest victory being a 12-round unanimous decision in December 2010 over former IBF super-middleweight champion Jeff "Left Hook" Lacy. Smith traveled to Lacy's hometown of St. Petersburg and trounced the former titlist winning handily forcing him into retirement. To shed more light on the disparity in experience, Smith served as the chief sparring partner for undefeated WBC & WBA super-middleweight champion Andre "SOG" Ward —whom he lost to back in 2007—for his December 17th victory over Carl "The Cobra" Froch. Fit and lean as a Kentucky Derby racehorse, he returned from Canada where he was in training camp with IBF super-middleweight champion Lucien Bute to fill in for Tom Karpency who was originally scheduled to duke it out with Ferrante.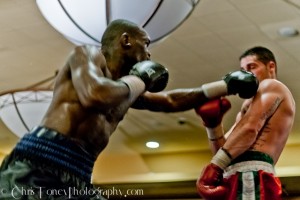 As Bugs Bunny is capable of outsmarting Elmer Fudd and other antagonists, Smith is equally adept at out boxing just about anyone. His long jab always resting on his hipbone whips out with speed and accuracy like the tongue of a lizard snaring a fly. Round after round he controlled the action snapping Ferrante's head back with the laser-like weapon that momentarily froze the advancing fighter in his tracks. Ferrante tried to turn it into a dog fight instead of a boxing match but the wily veteran knew how to work on the inside, raking him with body shots, gaining separation getting the fight back to the end of his gloved fists. By the fourth round, Ferrante was bleeding profusely—a busted nose compliments of Smith's rapier left hand.
Nonchalant, self-assured and imperturbable Smith controlled the action as though he was strolling through Fairmount Park decked out in a seersucker suit a pair of spectator shoes gracing his feet on a balmy spring day. Nevertheless, Ferrante showed his mettle by being sedulous in his attempt to turn the tide by landing one big punch as his fans mounted a chant of "Boom Boom!" However, Smith's ring savvy allowed him to dictate the pace, control the action and coast to a ten-round unanimous decision and the Pennsylvania light-heavyweight title 99-91, 98-92 and 97-93. What's up, Doc?
There is no love lost between Philly lightweights Victor "The Fighting Barber" Vasquez (14 wins – 6 losses – 1 draws – 7 kos) and Paul Fernandez (5 wins – 4 losses – 2 draws – 3 kos). They don't like each other and I doubt that will ever change.  In the semi-windup they faced off in a rematch of their April 30, 2010 six-round draw, which was contested at the junior-lightweight limit. I was ringside for that memorable bout at the Arena in Philadelphia as Vasquez waged war for four rounds with blood trickling down his face from an accidental head-butt in the second round as his then seven-year old daughter Cassidy watched her cherubic face filled with consternation.  I thought Vasquez had done enough to secure the victory as one judge had it for him 58-56, the second having the same score but for Fernandez with the third scoring it even 57-57.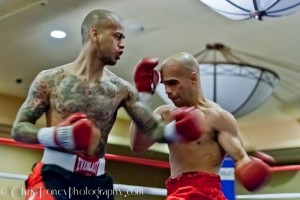 Cassidy was back at ringside but had plenty to cheer about as her dad in jeopardy of losing the opening stanza deposited Fernandez on the seat of his trunks with a jackhammer jab that had Philly legend "Bad" Bennie Briscoe smiling in his grave. Fernandez wading in with reckless abandon walked right into the jab that Vasquez pumped from his shoulders like a piston. He fell like he ran neck-first into a clothesline with only twenty seconds remaining in the round. More embarrassed than hurt; he rose before referee Esteves could reach the count of three finishing the round on good footing.
It was Vasquez's night and under the guidance of new trainer Angel Pizzaro Sr. he executed his game plan out boxing Fernandez taking him to school controlling every facet of the fight. He used angles, changing direction with perfect precision as though he was in a salsa contest tearing up the dance floor—destroying the competition—taking Fernandez to school. In the fifth round, Vasquez reintroduced Fernandez to the canvas with a blistering right hand that sent him sprawling on his back like he was sunbathing in Negril, Jamaica. No one would ever question Fernandez's courage and mental toughness as he got up as the referee reached the count of five, dusted himself off and continued fighting until the bell ended the round.  Vasquez took the final round pitching a shutout winning on all three scorecards 60-52. He walked back to the dressing room a sardonic smile shuttling to and fro below his pencil-thin mustache relishing the manner in which he vanquished his nemesis.
Philly junior-welterweight Tyrone Crawley Jr. (1 win – 0 losses – 0 draws – 0 kos) never planned on following in  his dad's footsteps. He was born a little over a month after his father, Tyrone "Butterfly" Crawley, captured the vacant NABF lightweight championship by majority 12-round decision over future world champion Charlie "Choo Choo" Brown in Atlantic City. The elder Crawley compiled a record of 22 wins – 2 losses – 0 draws – 7 kos losing to Livingstone Bramble in his only shot at world title in 1986. He went on to win his next three fights and hung his gloves up for good at the ripe old age of twenty-nine in January 1988 to pursue a career in law enforcement. Like NBA legend Allen Iverson, the younger Crawley was a two-sport athlete at Roxborough High— starting quarterback on the football team and the same pivotal role in leading the basketball team as a point guard.  He matriculed to Penn State University where he played on the basketball team for two years before returning to Philadelphia to lace on a pair of gloves. After a brief amateur career in which he was undefeated in twenty bouts Crawley  joined the professional ranks on February 24th winning a unanimous four-round decision.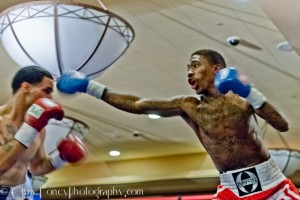 It is too early to draw comparisons between the Crawleys because dad was a world-rated contender at twenty-six with eighteen fights while Jr. entered the ring tonight to compete in his second contest. However, like his father, he is a southpaw and fights with the same passion and intensity as the old man. Crawley dominated Luis Antonio Lopez (2 wins – 10 losses – 1 draw – 1 ko) of Union City, New Jersey over four rounds, hurting him numerous times, referee Esteves seconds away from calling halt only to have Lopez throw a punch showing that he was still game. It was a one-sided affair that should have ended early. Crawley has much to learn about distance, punch selection and gaining separation. But with trainer Fred Jenkins and the Butterfly in his corner he will get a crash course in the finer points of the sweet science. No surprise that Crawley won by scores of 40-35 and 40-36 twice.
Other Results: Philadelphia heavyweight John Mercurio (4 wins – 0 losses – 0 draws – 3 kos) returning from a 13-month hiatus faced the same man whom he defeated in his last fight—iron-chinned William "Big Stuff" Miranda (5 wins – 4 losses – 1 draw – 0 kos) of Allentown, Pennsylvania. It was an entertaining bout with the shorter Miranda crowding Mercurio eating jabs while landing a murderous body shot in the second round. With both eyes swollen and behind on all scorecards in the fourth and final round Miranda walked into a right hand that sent him to the canvas. He was able to get up before referee Esteves reached the count of four. But, the astute referee had seen enough and called a halt to the fight at 59 seconds declaring Mercurio the winner by technical knockout. In an all Philly matchup, light-heavyweights Taneal Goyco (4 wins – 3 losses – 0 draws – 2 kos) and Brian Donahue (2 wins – 2 losses – 0 draws – 0 kos) fought to an entertaining four-round draw.  Donahue won the first two rounds with his guile and slick boxing. But the relentless Goyco took the last two stanzas by imposing his will and forcing the action. Two judges had it 38-38 while the third scored it for Donahue 39-37.  Temple University grad southpaw junior-featherweight Alex "Macho" Barbosa (2 wins – 0 losses – 0 draws – 1 ko) made it three in a row with a four-round unanimous decision by scores of 40-36, 39-37 and 38-38 over tough fellow Philadelphian Jonathan Ocassio (0 wins – 8 losses – 0 draws). It was an action-packed bout with Barbosa applying constant pressure and the tall, lanky Ocassio doing enough to have garnered a draw on all scorecards.
On the eve of Floyd "Money" Mayweather's 43rd fight against WBA junior-middleweight champion Miguel Cotto, fans packed the venue to have their slice of the Vegas experience without having to venture cross-country and spend a small fortune. Enjoying the action were former world champions Nate "Mr." Miller, Buster "The Demon" Drayton and Riddick "Big Daddy" Bowe.
The other day I called Percy to further our discourse on Bugs Bunny's bloodline and he said, "I have another one for you—Yogi Bear is a fat dog!" Over five minutes of laughter ended the debate and will most certainly start another venture down Absurd Avenue.
Continue to support the sweet science, and remember, always carry your mouthpiece!
Related Articles: