Categories:
Featured Article
|
Comments Off

on Capital Slugfest in DC – Peterson Upsets Amir Khan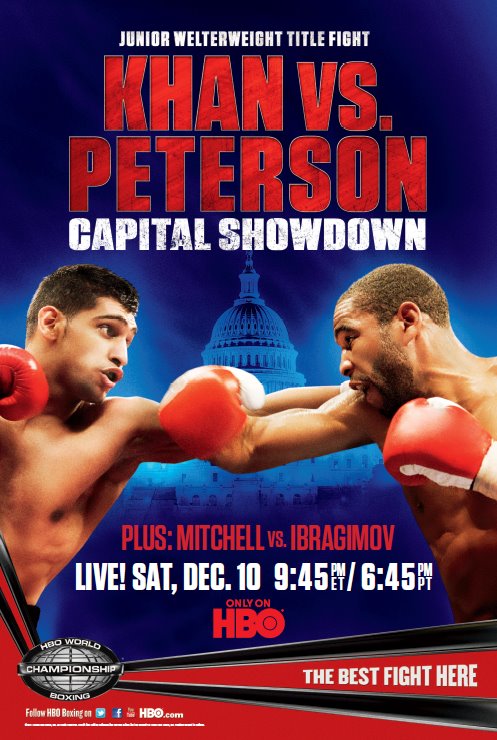 By Michael Amakor at Ringside on December 10, 2011
On December 10, 2011, 8437 fans crammed into the Walter E. Washington Convention Center to watch and cheer hometown kid Lamont Peterson, perhaps after hearing his appeal "Khan has got his army here, so we really need DC to come out and represent!" take on British super star Amir "King" Khan in a super fight the city has not seen since Iron Mike Tyson shockingly lost to Kevin McBride back in June 2005.
The fans were doubly excited as there were many DC and beltway based fighters on the card including Anthony Peterson, Lamont's younger brother and especially Brandywine Maryland based Heavyweight Seth "Mayhem" Mitchell taking on the biggest test of his career against Timur Ibragimov in the co-main event of the night
"This is a terrible arena" remarked some fans in attendance in reference to the acre long hall which did not have the benefit of raised seating, and with the view of the ring in some sections completely blocked off  by some huge foundation support pillars, but with giant plasma TV screens on them to replace the view for those fan unlucky enough to have purchased the cheap seats behind those pillars in the arena.
"Is this the best arena DC has to offer" I quizzically asked Alex Kohut, a beltway based writer and boxing fan.
"Hell No" he retorted  "Didn't you listen to my show"  referring to the Max Boxing East radio show.
"Looks like the fans turned out" someone remarked, "there were lines all the way down from the hall and down past the entrance almost into the street"
But a quick historical fact check to the Tyson vs Mcbride fight showed that more than 15,472 showed up at the MCI Center across town for that event.
"Blame it on the economy" I thought to myself.
SETH MITCHELL DISPATCHES IBRAGIMOV
Despite being the more experienced 1996 Olympian and former WBC Fecarbox, NABA, and IBA Continental heavyweight champion Timur Ibragimov wilted mightily under the heavy handed punching power of rising heavyweight Seth Mitchell as the both felt each other out in the opening round, with Timur scoring a few points with some quick jabs through Seth Mitchell's guard, but but becoming ever more conscious to stay out of Mitchell's power range.
Midway into the second round Mitchell buckled the usually tenecious Timur with an overhand right from a combination, and seeing that Timur was momentarily dazed  from the concussive force from that blow, he was emboldened to persist with repeated heavy handed overhand rights that sent Timur hurtling against the ropes unable to defend himself, forcing referee Malik Waleed to step in and wave off the fight in the corner.
A disappointed Timur (30-4-1, 16ko's) who somewhat protested the stoppage left the arena without granting a post fight interview.
The boxing jury is still out on Seth Mitchell (24-0-1, 18kos) despite this dominating performance. Is he the next great heavyweight his handlers Golden Boy Promotions are drumming him up to be, we can't tell yet, but one things for sure, he carries the hopes of Americans desperate to produce the next dominant American champions on his shoulders due to the nearly decade long dominance of the division by fighters of European extraction.
On his part a jubilant Seth Mitchell stated post fight:
"I plan to stay on this level. I work hard, I train hard, I'm going to continue to work hard and reach my goal."
Only time will tell if he is the man to deliver on these dreams and aspirations of the American boxing public.
LAMONT PETERSON UPSETS AMIR KHAN
Britain's 2004 Olympic Silver medalist and former unified Super Lightweight Champion Amir Khan remarked during one of his many press conferences to promote this fight"
"I always said when I was younger, I wanted to fight in different states and different areas of the world because I want to be the best and prove that I'm the best. "We know how good Lamont is. He's strong. He's only lost one fight in his whole career. It's going to be a tough night
Prophetic words indeed, as he talked up a storm and forced the cagey and ever dangerous Lamont Peterson to fight like his very life depended on it, and it very well may have.
Lamont Peterson relentlessly chased a bewildered and previously super confident Amir Khan and gave him a stiffer challenge than he expected to earn an announced majority decision loss by scores of 115-110, 112-113 and 112-113 in hostile territory and searing into his mind with painful certainty the need to take less chances and reverse the tables when he blurted out during the post fight press conference:
"I was man enough to come to his home turf to fight, lets see if he is man enough to fight in the UK."
Lost in his calls for the rematch was the desire to be the road warrior fighting away from his fan base and support system after as he said
"The ref kept penalizing me. I was up against the ref all night."
And he had good reasons to feel that way, as he was deducted a point for holding in rounds number seven for pushing and controversially for the same offense in the twelfth and final round by Washington DC based referee Joseph Cooper which altogether cost him the fight everybody acknowledged post fight.
But Peterson (30-1-1, 15kos) and the mostly partisan fans in attendance could have cared less about Khan's predicament during the fight after he maddingly nearly stopped the hometown kid Peterson, who had to pick himself off the canvas from a flash knock down, followed by a second one ruled official in the very first round to recover and apply constant and unrelenting power punching pressure against Amir Khan while soaking up several blistering countering precision hooks to occasionally trap and rip away combinations at Amir Khan's mid section occasionally punctuating his assaults with several solid uppercuts to Khan's head, dazing him and making him back pedal constantly to avoid the onslaught, which drove the blood thirsty upset minded crowd to a frenzy anytime Peterson managed to corner and brutalize Khan against the ropes, altogether producing what many fans and pundits ringside considered a late candidate for fight of the year.
In the championship rounds, both fighters but especially Peterson sought to assert ring generalship by constantly trying to position the valiant Khan against the ropes only to run into a furious firestorm rally by the now almost desperate Amir khan who seemingly out-landed him with stinging combinative flurries increasing the excitement in the arena from the danger that the fight might be stopped at any time especially after the point deduction in the first half of the 12th and final round.
"We've trained for that long distance. If we see him hurt, we're going to go for the finish. If it does go the distance, I'm sure we're going to win the fight so convincingly that we're going to be way ahead. There's only going to be one winner in the fight, which is going to be me" Khan said, during one of the many pre-fight press conferences.
His conditioning did hold out into the final round, but it was Peterson who had previously remarked pre-fight "I've been talking for two months now. I'm tired of talking. I'm ready to fight." "they're raising my hand at the end of the fight", who walked away with Khan's WBA Super World lightweight and IBF light welterweight title belts and leaving all the partisan fans starry eyed from witnessing this fan friendly fire fight at the final bell.
However, there was no real loser and both fighters made fans for life as a result of their performance, and Maryland based former WBA World super featherweight title challenger Lamont Pearson , whose name bears striking phonetic similarity to Peterson commented on his facebook page
"Had a wonderful night with some long time friends at the fight last night, but was a bit confused when I woke up today with literally 400 friend requests! If I was Lamont Peterson, I would ask "where were you before the fight?"
The outcome of the fight fuelled by the controversial point deductions and the resulting worldwide furor definitely guarantees a lucrative rematch which would not only give Lamont the chance to earn a fortune, but another chance to  solidify his legacy, and the new champion with his right eye partially swollen shut from this firefight and never backing down from a challenged remarked during the ring side post fight interview.
"I would definitely give him (Khan) a rematch, he gave me a chance, why not, it was a good fight. I wouldn't mind doing it again"
The fight was telecast on HBO and was promoted by Golden Boy Promotions in Association Swanson Communications, a DC based publicity firm.
UNDER CARD RESULTS AND RINGSIDE COMMENTARY
Fernando Guerrero defeated Robert Kliewer by TKO
Anthony Peterson won a unanimous decision over Daniel Attah
Jamie Kavanagh and Ramesis Gil controversially fought to a majority draw.
Terron Grant  knocked out Dashawn Autry by knockout.
Joshua Davis was awarded a unanimous decision wiin over Christopher Russell.
The younged fighter in professional boxing Dusty Harrison stopped Terrell Davis.
LISTEN TO LIVE RINGSIDE COMMENTARY
****FIGHT GALLARY AND POST FIGHT PRESS CONFERENCE*******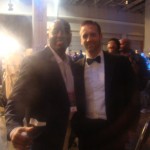 Related Articles: