Categories:
Featured Article
|
Comments Off

on Community Mourns Urbina Death, Arreola: "If I Don't Beat Mitchell, It's Over"
Arizona Boxing News & Notes With Don Smith | September 6, 2013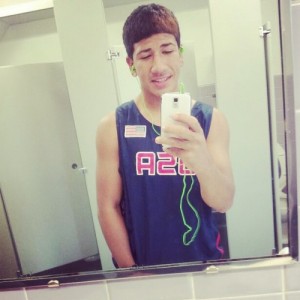 Breaking News: The Arizona boxing community and USA Boxing Arizona is mourning the tragic death of 17 year old boxing sensation Alexis Urbina who passed on Thursday, September 5, 2013 at Banner Good Samaritan Hospital in Phoenix, Arizona. On Tuesday, according to friends of the 2016 Olympic hopeful, the South Mountain High School senior was found unconscious at his Phoenix residence by his mother around 1:30 p.m. He was last seen alive at 10:00 a.m. Tuesday afternoon Urbina was taken to Good Samaritan hospital where he was placed on life support. The determined cause of death is murder by trauma to the head inflicted by person(s) unknown at this time. Despite rumors to the contrary there are no suspects and no arrests at this time. Phoenix Detectives assigned to the case are following every possible lead. That is all the pertinent information I have at this time. Readers who have information to contribute, please call The Phoenix Police Department's Crime Bureau at 602-262-6141. Don't be shy. In a bit or irony, Alexis missed school for the day, no reason given.It is imperative that we find person(s) responsible for this senseless act of violence.
Mr. Urbina is survived by a loving family. USA Boxing Arizona has released a statement on his passing and it can be read on their website. Also visit the website for funeral arrangements and fundraiser news & dates. My sincere condolences to the family. Iron Boy Promotions is expected to pay tribute to Alexis at their Iron Boy 9 show on September 21 at the Celebrity Theater in Phoenix, Arizona. He fought on two Iron Boy cards, according to Mike Sanchez, Iron Boy Match Maker. Farewell, Alexis. Online donations can be contributed through ww.gofundme.com attention Alex Urbina Soto. Please, be generous, if you can!To report criminal activity, call 911 or Silent Witness at 480-948-6377 (In Phoenix) or toll free: 1-800-3438477.online:www.silentwitness.org.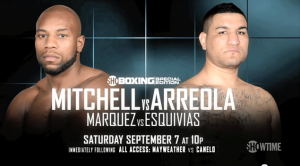 Arreola vs. Mitchell: On Thursday August 29, Heavyweight Contender Cris " The Nightmare" Arreola (35-3-30 knockouts) told sparring partner Rico Hoye he would close his Phoenix training camp after a light workout on Tuesday, September 3; furthermore, the charismatic 32 year old former 2001 National Golden Gloves Champ (Arreola) asked me to meet him at the United Central Gym in Phoenix on Saturday (8/31) to continue our conversation that began on Thursday. I accepted his gracious invitation and showed up at noon on the designated day. After a two hour wait, his manager/trainer of more than a decade (Henry Ramirez) arrived and I overheard him bidding an appreciative farewell to facility manager Santiago Castaneda and he told Santiago that Cris had decided to end his camp and return to his family in California. Arreola is the proud father of a 11 year old daughter (Danae) and a mention of her name brought forth a proud smile to his face.
Arreola, according to Ramirez, felt any more time spent in Arizona's "blistering" heat wouldn't add measurably to his preparation for Seth "Mayhem" Mitchell in their September 7, 12 round toe to toe title showdown aired on Showtime; so he hitched a ride to Sky Harbor Airport and flew home to California. The status of his Conditioning on fight night is a frequent question posed to Arreola and the avid Dodger & Raider fan freely admits to being "his own worst enemy." He went on to add, "If I have the keys to the car, I'm gone." In other words, the honor system doesn't work with him, he definitely has to be watched. Cris was driven to Arizona by Henry and he was on his best behavior for the most part.
Hoye trained with Arreola during his 5 week camp in Phoenix and the veteran fighter offers the following insightful opinion on Arreola's physical readiness for his battle with former football player Mitchell: " I believe Cris was in good shape and good spirits (when he left Phoenix) and he should perform levels above Seth Mitchell." An opinion shared by Ramirez and a half a dozen gym rats who watched multiple workouts. In addition to Hoye, Damian Wills served as a sparring partner. The two fighters went head on in 2006 with Cris winning via 7th round TKO. Hoye and Wills offer contrasting styles. Rico presents finesse while Wills is the boom boom guy. Cris was pleased with what they brought to the training camp table.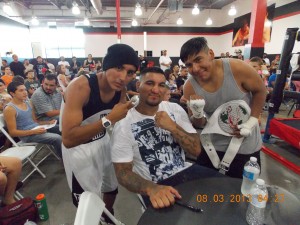 Cris is a good interview, he doesn't doge questions and the big fellow was cool as a cucumber throughout our walking, standing, sitting conversation. The subject of Don King was never brought up because I wanted to establish a rapport with him before I mentioned the controversial live HBO press conference where King called Arreola a " Wetback" in front of God, Country and a million sports fans. God was enough! I did mention the incident to Ramirez before he boarded his Chevrolet Black Tahoe and headed back to California. He told me the incident was thing of the past and all was forgotten. And Pigs Fly!
We started our amicable chat with mention of his dad who born in Mexico in the same town, Julio Cesar Chavez grew up in. Cris met Julio several times and was a fan, but he agreed that the use of drugs tarnished the legendary Fighter's Legacy. In final career bout in Phoenix with Grover Wiley at America West Arena in 2005. Chavez was pitiful. Wiley was handpicked to lose and he walked out; a 7th round TKO victor.
The demise of Chavez led to the subject of Mike Tyson's recent admission that he was losing his battle to stay sober. Cris isn't sympathetic. "We all fight something" he said in a calm reflective voice. Arreola ticked off a few of his own challenging moments in life. Parents divorced when he was young. His dad lost an arm and Cris took care of him. He and wife Erin divorced, but remarried. Alex Carranza ,a good friend, fell prey to a bullet (2007) in the back and died. He was a innocent bystander. Cris wears a tattoo in his memory.
Cris was battered and bloodied in his recent UD loss Bermane Stiverne. He lasted the distance despite the fact he suffered a broken nose (4 places) in the 3rd round. He described the last 9 rounds of the fight as" the most excruciating pain, I have ever endured." I asked about his nose and he said it was fine. The painful loss cost him a chance at a world Title and postponed his dream of becoming the first world champion of Mexican descent.
Cris meets Seth "Mayhem" Mitchell, Saturday (9/7) in Indio, California for a 12 round title bout, broadcast on Showtime. Arreola respects Mitchell's condition, but he says the former Michigan State linebacker should have taken up MMA or wrestling after his cup of coffee stay in the NFL ended. He went on to state that if he (Arreola) doesn't beat Mitchell, his boxing career is over. His avid fans are hoping the fighter they know as "The Nightmare" will
deliver a victory and continue his promise to win a world title. May the best man win!
Mrs Ruelas Breakfast Recipe: Phoenix fighter Joey Ruelas is serious about dropping pounds so he can pare down and compete in the junior middleweight division. Joey tipped the scales at 175 for his last fight and his goal is goal is to weigh in at 154 within the next 2-3 months. His wife (Mrs. Ruelas) has him on a juicing diet plan that is helping the pugilist shed pounds in a safe and healthy way. Here is a sample breakfast juiced concoction that she feeds her man, Joey every day: Spinach, Carrots, Red Cabbage, Apple, Pineapple, Pear, Lemon and Celery are optional. Chewing celery leaves lowers blood pressure and so does the consumption of Garlic. Joey has lost 12 pounds, so far. Sounds Yummy? Sorry, I forgot Mrs. Ruelas' first name.
Answer Back: Constructive criticism is good, but sometimes the comments I receive border on the incredulous. Recently, I bumped (not literally) into Super Bantamweight Alexis Santiago (14-3-1) who is fighting Alex Rangel (15-1-2) on the Iron Boy 9 Card, 9/21 at the Celebrity Theater in Phoenix, Arizona. At stake, WBC/USNBC Super Bantamweight Title. When I approached Santiago, at the United Central Gym in Phoenix, to ask him a few questions about the fight and to discover who was training him, the 22 year old didn't want me near him. In an open and theatrical display of anger,he wrongfully accused me of distorting his record. According to the boxer, I falsely reported that he suffered a knockout in a previous fight, not true. When I told me it wasn't me, he countered with "It was your website." I don't have a website. Mayweather Gym coaches Ramos and Ware are working with Alexis in his preparation for Rangel, former protege of Arizona boxing icon Mike Sanchez, Arizona Match Maker. Tickets for Iron Boy 9 are now on sale at the Celebrity Theater Box-office.
Short Jabs: Top Level Gym (Rollin Williams) hosted an amateur boxing tournament at the ARCH Center in Phoenix, Saturday, August 31. Fuentes Boxing Club won the Team Trophy with four wins. Special congratulations to their team members: Aaron Garcia, Fernando Martinez, Kevin Carbajal andEdward Caballos. Coach Fuentes has every right to be proud…..Hector Camacho Jr. (57-5-1) vs. Hector Munoz (21-11-1) battle in a 10 round super middleweight Main Event contest at the Blue Water Resort & Casino , Wednesday September 11 in Parker Arizona. Under Card includes Jessica Mohs vs. Cecelia Renova & Keenan Carbajal vs. Rogelio Valenzuela. Carbajal fights out of Phoenix. General Admission ducats run $15.00 and fans can purchase ringside seats for $30.00. First bell chimes at 7:20, doors open at 6 p.m. For tickets, www.bluewaterfun.com or PH. 1-888-243-3360….United Central Gym's Cesar Valenzuela won his recent fight in Vegas and turned down a chance to fight in New York because the notice was too short, good decision…sisters Leslie
and Litzy Hernandez hope to represent the USA in the 2016 Olympics. Both boxers work out at United Central Gym on a daily basis…Joey Ruelas has been added to the Iron Boy 9 Card at the Celebrity Theater on September 21 in Phoenix…Joe Martell will continue to box despite retirement rumors….USA Boxing Arizona President Jacob Magallanez sent me an email expressing his shock at the death of Alexis Urbina…..The Colorful Tommy Morrison passed recently and I became acquainted with him when he trained in Arizona for his MMA fight at Camp Verde, Arizona. . Just a good ole boy from Arkansas and Oklahoma. Sorry, he never finished that book, he was planning to write. His escapades would fill two books. RIP! Until Next Time!
Related Articles: