Categories:
Featured Article
|
Comments Off

on Contenders, Gatekeepers and Journey Men: Alexander Johnson and Venroy July Win
On the night of July 16, there was a beehive of activity, as the beltway boxing community turned out to watch the fight card organized by United Boxing, at the DC Star Night Club, which is tucked away in the midst of some warehouses and nondescript dead end streets in a rugged DC area neighborhood,  and for good reason. The main event was featuring rising contender Alexander "The Great" Johnson, the same Alexander who decisioned former NABF super middleweight titlist and highly touted prospect Farah Ennis (17-1, 11ko's) in Atlantic City this past April impressing the critics and fans alike in attendance.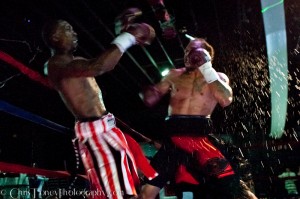 The first thing you would think is, why after such a great performance would Alexander be fighting on an un-televised club card, you might actually argue that the arena was a step down for a fighter of his recent celebrity, shouldn't he be fighting on an ESPN Friday night televised fight card at a fancier venue you would ask.
However, those recriminations did not stop Alexander from using the opportunity to stay busy, while all that got sorted out, as he impressively stopped name sake "Neon" Keon Johnson in the fourth round. For good measure and before the stoppage he had already sent Neon Keon to the canvas three times, through his constant pressure, which also including pummeling and battering Keon Johnson frequently against the ropes. His persistence paid off as Neon (8-6, 4kos) began looking at his corner in desperation prompting them to throw in the towel to stop the fight at the 1:47 mark of the fourth round in that scheduled six rounder.
So what's next for the undefeated Alexander "The Great" Johnson (12-0, 5 KO'S)?
His performance was certainly indicative of the great form and conditioning that allowed him upset Farah Ennis, but it remains to be seen whether his team comprising of veteran local trainer El Zeke Thompson among others would secure him the right contract to showcase him before a larger audience on televised cards. It needs to happen soon or he risks getting lost in the mix like so many former undefeated and promising prospects before him from the beltway.
Another entertaining fight, featured cruiserweight Venroy "Hard Work" July the fan favorite, who put on a methodical performance against Rayshawn Myers by attacking his body with jabs and hooks that put Rayshawn Myers on the defensive for the entire bout, so much so that, the frustrated Myers began complaining about every borderline low blow and other misgivings to the audience while maintaining a running monologue with Venroy.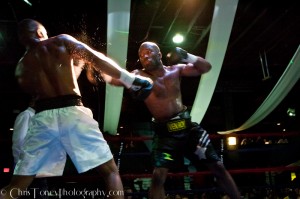 The unsympathetic crowd booed its displeasure at his antics, forcing Myers, to internalize his frustration, which he later translated into throwing wild shots that missed, but occasionally touched and almost had July in trouble before the fight closed out in the sixth round. The judges awarding the 60-54 unanimous decision win to Venroy July.
What's also amazing about Venroy (7-0, KO 2) is that he is a Duke University trained DC attorney, but those qualifications lead you to question why he would choose to engage in the extremely dangerous sport of boxing. Does he not know that it could leave him a stuttering incoherent advocate of the law, fumbling and unable to gets his facts straight if he takes harder knocks to his head from stiffer competition up the rankings?
However, right now he seems to have everything going for him including his great conditioning, and the obvious and implied management and negotiating skills he must have acquired by virtue of his education as an attorney, and having veteran Adrian Davis in his corner.
Who is Adrian Davis, you may wonder.
Well he trained many fighters including former welterweight champion Sharmba Mitchell and heavyweight champion Shannon Briggs to name a few.
You can't help but rout for Venroy July to keep on winning.
THE JOURNEY MEN
Everybody plays a role in boxing, you have United Boxing, promoters, managers, trainers, cut men, match maker Chris Middendorf, the prospects on their way up the rankings and then you have the gatekeepers who prepare these prospects for the tougher fights down the road.
No fighter you would imagine, ever starts out their career, with the intention of becoming the gate keeper, but too often gatekeepers make the same mistakes of accepting the wrong fights too soon, putting themselves at a disadvantage by fighting at a catch weight, and not having a management team behind him that could guide them away from turning their dreams of ring glory into a painful nightmare once the get rail roaded down that career track after a couple of losses.
What is sometimes painful to see when watching them fight, is realizing that with just a little more coaching these working stiffs could possible be turned into the next great contender.
This brings me to the case of Rayshawn Myers (4-9, 3 KOS) who came into the ring adorned not only in white everlast trunks with the vertical black strips identical to what Mohammed Ali used to wear, both who also bore a somewhat striking resemblance to that venerable great. He also displayed some of the showboating antics like waving and rotating his gloved fist in the air before launching an assault like Ali.
But that's where the similarity ends, in sentiments echoed by writer Alex Kohut sitting beside me at ringside as we called the fight, because unlike Ali who applied the rope a dope tactics expertly, Myers despite his defensive ability to slip punches, lacked the skill to effectively counter or grab when under pressure, kindling his frustration because he realises he could do better.
When I cornered him in his dressing room after the fight he took me through the trials of a journeyman and one thing came across loud and clear " I need a Trainer" exclaimed Myers. (LISTEN TO MYERS INTERVIEW)
Are there any volunteer trainers out there, willing to give up their time to work with Myers and help him fulfil his potential? please step forward.
Previously I had a quick and interesting discussion with Mike "Strickly Business" Denby (3-11, KO 2) who had just lost on the undercard toAlentez Fox.
Our brief discussion was very interesting and the solution became apparent to me "You need a Manager" I thought to myself. (LISTEN TO INTERVIEW WITH MIKE DENBY)
Undeterred, "Strictly Business" told me he would be fighting on the undercard of a televised ESPN Friday night fight card at the Mohegan Sun Casino, in Uncasville Connecticut, against another rising prospect on July 29.
Will he win, can he turn the tables on his opponent this time, we can only wait to find out.
FOR A MORE EXTENSIVE RECAP OF THE NIGHTS EVENTS CHECK OUT –
LISTEN TO RINGSIDE COMMENTARY BY MICHAEL AMAKOR AND ALEX KOHUT
MORE PHOTOS
Related Articles: