Uncasville, CT – 10-3-2014 – Ringside by Pattee Mak
Venue: Mohegan Sun Casino, Uncasville, CT
Promoters: Peltz Boxing Promotions, Inc. and Axis Sports Media
Photo by Craig Eagleson.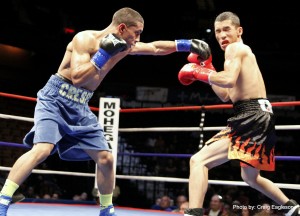 Featherweight John Crespo, a local from New Haven, Connecticut wins the Unanimous Decision against Xian Wei Qian of Kunming, China. This was the first time Qian fought in the United States. After 6 rounds all three judges scored the bout the same. 59-55 all in favor of Crespo. During round 1, Crespo rocked Qian but couldn't finish him off. At the end of the round 1, Qian was confused and went to the wrong corner for the break. Crespo the busier of the two fighters, landed the cleaner, more precious shots.
Crespo increased his record to 3-1-2, 1 KO and Qian decreased his record to 5-4-1.
In the co-main event:
Super Bantamweights: Southpaw Nate "The Great One" Green of New Haven, CT vs. Jorge Abiague of Portland, ME. In the co-main, both with perfect records and no one wants that "0" to go. In the earlier rounds, Green looking for the knock out and had great foot work. At the end of round 2 Green was in bit of trouble but was saved by the bell. Both fighters fought a competitive fight while each landing their share of punches. Judges scored the bout 60-54; 59-55; 59-55 all for Green whose record is now 6-0-0 while Abiague goes the other way 6-1-0. Some were saying this should have been the main event.
Light welterweights: Welsey Tucker of Toledo, Ohio vs. Antonio "Lino" Chaves Fernandez of Boston, MA. Both opponents were kept busy in the ring. Tucker landing the cleaner shots while being busier of the two. Fernandez slipping punches well. The ref warning Tucker of rabbit punches. Fernandez developed a welt underneath his right eye. After 4 rounds Tucker wins by UD, 40-36; 39-37 and 39-37. Tucker increases to 4-0-0 and Fernandez 6-12.
Heavyweights: Ed "Black Magic" Latimore of Pittsburg, PA vs. Excell Holmes of Buffalo, NY. Latimore during round 1 opened up on Holmes using every punch imaginable and landing. At 2:17 into the round, Holmes landed a left hook followed by a right that dropped Holmes onto to ropes. Referee Michael Ortega stops the bout. Latimore continues on to 6-0, 5 Ko's and Holmes 2-5-1.
Heavyweights: Joe Cusumano of Danville, VA vs. Solomon Maye of New Haven, Connecticut. After a multitude of punches landing on Maye while backing him up against the ropes, the left hook was delivered and immediately following referee Michael Ortega stopped the bout at 1:00 during round 3 of 4. Afterwards Maye had some words with the ref, probably chatting about the stoppage. Cusumano increases to 9-1 and Maye 1-3.
Light heavyweights: Luis King of Albany, NY vs. Lawrence Blakey of Pennsylvania. King continuously worked to open up Blakey, body/head punches. While Blakey waited patiently for the opening. Winner by UD King, 40-36; 40-36 and 39-37. King increases to 3-1-0 and Blakey decreases to 1-2-0.
Related Articles: