Arizona Boxing News & Notes With Don Smith
Curtis Cokes, Mayweather, Alvarez, Beltran & Iron Boy 8
Boxing Fans,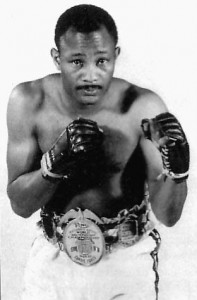 Former world welterweight boxing champion Curtis Cokes celebrated his 76 birthday on Saturday June 15 while working the Mikey Garcia vs. Juan Manuel  Lopez 12 round title fight in Dallas. Reportedly, he received a check and a cake, nice way to celebrate a birthday.   The champ resides in Oak Cliff, a Dallas suburb that was reluctant to provide housing to black
Americans during the sixties  the  until civil action was taken. You can ignore history, but you can't rewrite it.Every step he took in becoming a champion was uphill. The Golden Gloves didn't permit him to enter their "exclusive" club, so he became a self- taught fighter. In 1980 he authored a book which gave readers an insight to his approach to boxing. Developing diversity in his life  is a key to his success according to the champ.
We met via phone after I was asked to locate him, so a fellow journalist (Brian Fogg) could ask the champ a few questions about former  WBC International Heavyweight Titlist  Ike Ibeabuchi, a promising heavyweight trained by Cokes until the emotionally volatile pugilist was  convicted of sexual assault and battery in 2001 Ike sentenced up to 20 years and sent to Locklove Prison in Nevava. Ike faced a  parole hearing in May, 2013. No official word on the outcome.  Our initial brief  conversation led to additional long distance verbal  exchanges. Curtis isn't a computer guy.
Today, the boxing champ  turned successful trainer continues to work with fighters including former heavyweight contender  Kirk Johnson who is making a comeback at age 41. The training facility  is housed  within  Curtis Cokes Foundation building ,a non profit 501 C-3 organization that services 30-35 kids with activities designed to prepare them for adult life. Curtis opens the gym each day (Monday-Friday) before noon and leaves in time to get home and watch Judge Judy at 4 p.m. Dallas time.
Mr. Cokes is a proud Texan who was born in Corsicana, Texas, but didn't stay there long enough to remember  the city ,so he considers himself a Dallas Native. Box rec lists his birthplace as Dallas and he wanted me to know that he was a devout  fan of the Dallas Mavericks, Texas Rangers and of course, the Dallas Cowboys. Ironically, his home state wasn't overtly supportive of his boxing career. He  drew better on the road than he did at home. He isn't bitter.
It was a time in US history when the popular slogan "Don't mess with Texas" could have been interpreted by minorities as a threat to any non-white person who challenged a "democratic" society that wasn't concerned with equality and fair application of laws. Cokes recalled  paying  6 cents to ride the city bus and he knew the view from his seat was always the same, white people were seated in front of him. The N Word and boy were familiar salutations for Black people to hear and when a police officer in New Orleans called him "boy", the fully grown Curtis walked over to the man in blue and corrected him and then walked away proudly. Cokes thinks wrongs should be addressed with a modicum of intellect and measured temperament. He isn't a screamer.
The ultimate insult came when he was fighting at New York's Madison Square Garden two or three years after the JFK assassination in Dallas.  When it was announce that he was fighting out of Dallas, Texas, the crown erupted in a chorus of boos. Garden Fans blamed him and the whole state of Texas for the death of our 35th President.
At the exact  time of the 1963 assassination, Curtis was on his way to Parkland, Hospital  to deliver some medical papers. He wanted to catch a glimpse of the President's downtown motorcade, but he missed it within minutes. Cokes was a big JFK fan and any suggestion that he wasn't saddened by his death of the popular president is sickening to say the least.
Cokes knew what he was facing when he entered the sport so he started  training himself. It must have worked, boxing scholars  view Cokes as an under rated boxer and champion  who was inducted into the World Boxing Hall of Fame in 1998 followed by the Texas Black Hall of Fame in 2001and the International Boxing Hall of Fame in 2003.  His professional career ended with 62 wins, 14 losses and 4 draws in 1972. He knew the career was over when getting ready for a fight began to feel more like reporting to a factory than participating in a sport. He won his last fight as a middleweight and today he weighs in at close to 180 lbs.The champ suffered a stroke a few years back and he is under doctor's care for high cholesterol and hypertension.
A Boxing career wasn't where he was headed, or so e thought when he was a Senior at Booker T. Washington High School in Dallas. A multi talented athlete, Curtis was offered a full basketball scholarship to Morgan State and the Brooklyn Dodgers offered him a tryout when he was 17.  His heart was set on wearing baseball cleats, but his small size and a lack of pop sealed his fate ,so he became a serious boxing student and an eventual world champion. Even after he chose boxing, his hoop skills  remained strong enough for him to get an annual invite from Meadowlark Lemon and the Globetrotters every time the team toured Dallas.
In 1972, he retired from boxing and was astonished when Legendary film director John Huston offered him a plum role in the Oscar Nominated movie "Fat City." The storyline evolved around two small town boxers (portrayed by Jeff Bridges & Stacy Keach) who had reached  a crossroad in their life. It was a gritty celluloid tale that rejuvenated the directorial career of  Huston. And the storyline and working with the two actors was a very good source  of education for Curtis  who was paid $400.00 for his first fight in 1958, 10 times what he was paid weekly for performing as a custodial engineer in the daytime.
Cokes took the prestigious role which cast him opposite Oscar nominated Actress Susan Tyrell as her boyfriend.  Critics praised his performance, but Cokes found the craft of acting much harder than  boxing. He cited the long hours and multiple scene takes as two main reasons why he didn't pursue acting as a career.The former actor heaped praise on co-stars  Stacy Keach and  Bridges for spending so much time with him and he said their coaching helped him pursue other avenues after his boxing career was over. He was more confident after learning how to project himself and he was able to take on any challenge.
I asked him to give boxing a grade from 1-10 with 1 being the lowest. Cokes quickly replied 1 without hesitation. He said boxing has become a  business not a sport. He went on to add that almost everyonein boxing has  a license , but they don't know what to do with it. Most trainers can't train and most managers don't protect the fighters. Mr. Cokes also warned boxers who come to the sport believing all they needed to know is boxing. The champ came to the  sport knowing he could do other things and he challenges boxers today to be diverse. He said a lack of diversity will adversely the lives of many young boys and girls who choose professional professional boxing for their livelihood. Thanks for the interview, champ and many more!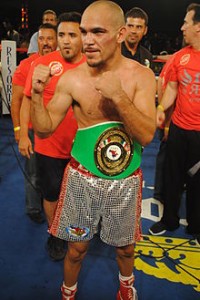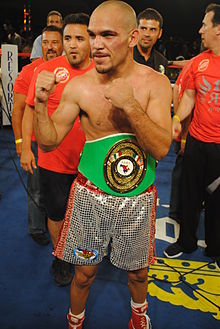 Title Shot:Raymundo Beltran called to announce his September 7  WBO Lightweight title bout with current champ Ricky Burns in Glasgow, Scotland, Burn's backyard. Raymundo is happier than a salmon swimming upstream in clear clean water. The 32 year old pugilist is hoping to bring the title to his friends in  Phoenix where he can share the honor with his beloved parents who live there.. There is some talk about greeting him at Phoenix's Sky Harbour Airport when he returns, hopefully with belt in hand. Rest assured, publicist Emily Pandelakis will  will think of something.
The #6 contender was in the valley of the Sun recently to help his friend Andrew Mendez Sr. raise some cash to help pay down  medical bills incurred during his ongoing battle with leukemia. The affable Raymundo was the host of  a silent Auction/Raffle fundraiser held at a sports card show in Phoenix and the outpouring of love towards boxing coach Mendez was mind blowing.. He was King for a day and the gentle boxing coach thanked everyone at least twice. I was told the event raised close to $5,000.00. The boxing community came together in a big hearted way.
At the conclusion of the event, the colorful Beltran peeled off his T shirt and auctioned it off for $20.00. He then signed it for a very happy boxing fan. He also donated collectible from his down stash including a pair of "Manny" signed gloves. Raymundo and Manny have been Buds for years.
In addition to Beltran; other contributors deserving a firm pat on the back include: publicist Emily Pandelakis and her son Matthew, Busted Knuckle Boxing, Lee Samuels (Top Rank),Brito Boxing, 300 Boxing Club, Hammer Boxing, Iron Boy Promotions, Underdog Fight Gear, Gents Boxing Gym, Delicioso Raspados Ice Cream Parlor, Mi Patio Restaurant, Jimmy G's Grill in Phoenix,Jesus Gonzales, Artist Jake Bowen who donated two Beltran framed on canvas  stylized portraits, Boxers Andrew Hernandez and Fernando Samaniego w/Dad, Matchmaker Mike Sanchez and many more benevolent soul who asked that their names be withheld. The success of the event  was a direct result of cooperation from a sometime despondent  Arizona boxing community. Good job.
Boxing  News:  152 lb boxer Joe Martell is on the July 20  Iron Boy 8 Card at the Celebrity Theatre in Phoenix.  Joe and fellow boxer Diamond Baier donated 5  Underdog Fight Gear T Shirts to the the Andrew Mendez fundraiser to be raffled off. Good job men. Joe and Diamond own the clothing line. Diamond showed up and bought lots of raffle tickets. He didn't care if a bull moose won. What a guy…… Emilio "Milo Time" Garcia  and his girl friend are expecting a girl,congratulations.
Boxing Publicist and Event Coordinator  Michelle Rosado is playing a role in the Alvarez/Mayweather Press Tour stop in Phoenix… . Singer/Entertainer Usher signed to portray  Sugar Ray Leonard in film bio titled Hands of Stone, release scheduled for 2014…Mario Esparza  makes his pro  debut on Iron Boy 8 Card. Sorry to hear Mario has split with trainer Tom Garcia, a credible trainer and all around good guy…..  Edgar Brito celebrated his 19th birthday on 6/11/13. Brito will turn professional after his amateur farewell bout on July 20 at the Celebrity Theatre.. …..Jose Benavidez Jr., brother David and their father Jose Sr.  pulled out of the Boxing for Breast Cancer event at the Superstition Springs Golf Course on Baseline Road in Mesa. Negative stories (CNN & Tampa Times)about the conduct of the  charity led to the decision to not attend.  Francisco C De Vaca also cancelled his advertised appearance with the Benavidez contingent.  Kristina Hixson, spokesperson for the Breast Cancer Society said an alternative program (support meeting)  featuring Singer Sydney Justin (Night of Miracles) and his wife  Mari replaced the cancelled Boxing for Breast Cancer event. Ms. Kristina  Hixson (BCS) has denied any wrong doing on behalf of the charity. De Vaca donated his purse from his last fight to the charity and Iron Boy Promotions matched the amount. Further investigation into the allegations continue….. Light heavyweight Trevor McCumby (11-0-9 knockouts) will lace them up on Saturday July 13 in Hollywood Park against TBD…..  Light Welterweight Luis Oliveras upped his record to 4-0 with a first round KO over Juan Zuniga in Santa Ynez  California  on Friday June 14. Next challenge is Johnathan Perez in Hartford Connecticut on Friday July 5 and the event is televisied on ESPN. Oliveras promoter Curtis Jackson aka 50 Cent will attend and celebrate his birthday afterwards.   Luis certainly doesn't regret signing with the rapper…..Once promising light middleweight Janks Trotter (7-1-1) is taking a long sabbatical which could lead to retirement. We wish him the best in making his decision…..Rene Nunez (R Promotions) has informed the Arizona State Boxing Commission of plans to present a boxing show at the Celebrity Theatre on August 17. Nunez , no relation to former NBA Referee Tommy Nunez, told me the card will present 5 amateur and 5 pro fights. His goal is to "take boxing in Arizona to the next Level." According to Nunez, his group will make a conscious effort to introduce new Arizona state wide boxing talent and will match them with worthy opponents from neighboring states….Casey Galloway was unable to attend Mendez fundraiser, so she sent condolences.
Phoenix Bound: The highly anticipated Floyd Mayweather vs. Saul Alvarez 11 city press tour began in New York on Monday June 24 and will make stops in Washington D.C., Grand Rapid Michigan, Chicago Illinois, Atlanta Georgia, Miami
Florida, Mexico City Mexico, Houston Texas, San Antonio, Phoenix Arizona, and Los Angeles California
For my Arizona readers, the tour stops in Phoenix on Tuesday July 2 at the Herberger Theater Center which is located at 222 East Monroe Street in downtown Phoenix. According to a press release forwarded by Golden Boy promotions, recommended fan arrival time is 11:00 a.m. Arizona time(MST) and a noontime press conference will follow. Although not confirmed, expect celebrity guests to show up and please be prepared for unsettling and scorching temperatures that could reach heights of  110-115. July starts the typical Arizona Monsoon season, but local Weather forecasters aren't predicting much precipitation until the second or third week of July. So much for for a respite. An estimated 500 people, including journalists and members of the media attended the Washington D.C. press tour  stop. Mr. Mayweather brought his adorable daughter.  Oscar de La Hoya was present. Hall of Fame publicist Bill Caplan plans to attend the Phoenix Press Tour Stop.  Here are a few tips if you go. to the Phoenix Tour Stop. The press release failed to address a  few pertinent issues.
Metered parking around the venue is limited, but other options such as lots are close, available and abundant. I would suggest arriving a few minutes early and make you secure your vehicle if you drive. The venue has three stages, the largest one being the center stage. At regular events, patrons are allowed in eary.  Phoenix City provided transportation doesn't compare favorably with other major cities (New York, Chicago, Los Angeles, etc) but the city does feature light rail, city bus and a limited free downtown trolley that runs during the evening hours for those who hangout after the event.  The Herberger Theater Center can be reached at 602-254-7399. The Phoenix Downtown Ambassadors are expected to provide bottled water for those who forgot the importance of hydration. And above all, don't panic and begin to push and shove. Please respect the rights of others and use common sense. Enjoy the stare down.
On September 14, the two undefeated champions will meet at the MGM Grand Garden Arena In Las Vegas for a scheduled 12 round bout to decide who is the best man in the ring. The Mega-Event will be produced and distributed live by SHOWTIME PPV beginning at 9:00 P.M. EST/6:00 p.m PST. The event can be heard in Spanish using secondary programming (SAP). Yes,  the venue sold out in a matter of hours after going on sale  June 25. No surprise!
Still Fighting: Ancient Evander Holyfield still fighting due to poor lifestyle choices and a legal disagreement with the IRS wants to face Rick Roufus in December in Vegas,but the Nevada bollixing commission thinks the former champ might be a little long in tooth to continue, so there is a roadblock. Roufus, better known for his exploits as a MMA fighter is over 50, also. Sad to watch Evander struggle. He was a great champion and reportedly an even better person. Roufus trains at Busted Knuckle Gym in North Phoenix. Rick was scheduled to fight on A Fan Base card in Phoenix  a few years back, but it didn't happen. According to Boxrec, Roufu last boxed  in 2001 in Canada where he lost via TKO to former Canadian Champion Dale Brown who now runs a fitness center in Calgary. Alberta Canada. Brown, now retired, is younger than both aging warriors…draw your own conclusion as to a fan demand for such a bout.  No disrespect men.
Barrera & Vargas: As expected, former boxing champs Marco Antonio Barrera and Fernando Vargas appeared at the the Food City Grocery on 91st Avenue & Thomas Road for a well attended  meet and greet on June 7. The event commenced at 7 p.m. instead of 6 p.m.as advertised. Their chauffeur said the late start was due to miscommunication and at 3 minutes until 6 p.m. he drove the hungry men to  a Black Angus Steakhouse located off I-17 Highway in Phoenix. Whey they returned  from their dining experience, I asked the affable chauffeur about the quality of the food and he made a face as if to indicate the meal was less than satisfactory. I didn't ask him to disclose the size of the tip.
The parking lot held affair was sponsored by Tecate Beer and Food City Grocery. Prior to the event, I requested and was granted  permission to bring a pair of boxing gloves for Barrera and Vargas to sign with the intention of donating the collectible items  to the June 15 silent auction/raffle benefit ting Strong Enough Boxing Club coach  Andrew Mendez Sr. in his battle with Leukemia.  When I went to present the gloves, I was told by a burly and gruff male Tecate T Shirt wearing  security guard  that both fighters wouldn't be able to sign due to a stipulation in their appearance contract. I took the rejection news to a higher authority who was aware of my emailed request and he told me the gloves were signed  and I would be receiving the signed collectibles (2 gloves) in a few minutes.
Imagine my surprise when I was handed a single boxing glove signed by Fernando Vargas.  Before I could gather my self and ask about the second promised glove, the Tecate official was gone and I was told to put my Vargas signed glove away before jealously or animosity spread amongst the crowd.
I was in a bit of a  pickle,but fortunately one of staff event  volunteer knew of my honorable mission,so he told Mr. Barrera who gladly signed two pictures and handed them to the volunteer who gave them to me. I kept one picture for myself and donated the remaining picture and signed glove to the benefit. I was unable to interview the fighters,but I would like to thank both pugilists for their contribution to the event on behalf of the Mendez family.  The items were packaged together and successfully bid on by a devoted boxing fan.  A special thanks to Food City and Tecate Beer.
Iron Boy News: The worst kept secret is Iron Boy Promotions interest in signing Cruiser weight Lateef Kayode to a fighter's contract. Kayode, 18-0-0-1NC, is 30 years old and hasn't fought since his controversial bout with Antonio Traver last year. In my opinion the signing of Kayode would be a major coup for the fledgling boxing promotion company.  Two sources say the deal is complete, but writers are still waiting for the clinching press release.
In other Iron Boy news, the iron Boy 8 card is close to completion. The bout pitting bantamweights  Jensen Ramirez 2-2-2 vs. Emilio "Milo Time" Garcia 7-0-1 is very intriguing and the pairing has members of the Arizona boxing community hitting the social media airwaves with a lot of smack talking. The bad blood between the two Arizona fighters began when Jensen called Garcia out last yea rand Emilio didn't pick up the phone, so to speak. Get ready for a  6 rounder with a lot of pride at stake. Other local favorites on the card include Francisco C De Vaca, Carlos Castro, Victor Castro , Alexis Santiago, Fernando Samaniego, Juan Garcia, Joe Martell and newcomer Mario Esparza. Matchmaker is proud of the card and he thinks will enjoy Iron Boy 8 at the Celebrity Theatre in Phoenix on July 20. Doors open at 5 p.m. and 1st bell chimes at 6 p.m. Ringside seating is available. www.ironboypromotions.com
USA Boxing AZ: Richard Soto, Head of Officiating, is looking for volunteers to work USA Boxing AZ events. If interested, contact Mr. Soto at: [email protected] . Sorry, I couldn't track down official results from the June 14-15 Junior Golden Gloves Tournament. I may have ruffled a feather or two when I reported a minor complaint  against a prior Golden Gloves event. A contestant received a trophy with his/her name omitted from  the name plate and I suggested in my column that the boxer in question  contact Arizona Golden Gloves and take care of the matter.The incident happened last year. I shouldn't be blacklisted for reporting the truth. Despite this possible snub, I will continue reporting Arizona Amateur Boxing results as they come in.  I can report there were 16 bouts held during the 6/14-15 Junior Golden Gloves Tournament and to paraphrase Mr. Soto: there are no losers in amateur boxing, only winners.Click on usaboxingaz.com for the latest Arizona amateur boxing calendar of events. In other amateur boxing news, Eben Vargas (Strong Enough Boxing Club) b  advanced to the Jr. Olympic Nationals in Mobile, Alabama   with a hard fought victory over Johnathan Reyes (Martinez Gym, NM) in the Regional Tournament heldin Wheaton, Co.  Unfortunately, the talented Eben lost a controversial bout with last year's champ in the first round of the finals. With every defeat comes a new challenge.  In a show bout, Anthony Mendez won over Dominic Chavez in a battle of 125 pound warriors. Mendez represented Strong Enough Boxing Club in Mesa Arizona…… Upcoming USA Boxing AZ Shows: 7/5, Native American Tournament at Apache Gold Casino Hotel. 7/13, Phoenix Boys Center on Buckeye Road in Phoenix. Please support amateur boxing.
Safe At Last: Fan Base Executive Robert Schmick sent an email reporting his family has returned  home after  heavy flooding forced them to evacuate their Calgary, Alberta, Canada residence for several days. Power has been restored and the main waterways including Bragg Creek and Row River are now open and the traffic flow on the QE 2 is back to normal. As a result of the massive flooding, at least four people died. Alberta officials are estimating the cost of  restoration  at more than one billion Canadian dollars (C$). Robert aka Darin worked the crisis as a disaster volunteer helping friend sand businesses pump water.  He isn't one to sit on the sidelines when the going gets tough.  Darin owns a home in Buckeye Arizona….Members and friends of the boxing community weathered a hot summer day on Saturday June 29 to help Pete Garcia and his gym with a car wash fundraiser. Brave effort. Until Next Time!
Related Articles: