Categories:
Featured Article
|
Comments Off

on Demetrius "Boo Boo" Andrade TKO Victory and results from undercard.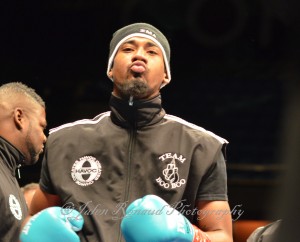 [Ringside by Pattee Mak – October 17, 2015] 2008 Olympian Demetrius "Boo Boo" Andrade of Providence, Rhode Island came ready to fight when he took on Dario Fabian Pucheta of Buenos Aires, Argentina. Just by looking at the two there is a considerable height difference. Andrade who's 6'1 towered over Pucheta who is 5'6. Since the bout began Andrade was in complete control and dropped Pucheta with a straight left then for a second time a right. Both fighters started picking up the pace letting their hands go. During round 2 Andrade lands a left jab and followed it up with a right hook and that's all I can write. Andrade wins by TKO at 50 seconds into round 2 and becomes the new WBA and WBO International super welterweight champ.
Andrade increases to 22-0 and Pucheta decreases to 20-4-0.
Co-main event – Lightweights Hank Lundy of Philadelphia, PA vs. Carlos Winston Velasquez of Managua, Nicaragua were fighting 8 rounds for the vacant WBC Continental Americas lightweight title.
During the middle of the second round Lundy landed a big left hook that rocked Velazquez which awoke the crowd. During round 3 Lundy unleashed a multitude of combinations especially the left hook. Velasquez gets dropped to the canvas. Lundy right before the end of round 3 couldn't finish off Velasquez while backing him up to the corner.  Right before the end of round 4 Lundy lands a vicious left hook and drops Velazquez again and of course Velazquez was saved by the bell. Round 5 Lundy lands another left hook and stood up Velazquez referee called a halt to the bout at .23 seconds of round 5 with Lundy getting the TKO victory and is the new WBC Continental Americas lightweight title holder.
Lundy increases to 26-5-1, 12 Kos and Velasquez decreases to 23-22-1
Local favorite Khiary "TooSharp" Gray of Worcester, Massachusetts always brings his fans with him kept his perfect record and increased to 10-0, 8 KO's by defeating Kevin Cooper of Aiden, South Carolina at 1:26 into round 2. Gray first dropped Cooper by a left hook in round 1 and then an uppercut during round 2 when the referee jumped in and called a halt to the bout at 1:26 of round 2 and gets the TKO. Cooper was not the original opponent for Gray. Gray weighed in at 155 and Cooper 150 ¼.
Josh Crespo of neighboring New Haven, Connecticut vs. Greg Coversion, Jr. of Detroit, Michigan.   During round 1 Crespo dropped Coversion to the canvas. Crespo continuing working the body. Coversion reminded me of Captain Caveman. Lol. After 6 rounds of Crespo dominating the bout and getting the UD. Judges scored the bout 58-55; 60-53; 60-53.
Borngod Washington of Queens, New York vs. Nathan Millier of New Brunswick, Canada. After two rounds referee Danny S stopped the bout at 40 seconds in the round after Miller giving too much punishment on Washington.
Mike Marshall of the Bronx, New York was scheduled on the card to fight but you know boxing no opponent. I interviewed him. Click here for the youtube interview:   https://youtu.be/RZsjHrjbDGo
Late in the schedule they added an amateur unsanctioned bout Jalen Renaud of Springfield, Massachusetts vs. Issac Perez.
Related Articles: