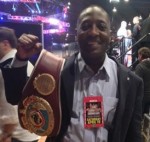 By Michael Amakor | May 10, 2014
Most individuals never get to live out their dreams of being the immortal Gods they play out in their minds.
In most cases Sportsmen, actors, politicians, war heroes and actors on TV epitomize what most of these red blooded men or women want to be in their dreams and they become fans of these stars who express or display all the characteristics and artistic strengths that they wished they had.
Come now Charlie Zelenoff, a mysterious individual who has over the years launched an online campaign challenging anybody and everybody unfortunate to have fallen between his visual crosshairs.
The motivations behind his various campaigns have never been fully understood or explained and his antics have sometimes been entertaining in some cases. It is safe to say that his high profile targets have no doubt found it irritating and have tried to ignore them but with the ease of the internet his taunts have gone viral.
He appears to be obsessesed with fighting, particularly with boxing and has mostly targeted boxers in his online campaigns. He appears to have boxing skills, and a quick search over the internet shows him banging or sparring with a couple of boxers and posing with championship belts he claims to have won in some fashion.
He also claims to have 55 wins with no defeats. Online querries for a list of his victims have been fruitless as at filing this report. What you will find is several videos of him sneaking punches during sparring sessions with the likes of trainer Floyd Mayweather,Sr, the father of #1 pound for pound king Floyd Mayweather and a few others.
Over the years and we will never know fully why, he began to focus on WBC Continental Americas heavyweight champion Deontay Wilder repeatedly calling him by phone and online and verbally assaulting him on social media.
The fact that Wilder is a brutal knockout artist was of no concern to Zelenoff and with his undefeated record in mind he finally cornered Wilder into a championship fight that Deontay inspite of himself could not refuse.
"I am still the best" he declared after the brutal one-sided contest and shortly before an intimidating and menacing feint by Wilder sent him racing out of the gym where their contest was held.
Related Articles: