Categories:
Featured Article
|
Comments Off

on Donaire Annihilates Montiel!!!!!!
By Michael Amakor | February 20, 2010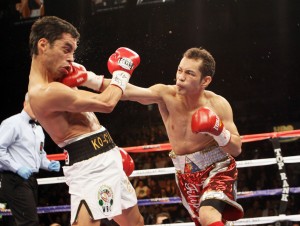 Nanito Donaire (26-1, 18ko's) needed just two rounds to decapitate Fernando Montiel (42-2-2, 34ko's) and seized his World Boxing Council (WBC) and World Boxing Organisation (WBO) Bantamweight World titles at the Mandalay Bay Resort & Casino in Las Vegas, Nevada to the delight of the boxing world and fans in attendance.
Both fighters started feeling each other out with pawing jabs immediately the bell rang. Montiel landed the first shot as the physically larger Donaire immediately tried to impose his will on him, but Montiel was stiff and had not loosened up before a wild left cross and a hard body shot somewhat put him on the defensive. He however maintained his distance and tried to counter the wild and quick swings by Donaire to close out the round.
In round two Donaire stepped forward and landed another left cross that Montiel to his testament absorbed as he began to get into the mix and apply pressure with feints while trying to cut off the ring with some hooks.
Montiel was just finding his rhythm and landed a straight right that carried him off balance just as the quicker and sharper Donaire countered with a wild counter left cross that crashed against his head sending him reeling forward followed before a quick right hook sent him spinning down to the canvas flat on his back with his legs twitching and floundering in the air.
"Oh" "here you go", "Outta there", "its over with", "its over with", "this is done", that is done" former heavyweight champion and HBO ringside commentator Roy Jones, Jr concluded in amazement from press row.
To his credit and showing true championship grit Montiel managed to get up to his feet after his second attempt and stood on wobbly feet in front of the referee who had rushed in between both combatants, while a jubilant Donaire began celebrating to the howls of the frenzied crowd in the background.
"Come here" beaconed referee Russell Mora twice before holding up the tentative Montiel's fists to arm level before letting the fight continue.
But Donaire swarmed in for the kill and ambushed Montiel with another hard left cross and a straight right that sent the now ear muffed caged defensive balled Montiel straight back into the corner ropes as he dazedly prepared to absorb more punishment, but the referee had seen enough and jumped in between the two combatants and waved off the fight off.
With previous brutal knockouts over former bantamweight kings Vic Darchinian, Volodymyr Sydorenko, Hernan Marquez and now Montiel, Nanito Donaire from General Santos City in the Philippines who previously cleaned out the Flyweight and Super Flyweight Division in title winning campaigns is riding a roller coaster string of knockouts into boxing super stardom and a notch up the mytical pound for pound ratings right under fellow Filipino compatriot Manny Pacquaio despite a falling out with long time trainer and dad shortly before this fight.
"I want to be undisputed in this weight class" a very determined and articulate Donaire vowed post fight as the boxing world opined and explored the threatening horizon of boxing kings in his path towards becoming the true and undisputed champion of the Bantamweight Division.
Stay Tuned.
Related Articles: