Categories:
Featured Article
|
Comments Off

on Edwin "La Bomba" Rodriguez – His explosiveness will knock you out.
[Interview by Pattee Mak –February 17, 2012]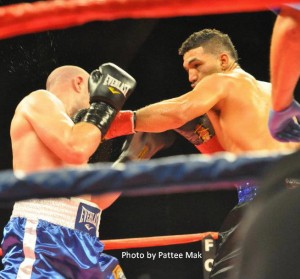 On March 17, 2012, hot prospect and moving right up the ladder is 26 year old Super Middleweight Edwin "La Bomba" Rodriguez (20-0-0, 14 KO's) of Worcester, Massachusetts. Rodriguez's 10 round scheduled fight is against Donovan "Da Bomb" George (22-1-1, 19 KO's) of Chicago, Illinois. The card is promoted by DiBella Entertainment and is entitled, "THE REAL Middleweight Championship – Get Your Irish Up".
Rodriguez's scheduled bout is on the undercard of Middleweight Champion, Sergio "Maravilla" Martinez (48-2-2, 27KO's) who will be defending his WBC Diamond Middleweight title against Matthew "Mack the Knife" Macklin (28-3, 19KO's) at The Theater at Madison Square Garden, New York. This event will be shown live on HBO starting at 10:00 p.m. ET.
I had the pleasure to speak with Edwin Rodriguez via the telephone about his upcoming fight and boxing career.
Pattee Mak: This is the first time you are meeting up with your opponent. What can you tell me about him?
Edwin Rodriguez: I know that I have seen him fight before. We fought on the same Showtime card. He's a really good fighter and he comes to fight. He hasn't been in a bad fight and neither have I.
Pattee Mak: Donovan George has a record of 22-1-1 with 19 ko's. What will be your strategy going into the ring against him?
Edwin Rodriguez: My trainer, Ronnie shields, he's one of the best trainers around and one of the few teachers of the sport left. He is going to put a game plan together. I don't want to give it out but I'll be ready on 17th.
Pattee Mak: How long have you been training for this fight?
Edwin Rodriguez: I have been out in Texas for 7 weeks. I was training back home in the gym so about 8 weeks now or so.
Pattee Mak: How do you like training with Ronnie Shields?
Edwin Rodriguez: I love him as a trainer. He is also a good trainer. He was a previous fighter. He was there. He fought for titles before. He has trained Holyfield, Whitaker, Mike Tyson. Knowing he's good at what he does it's easy for me to sit there and listen. He's been there and he's not just talking, he's talking out of experience.
Pattee Mak: Do you think your fight will go the distance or an early stoppage?
Edwin Rodriguez: Honestly this is a big opportunity for me and a big opposition for Donovan George. I know he's gonna prepare for this fight. There is so much at stake. I am definitely gonna be looking for the stoppage. I know he's been in a lot of wars and he can take a punch. I'm ready for 10 long rounds.
Pattee Mak: Your last fight was on 10-21-2011 against Will Rosinsky at Foxwoods Resort & Casino. You won by unanimous decision all 10 rounds. Some would say that you didn't win every round. What are your thoughts on this and the fight as a whole?
Edwin Rodriguez: I believe it was a fight. I do feel 100% I won the fight. There were a lot of close rounds that could of went his way. I'm not a judge but they got the right winner. It was a good fight. He came to fight. I out landed him more power punches. 700 to his 500. I hit him with something like 100 punches more. The clear winner won. They had the right decision.
Pattee Mak: The venue is at Madison Square Garden and it's the Mecca for any event. How do you feel to be fighting there?
Edwin Rodriguez: This is a huge fight for me being in Madison Square Garden and HBO. I am thankful to be getting the opportunity. A lot of people don't get this chance. A lot of world champions have fought there. It's an honor for me to fight there and be on HBO at the same time. I'm excited. It's on. I would like to thank Lou DiBella for giving me the opportunity and my manager, Larry Army for getting me this fight. We are looking for a bigger fight and again being able to fight at Madison Square Garden.
Pattee Mak: After the fight is there anyone in particular you looking to fight. I know in one of my previous interviews you've been called out.
Edwin Rodriguez: Honestly there are so many big name talented fighters. Many top ten in the world. There are so many that it's ridiculous to sit here and call any of them out.
Pattee Mak: You previously sparred with some of the best fighters of the world. One in particular was Chad Dawson right before his fight with Bernard Hopkins in 2011. Dawson has a rematch scheduled for April 28. Has there been any contact with you concerning preparing Dawson for his upcoming bout?
Edwin Rodriguez: No I haven't heard from Dawson but I did speak to his trainer, John Scully. I wanted to let him know that I was here. I had a good time at training camp. Funny story John Scully had me cooking for me, Mikey Mike and Scully. Scully would not leave me alone once I cooked he wanted me to cook all the time. Training camp was a good time. If they need my help again, I would be more than happy to help.
Pattee Mak: You have a great record of 20-0-0 and 14 by way of knockout. Which fight was your toughest fight to date?
Edwin Rodriguez: Definitely it would have to be Aaron Pryor Jr. because of reach advantage. 2nd or 3rd round I injured my shoulder. I learned a lot of myself as a fighter. I had never given up. I had to learn the most. I had to fight through adversity and through an injury.
Pattee Mak: You had a pretty successful amateur career. In 2005 you won the USA Boxing national championship and in 2006 you won the Golden Gloves national championship. What can you tell me about your amateur career?
Edwin Rodriguez: I had a good time in the amateurs. I trained with the USA Boxing Team. I fought a lot of different styles. I was a good amateur. I became a better fighter as a pro.
Pattee Mak: La Bomba is your ring name. Tell me how this came about because I'm sure a few people out there are reminded of the hit song by Ricky Martin back in 1998 entitled "La Bomba".
Edwin Rodriguez: Man a lot of people including my promoter who gave my kids a toy and it sings that song. A lot of people today think it its that song. I just don't correct people any more.
Pattee Mak: Do you think you'd ever come out to that song to enter the ring?
Edwin Rodriguez: No. LOL.
Pattee Mak: What would you like to say to your fans out there?
Edwin Rodriguez: I just want to thank all my fans for their support out there. This year will be a big year for me and to stay tuned for me. March 17 Donovan George doesn't know how to take a step back. It'll be full of fire works.
Other fighters scheduled on the card are Sergio Martinez v. Matthew Macklin, Magomed Abdusalamov v. Jason Pettaway, Ajose Olusequn, Sean Monaghan, Danny O'Connor, Charlie Ota, Kevin Rooney Jr. and Thomas Hardwick. All bouts and fighters are subject to change.
Tickets are on sale now and can be purchased through the Madison Square Garden Box Office, Ticketmaster (866) 858-0008 at www.ticketmaster.com or DiBella Entertainment (212) 947-2577 at www.dbe1.com. Tickets are priced at $505.00, $355.00, $205.00, $125.00 and $65.00.
Thank you so much for taking the time to speak with me. I also wanted to thank Bob Trieger of Full Court Press for making this interview possible. Should you have any questions or concerns, please comment below or locate me on facebook under Pattee Mak.
Related Articles: