Posted by George Hanson., Jr Esq. on Nov 18, 2012

Categories:
Featured Article
|
Comments Off

on El Regreso de El Príncipe Negro—Ugas Stops Bell
The Mouthpiece
El Regreso de El Príncipe Negro—Ugas Stops Bell
By: George H. Hanson Jr., Esq.
Date: Saturday, November 10, 2012
Venue: The Riveredge– Reading, Pennsylvania
Promoters: Marshall Kauffman—King's Promotions
Ring Announcer: Larry Tornambe
Referee: Gary Rosato
Photos: www.christoneyphotography.com
The first time I heard of Peter "The Black Prince" Jackson—or El Príncipe Negro—I was 13-years-old. Intrigued by the story of this pugilistic pioneer who shared similar roots I read everything that I could find on this great fighter. Born a free man on July 3, 1861 in St. Croix to Jamaican parents from Montego Bay, Jackson migrated to Australia in 1880 and began boxing two years later. Standing 6 feet 1 ½ inches and tipping the scales at 190 pounds he captured the Australian heavyweight title and the British Commonwealth belt in 1886. He added the World Colored heavyweight championship in 1888 and was denied a shot at the so-called World heavyweight title since white champion John L. Sullivan refused to fight Jackson because he was black. For the supercilious Sullivan it was more expedient to conceal his trepidations behind the cloak of segregation than risk being separated from his senses by Jackson.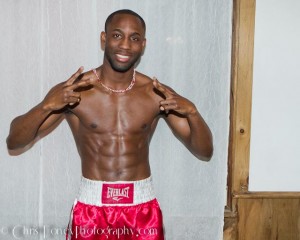 Given the backdrop, I was excited when I discovered that The Black Prince was fighting on promoter Marshall Kauffman's show. No, Jackson who died of tubercolosis10 days after his fortieth birthday on July 13, 1891 wasn't frozen in a cryogenic chamber and defrosted. I know that Kauffman, a boxing savant, is adept at resurrecting the careers of boxers who were written off—but bringing the dead back to life is beyond his range of talents. The fighter that was added to the card and shares Peter Jackson's moniker was Cuban welterweight sensation Yordenis "The Black Prince" Ugas (11 wins – 1 loss – 0 draws – 6 kos) — the 2005 World Amateur Champion and 2008 Olympic Bronze Medalist. It is only fitting that Ugas was headlining for King's Promotions after dropping a highly controversial eight-round split decision to undefeated Juan Garcia in March. I couldn't help reveling in the irony—The Black Prince on King's show.
Ugas is as interesting as he is talented. He is a fashion cognoscente, renowned for his sartorial splendor, sports a 1,000-watt smile and loves the camera. Ugas reviewed every picture that photographer Chris Toney snapped during our visit to the dressing room and made sure he showed us his picture with basketball superstar Kobe Bryant at the 2008 Olympics. Needless to say, the Cuban fighter, who resides in Miami, is a Los Angeles Lakers fan and Bryant is his favorite athlete. During our pre-fight interview he had to take a call from his mother who was calling from Cuba to wish him well. Butch Sanchez, his New Jersey-based trainer and interpreter, had to explain that the welterweight is an only child who is extremely close to his mother. A voracious reader, Sanchez says the fighter's eyes light up whenever he enters a Barnes & Noble bookstore—his favorite hangout. Ugas, obsessed with reading and politics, is currently engrossed with Dreams of My Father by President Barack Obama.
Dedrick Bell (7 wins – 15 losses – 0 draws – 6 kos) of Memphis, Tennessee was mere cannon fodder for Ugas who attacked the body at the opening bell of their scheduled six- rounder. Bell tried to stand his ground valiantly but was no match for the Cuban who came forward blocking and slipping, unloading heavily to his midsection and ribcage. Ugas dropped Bell in the second stanza with a blistering right for a seven-count. But the game fighter survived and made it to the end of the round. Ugas continued the onslaught and brought closure to this one-sided affair with another straight right that sent Bell to the canvas face-first in a bedtime praying position as referee Rosato tolled the ten-count.
Ugas was declared the winner by knockout at 46 seconds of the third round.
How good is Ugas? He can beat all of the contenders ranked in the top ten. The Cuban fighter is supremely talented—a body-puncher reminiscent of three-division world champion Mike "The Body Snatcher" McCallum who made hammering away at an opponent's core an art. Ugas is probably five fights away from winning a world title. The loss to Juan Garcia was an anomaly—somewhat of a wakeup call for him to be more relentless instead of taking comfort in his superior boxing skills.
An ill-fitting mouthpiece would prove to be the undoing of undefeated junior-middleweight Grayson Blake (5 wins – 0 losses – 0 draws – 2 kos) of State College, Pennsylvania in his six-round showdown with southpaw Robert Sockwell (4 wins – 2 losses – 1 draw – 4 kos) of East Stroudsburg, Pennsylvania. The two waged war from the opening bell with Sockwell placing Blake in dire straits in the second round when he caught him with some vicious uppercuts that had him reeling and clutching like a drowning man to driftwood. Blake survived and was boxing nicely in the third round when again Sockwell unloaded and almost closed the show hurting Blake and twice dislodging his mouth guard. Again the resilient fighter dodged a bullet and made it out of the round.
Much to everyone's surprise, Blake captured the next two rounds with his aggression as Sockwell kept his distance by circling on his toes appearing tired and fading. Blake was winning the final round when Sockwell hurt him with a combination and again the mouthpiece went airborne. Referee Rosato instructed the judges to dock Blake a point for the infraction. They fought on even terms to the final bell. The scores were 58-55 and 57-56 twice, all for Sockwell. Had Blake not been deducted a point the bout would have been scored a majority draw.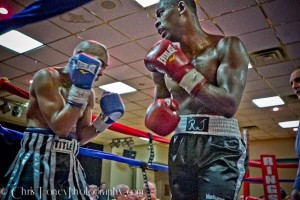 Hometown lightweight Frank DeAlba (4 wins – 1 loss – 2 draws – 1 ko) pleased his fans by out boxing Benjamin Burgos (1 win – 0 losses – 0 draws – 0 kos) of Poconos, Pennsylvania. The southpaw DeAlba landed the straight left throughout the bout and used the shoulder-roll defense to avoid Burgos's attack. No surprise when he was awarded a unanimous decision by scores of 40-36 and 39-37 twice.
Heavyweight Aaron Kinch (3 wins – 0 losses – 1 draw – 1 ko) of Newark, New Jersey won a majority four-round decision over debuting Aaron Bratton of Baltimore, Maryland. Two judges scored it 40-36, and 39-37 for Kinch while the third had it 39-37 for Bratton in an action-packed bout with the taller Bratton being the busier fighter working behind his jab. I scored it a draw, awarding the early rounds to Bratton and the final two to Kinch who came forward and whacked away at Bratton's body.
I find it unbelievable that Reading cruiserweight Jeremy Stauffer (7 wins – 2 losses – 1 draw – 6 kos) survived the opening round of his scheduled four-rounder—a battle of southpaws—with Elvin Sanchez (5 wins – 2 losses – 0 draws – 4 kos) of Paterson, New Jersey. Not to overuse clichés—Sanchez hit Stauffer with everything including the kitchen sink. For three minutes he bounced every conceivable punch off Stauffer's cranium making me cringe at ringside knowing the potential damage of such hellacious shots. At any point referee Rosato could have called a halt to the action and declared Sanchez the victor by technical knockout. But Stauffer is tough as a barnyard rooster and stumbled back to his corner at the bell to the awaiting arms of trainer Marshall Kauffman.
Stauffer fared a little better in the second round, as he was able to avoid getting hit with murderous blows. Following Kauffman's instruction he captured the third round by landing a few good punches to the midsection and ribcage of Sanchez who seemed to be fading. Stauffer even hurt Sanchez with a straight left and a right uppercut that had him clutching for dear life. He had turned the tide and it was Sanchez who was relieved when the bell sounded to close the round. Both men had their moments in the final round as it was closely contested. Surprisingly, one judge scored it 39-37 for Stauffer while the other two had it even at 38-38—thus, the bout was declared a majority draw.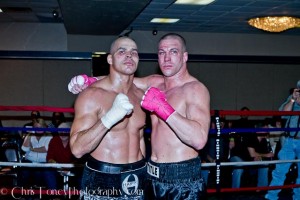 In the opening bout, junior-welterweight David Warren Huffman (2 wins – 8 losses – 0 draws – 1 ko) of Cincinnati, Ohio had to take the final two rounds to eke out a draw against debuting Charles Mack of Philadelphia in their hotly contested four-round bout. The slick boxing Mack came out the gate fast by using his jab and awkward right hand to take the first and second rounds. Huffman was relentless and forced Mack to fight at close quarters as he landed the harder shots down the stretch. Two judges had it even at 38-38 with the third scoring it 39-37 for Huffman—a majority draw.
It was an exciting show—without a doubt "bout for bout" the most action-packed card of the year. I am confident that Yordenis Ugas will get the opportunity that evaded Peter Jackson—a chance to compete for a world title. And, he will firmly have one of the welterweight belts around his waist. This young fighter will be a superstar.
Promoter Marshall Kauffman who was also the matchmaker proved that he is supremely gifted in all areas of the sweet science. Allow me to paraphrase the doggerel of rap, superstar Jay-Z: "He sells ice in the winter and fire in hell. He is a hustler baby. He sells water to a well!"
Continue to support the sweet science, and remember, always carry your mouthpiece!
Related Articles: