Posted by George Hanson., Jr Esq. on Nov 27, 2010

The Mouthpiece
Father Knows Best! – Ennis Crushes Lares
By: George Hanson Jr., Esq.
Date:                            Friday, November 19, 2010
Venue:                        Harrah's Resort, Atlantic City, NJ
Promoter:                  Spartan Fight Promotions
Ring Announcer:    Larry Tornambe
Referees:                    Eddie Cotton, Earl Brown & Sam Viruet
Coverage:                  www.gofightlive.tv
Photos:                       www.christoneyphotography.com  
It has become customary for me to greet trainer Derrick "Bozy" Ennis with, "Hello number one trainer." To which he always responds, "What's up number one writer?" This has been somewhat of an inside joke that has been running for over three years. As far as writing, Richard Wright has always been my unattainable goal and inspiration for being what I call an arranger of words to evoke emotions and convey ideas—I am not a writer. However, it is no laughing matter when I refer to Ennis as the #1 trainer because he is truly a boxing savant whose talent for teaching fighters has been a topic of discussion amongst boxing aficionados.
Farah Ennis standing over Lares.
Ennis has seasoned a cadre of fighters, which include his sons, USBA junior middleweight champion Derek "Pooh Ennis and undefeated super-middleweight Farah "The Quiet Storm" Ennis, along with featherweight prospect Coy "Pretty Boy" Evans, Olive "The Great" Fonseca and top-rated woman amateur champion, Kymmberli Stowe. And with junior middleweight contender Harry Joe Yorgey recently joining the stable— Ennis is well on his way to replicating the great Emanuel Steward. Bozy knows boxing!
Bozy has been training his boys in the art of the sweet science since they were toddlers. In the dressing room he shared with me that his methods were so rigorous that his sons oftentimes would complain to his wife. Mom understood that father knew best and despite providing a listening ear, she never interfered. Farah nodded in agreement and added that his dad is the best trainer because, "He teaches great defense, which is an integral part of the game, and what he teaches, he can do himself." I am all too familiar with many accounts of Bozy's sparring sessions with his fighters. Not surprisingly, he has left his mark, figuratively and literally, on pretty much ever fighter who has walked into his gym. And tonight was no different as his pupil and son captured the NABF super-middleweight championship in dramatic fashion—sinking Victor Lares (15 wins – 4 losses – 0 draws – 5 kos) of Corpus Christi, Texas to one knee with a laser-like right hand in the seventh round, forcing Referee Cotton to wave the white flag of surrender at 2:34. The expectations of Lares' supporters were completely disappointed as his defeat yielded Bozy another title belt for his wife's mantel —father knows best.
The 27-year-old Ennis (16 wins – 0 losses – 0 draws – 10 kos) entered the ring carry a considerable burden of expectation. This was an opportunity to display his boxing skills and employ all of his father's techniques. Thus, at the opening bell he attacked behind a stiff jab to the head and body of Lares who countered with a few straight rights. Neither nymph nor bruiser could withstand the ferocity of Ennis' body attack as he buckled Lares in the third stanza finally dropping him with a left hook in Round 4. The Texan was courageous in taking his beating, making it to Round 6 where he was re-introduced to the canvas twice, barely surviving to the bell—as Ennis rained down with the intensity of an Indian monsoon blowing from the Bay of Bengal.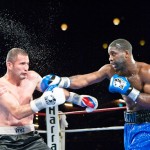 Ennis (R.) connecting with a blistering right.
I can only surmise that Bozy told his son that it was time to close the show so they could head back to the familiar surroundings of the City of Brotherly Love, because Ennis came out in the seventh round with the look of a man fifteen minutes late for a job interview. I held my breath and took a sip out of one of the two cans of Red Bull perched in front of me for medicinal purposes—caffeine, sugar and corn syrup was the perfect elixir for a few hours sleeps from the previous night. I wanted to be wide-eyed and alert to witness the impending stoppage of the bout, which came with 26 seconds remaining in the round. Ennis landed a blistering straight right that forced Lares to genuflect like he had just entered the Vatican in the middle of benediction. Referee Cotton rescued the audacious Lares who never retreated or showed an inkling of wanting this contest to be terminated before the twelfth and final round.
In the co-main event Philadelphia heavyweight Chazz "The Gentleman" Witherspoon (27 wins – 2 losses – 0 draws –19 kos) entered the ring a svelte, ripped and ready 233 lbs. with his entourage in tow for his scheduled 10-rounder. There was very little doubt that the 2004 Olympic alternate wanted to remove some of the tarnish that had been place on his veneer of infinite possibilities by a loss to Tony "The Tiger" Thompson almost one year aback. Maybe, I should have walked out onto the casino floor and placed a bet that this fight wasn't going to conclude in Alexis Mejias' favor. Mejias (11 wins – 5 losses – 0 draws – 5 kos) of Humacao, Puerto Rico enjoyed the traditional feeling out first round.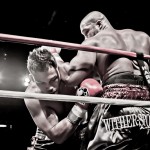 Witherspoon (R.) taking charge.
Witherspoon had something to proved and threw every punch with bad intentions, hurting his adversary with a combination in the second round and raking him with body shots in the third and fourth. By the conclusion of the Round 4 it was evident that both Mejias eyes were swollen like he had stuck his head in a beehive. Maybe it was a case of commonsense getting the better of temerity as Mejias' corner kept him on his stool for the beginning of Round 5. There was no need to risk further injury as Witherspoon had turned up the heat and had given the fat lady permission to clear her throat—the end was near. Witherspoon won by technical knockout at 3:00 of Round 4. 
A visit to Grand Cayman's Butterfly Farm is indeed an unforgettable experience. It was one of my favorite places on the island because I could observe the life cycles of these wonderful creatures evolve from egg to caterpillar to chrysalis to butterfly. It takes two weeks for a monarch butterfly to emerge from the chrysalis. Maybe two is the magic number. Because it took two professional fights under his belt for 2008 National Golden Gloves champion and junior-lightweight prospect Keenan "Killa" Smith (2 wins – 0 losses – 0 draws – 0 kos) of Philadelphia to eclose or break out from the pupae of amateur boxing. He needed two fights to rid himself of the all so familiar style of the amateur scoring system, which hinders the progress of so many elite amateurs. There is a clear demarcation between winning medals and competing for money. The former is focused on touching your opponent with the white surface of the gloves, while the latter is about imposing your will by inflicting pain. Professional boxing is the hurt business. And tonight Smith was impressive as he delivered his shots with pinpoint accuracy much to the discomfort of debuting southpaw Anthony "The Prince of VA" Royal from Newport News, Virginia.  
The southpaw Smith came out in the opening round hell-bent on putting Royal to sleep. The taller man from Virginia had commented at the weigh-ins that he was going to hit Smith so hard he was going knock off all his tattoos—as if the pro-Smith crowd wasn't enough motivation. As we say in colloquial terms, "never let your mouth write a check that your ass can't cash." Smith punished Royal and hurt him in every round with body shots. Royal wasn't regal as he retreated with Smith in hot pursuit whacking away at his solar plexus, ribs and kidneys.  Royal wanted to surrender but somehow his legs didn't want to let him down. In Round 4 Smith launched an overhand left that landed flush on Royal's chin sending him to the canvas. Again his legs decided to pick him up at the count of five. But Referee Viruet overruled them and ended this one-sided affair at 1:20.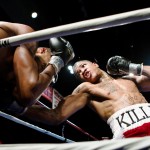 Smith (R.) punishing Royal on the ropes.
Other Results: Atlantic City's undefeated light-heavyweight prospect Lavarn "Baby Bowe" Harvell (6 wins – 0 losses – 0 draws – 2 kos) overwhelmed last minute substitute Khalil "Bad Intentions" Farah (6 wins – 6 losses – 0 draws – 1 ko) from Philadelphia by way of Jordan, dropping him in the latter part of the opening round and forcing him to stay on the stool at the beginning of Round 2. It goes in the record books as a technical knockout at 3:00 of Round 1.
Local favorite, super-middleweight Joel De LaPaz (5 wins – 0 losses – 0 draws – 4 kos) kept his unbeaten streak alive with a one-sided unanimous four-round decision by score of 40-35 and 40-36 twice over game Troy Maxwell (2 wins – 1 loss – 0 draws – 1 ko) of Galloway, New Jersey. De LaPaz was just too much for Maxwell, who despite being outgunned refused to quit, suffering a large welt under his right eye.
In a scheduled four-rounder, featherweight "Joltin" Joe Tiberi (1 win – 0 losses – 0 draws – 1 ko) of Newark, Delaware dropped  Tonio Parker (0 wins – 1 loss – 0 draws) of Wilson, North Carolina once in the opening round and again in the second, forcing Referee Viruet to call a halt at 1:54. The southpaw Parker looked like this was his first time ever putting on a pair of boxing gloves. It is difficult for me to understand how any reasonable person would have issued him a boxing license.
The show opened with junior-middleweight Ismael Garcia (1 win – 0 losses – 0 draws – 0 kos) of Millville, New Jersey winning a well-fought unanimous four-round decision by scores of 40-36 on all three judges' scorecards over southpaw Corey Preston (0 wins – 1 loss – 0 draws ) of Cincinnati, Ohio.
For years Bozy Ennis has been teaching his sons the art of boxing, spending countless hours honing and refining their skills. Sometimes pushing them beyond their expectations, ignoring them "snitching" to their mother that dad was pushing them too hard. Now there are two championship belts on his wife's mantelpiece validating the old adage—father knows best.
Continue to support the sweet science, and remember, always carry your mouthpiece!
Related Articles: