Posted by George Hanson., Jr Esq. on Apr 23, 2014

Categories:
Featured Article
|
Comments Off

on George & George
The Mouthpiece
George & George
By: George H. Hanson Jr., Esq.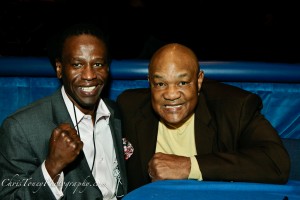 (Facebook Post April 18, 2012) George Foreman (January 10, 1949 – ) Listen folks, Foreman has had one of the most incredible careers in the history of entertainment. Despite a 10-year hiatus (1977 -1987) he was able to resume his boxing career and regain the heavyweight championship in 1994—21 years after he first won it in 1973. During his time away from boxing he became an ordained minister and opened a youth center in Houston, Texas. It is amazing that there is an entire generation who knows Foreman solely because of his remarkable work as a pitchman and partner for the eponymous grill—an amazing invention that is as good as advertised. I know—I ran out and bought one. It was an honor to meet him, because my late father, a sergeant in the Jamaican Constabulary Force, was part of the security detail for heavyweight champion Smokin' Joe Frazier and Foreman for their epic battle in the National Stadium on January 22, 1973—Foreman won by second round technical knockout. We spoke briefly and I got this picture. LOL. Show some love for this great champion—inside and outside the ring.
Continue to support the sweet science, and remember, always carry your mouthpiece!
Related Articles: