Posted by George Hanson., Jr Esq. on Dec 30, 2010

By: George Hanson Jr., Esq.
In an era of carefully guided careers—boxers fighting infrequently, skillfully crafted public personas, television producers masquerading as boxing promoters peddling their chosen lot as "the real McCoy"—Dhafir "No Fear" Smith is an anomaly.  Just 28-years- old the Philadelphia super-middleweight, approaching his 10th year as a professional, is a 50-fight veteran and a free-agent—he isn't signed to a promoter. To provide perspective, consider future Hall of Famer, Bernard "The Executioner" Hopkins—18 years Smith's senior, has been a professional fighter for 22 years and has competed in only eight more fights. The thought or fear of being burned out never intruded itself into the breast of Smith.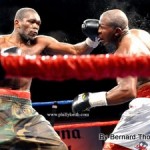 There is an old adage in boxing that "records don't beat you, fighters do!"  It basically means that when choosing an opponent for your fighter don't focus on the record alone but pay careful attention to talent level and the circumstances surrounding the losses. Thus, I wanted to send former IBF super-middleweight champion Jeff "Left Hook" Lacy a smoke signal, warning him to avoid Smith during our radio interview two weeks prior to their match. Having known Smith for some time it is safe to say that his record at the time of 23 wins – 19 losses – 7 draws was misleading. The only reasonable conclusion that should have been drawn was that Smith had competed in 49 fights. Had someone "taken Lacy behind the numbers" he would have realized that given their respective positions there were many paths of least resistance. Simply put, Lacy didn't need Dhafir Smith. But, as a proud warrior and true gentleman Lacy had "no fear."
Like Mad Max walking the badlands in search of a good fight, Smith marched into St. Petersburg, Florida and soundly trounced Lacy taking a unanimous decision by scores of 118-110, 117-111 and 116-112 capturing the UBO super-middleweight title. "I knew that I was faster than Lacy and that I could hit him with anything. He is a strong physical fighter but at age 33 and being off for a while, I knew he couldn't hang in there banging with me for the entire fight." Maybe the fat lady has cleared her throat on the often-injured Lacy's career.
It has been a long traveled road for Smith, who started boxing at the age of 12 under the tutelage of trainers Percy "Buster" Custus and the late Jimmy Beecham at the James Shuler Memorial Gym in West Philadelphia. Fifteen amateur fights and a year later, his mother and he, Smith is an only child, relocated to Upper Darby where he joined the Upper Darby Boxing Club. Smith would compete in a total of 50 amateur fights, winning a Golden Gloves championship representing Pennsylvania in the national tournament before joining the punch-for-pay-ranks nine months after graduating from Upper Darby High School. After 45 professional fights and several trainers he returned last year to where it all started—The James Shuler Memorial Gym and trainer Custus. The change has been remarkable with Smith compiling four wins and one draw inclusive of his victory over Lacy.
Brutally honest and self-deprecating, Smith is first to acknowledge: "I was never focused and took fights on short notices and oftentimes I wasn't in the best of shape." It is a balancing act and professional fighters tow the precarious line of risking their health for a much needed payday. Thus Smith barnstormed over the United States, fought once in Poland and twice in Russia, all contributing to the 19 unfavorable outcomes on his dossier. There was no need to ask about the seven draws on his pugilistic resume—it is a refutable presumption in the boxing community that whenever an unsigned fighter gets a draw it is really a fight that he won. How else can one explain 14% of Smith's fights ending in a tie? As Mike Tyson would say, "This is ludicrous!"
Philadelphia middleweight legend "Bad" Bennie Briscoe, who policed the division in the late 60s and 70s kept his job in the City's sanitation department, recently retiring a few years aback. Like Briscoe and so many other Philly fighters, Smith has a full-time job and a family—he works as a supervisor at a restaurant and his household is comprised of his girlfriend, Kamilah, and their three daughters: Jasmine, Tyana and Gianna, ages twelve, six and two, respectively. Smith has another daughter Lakiah. He is quick to acknowledge them and his mother, Veronica Smith, as his inspiration and motivation, or as he aptly stated, "what keeps me going."
Jeff Lacy discovered on December 11th what many of us already knew—Dhafir Smith can fight.  Shuler's Gym would have been the last place that I would have selected an opponent—even the roaches that appear after Percy Custus turns the lights off at night are steeped in the art of the sweet science. You can hear them tapping away at the heavy bag with their tiny gloves as the streetlights peep through the windows.
"Hopefully in 2011, I will get two more fights before fighting for a world title.  Buster and I will take the 168-pound championship by storm!"  Records don't beat you, fighters do. One can only hope that like Lacy, the Top10 contenders and champions have no fear. 
Continue to support the sweet science, and remember, always carry your mouthpiece!
Related Articles: