Categories:
Featured Article
|
Comments Off

on Haye Destroys Harrison in 3
By Michael Amakor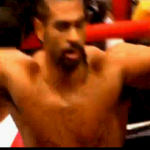 In one of the biggest fights in Britain in recent memory David Haye (24-1, 23KO'S) needed just three rounds to settle all the trash talking in the pre-fight buildup of a fight card tagged "Best of Enemies" to comprehensively outbox, stun, knockdown and eventually force the referee to put an end to the one sided contest against Audley Harrison at the 1.23 mark of the third round before a packed house at the MEN Arena in the United Kingdom.
The European heavyweight champion Audley "A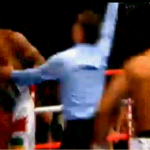 Force" Harrison (27-5, 20ko's) was only able to land one jab in the most dreadful and disappointing loss of his career. Prior to the stoppage he went down from a combination of punches but too his credit he beat the count (to0 quickly to get his wits about him) before the second combinative assault by Haye forced the TKO for Haye.
Pre-fight he acknowledged that this was the fight to prove himself, now with this disaster behind him, his future is indeed very grim, and the cacophony of cat calls screaming "FRAUDLY HARRISON" a nickname he earned after previous disappointing  performances despite his much hyped pedigree including winning a gold medal at the 2000 Sidney Olympics will only get louder and might hasten his retirement despite his philosophical spin post fight. .
Haye who made the second defense of his WBA heavyweight crown wasted no time in looking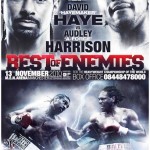 towards his future stating excitedly after his victory that  that a fight with either Wladimir or Vitali Klitchko the WBO, IBF & WBC champions respectively would surely happen in 2011.
British boxing royalty turned out in force for Best of Enemies with former Heavyweight Champions Lennox Lewis and Frank Bruno, former cruiserweight champion Johnny Nelson, former Super Middleweight champion Nigel Benn, and the popular Ricky Hatton in attendance.
WATCH VIDEO
Related Articles: