Categories:
Featured Article
|
Comments Off

on Ex-Heavyweight Champ in Dire Straits
Compiled by Michael Amakor from reports by TMZ. Com | June 10, 2012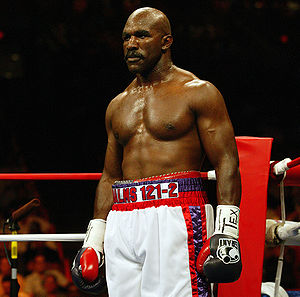 TMZ.Com has reported that former undisputed heavyweight champion Evander Holyfield's (44-10-2, 29kos) has sold his mansion for a princely sum of $7,500,000 at a public auction on March 6.
Must be a big house you would ask.
Yes, Quite big indeed, black men in America website describes Holyfield's massive mansion as being 54,000 sq. ft sitting on 235 acres of land boasting 109 rooms, including 11 bedrooms, 17 bathrooms, a bowling alley, an Olympic-size swimming pool and a stable stocked with a half-dozen horses.
The sad news is that Holyfield reportedly owes more than $14,000,000 on that house, so not only does he have to deal with a possible liability claim from his bank but the proceeds from the sale of his home will go directly to the IRS who he reportedly owes more than $200,000 in back taxes according to TMZ.com.
Prior to this report TMZ.Com also reported to have learnt that The Georgia Department of Human Services has gone to court on behalf of Evander's 18-year-old daughter Emani Holyfield … claiming the former champ hasn't paid a dime of court ordered child support since April 2010, and his tab was reported by TMZ to be $372,097.40.
But that's not all, he is reported to have fathered 11 children by different women and his child support payments for these children are reportedly a whopping $500,000 a year.
A legend in the ring, and a shoe in for induction into the boxing hall of fame, Holyfield is the only boxer in history to have won the heavyweight title a record four times, and he is reported to have earned more than $248 million in purses in a career that saw him face fellow legends, George Foreman, Larry Holmes, Riddick Bowe (thrice), Mike Tyson (twice) and Lennox Lewis (twice) to name a few, but while these contemporaries have since hung up the gloves he has soldiered on in numerous campaigns way past his glorious prime, he lost the WBA title in 2000.
"I'm gonna keep on fighting, and be the heavyweight champion of the world one more time, Then I'm gonna write another book and tell everybody how I did it.
He came quite close to achieving his objective in close decision losses to then reigning champions Sultan Ibragimov and Nicolai Valuev in 2007 and 2008 respectively, some think the motivation for his continued campaign towards a title shot or just plain fighting is because he is desperately trying to earn money to keep financial disaster at bay.
Commenting on his finances in the past, Holyfield reportedly told the Atlanta Journal Constitution newspaper, "I'm not broke — I'm just not liquid."
He is reportedly living in the house right now as the details get worked out, Lets hope the champ can find a way to weather this financial storm like he has done severally in the ring.
For a link to pictures of his home please go to: http://projects.ajc.com/gallery/view/sports/0606holyfield/
Sourced from:
Black Men in America
TMZ.Com
Wikipedia
Related Articles: