Categories:
Featured Article
|
Comments Off

on Hopkins Gets Krushed!!! – But Still Determined to Play at a Young Man's Game.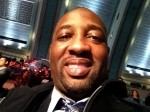 Ringside Report by Michael Amakor | November 9, 2014
Venue: Boardwalk Hall, Atlantic City New Jersey
Promoters: Golden Boy Promotions and Main Events
Coverage: FightKingsTV
Commentary: Michael Amakor, Mudassar A Khan
It is a common saying, well, at least in boxing, that you play at other sports, but you do not play at boxing.
The simple reason being that it is a sport unlike few others where, the aim of your opponent is to separate you from your senses, with mean spirited punches targeted to land smack in your face.
As if that is not hard enough, victory is earned by a scoring system that places emphasis on clean punches most preferably landed to the head of your opponent, but also at the abdominal area, and where you can save yourself the agony of a long night by landing the excruciatingly painful fight ending liver punch to your opponent to get them out of there.
Victory is also secured by amassing more points than your opponent if a career ending head shot does not knock you out first. More often than not, a fight is stopped by the referee or by a ringside physician after a punch-drunk pug has been rendered senseless from repeated headshots while still on his feet or while dazedly trying to get back on his feet.
It is a sport so brutal, that there have been many calls for its ban from around the globe after many fighters have died from injuries sustained in the ring. The calls for banning boxing have been unsuccessful, but in recognition of the trauma fighter's experience, the numbers of rounds have been reduced over time.
In the early 1900's fighters were mostly allowed to fight until an opponent could not continue. Over time however boxing matches were fought for fifteen three-minute rounds later reduced to 12 rounds of the same duration for championship fights and 8 to 10 rounds for others matches depending on the fight contract, location and local rules.
Professional boxing generally operates without any set age limits but it has its own unofficial pain filled vetting and weeding out process. The normal rite of passage for a fighter is to start boxing from ages eight to ten, train and win several local competitions, qualify and win the golden gloves, qualify and medal at the Olympics or an international competition, during this time he should have amassed nearly a hundred fights.
Somewhere along the line, a fighter makes the decision and turns "pro" and fights his way up the rankings fighting four may be five times a year. If they have competent management they get into position to fight and win a title after their mid twenties, they should make a few defenses of that title and pick up another one, lose the titles, regain the titles and peak somewhere in their mid-thirties. One of many reasons why it is considered a young man's sport by practitioners of the sport or "the game" the would add with a smile.
Most fighters who go past that point often start accumulating losses that fast tracks them into being journey men. Many continue nevertheless for a variety of reasons, mostly financial, but eventually they get one very bad beating that finally brings them back to their senses and keeps them out of the ring for good.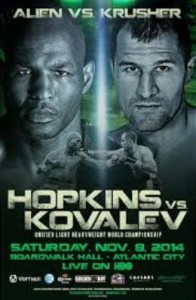 Now here comes Bernard "The Alien" Hopkins, who was scheduled to fight 31 year old Sergey "The Krusher" Kovalev, a ferocious undefeated puncher with 23 brutal knockouts to his credit, including one over an opponent who later went on to die from fight injuries suffered at his hands. This challenge at the vintage age of 49 just three months shy of his 50th birthday against a fighter a whopping 18 years younger than he was.
"I want the best. Hagler fought the best. Ray Leonard fought the best. The Alis of the world, they fought the best. I'm from the era where I fought the best and that's important to me, said Hopkins.
But The risks of this impending match-up and the fact that he accepted the fight provides an insight into career of Hopkins. Here is a fighter who turned pro all the way back in 1988 when he was 23 years old. He later became the undisputed middleweight champion of the world and made twenty successful defenses of his title(s) against progressively younger challengers before finally losing the IBF, WBA, WBC & WBO titles in 2005 when he was 40 years old, seventeen years later.
Many skeptics thought he was near the end of his career after that defeat, but seemingly undeterred, he stepped up into the light heavyweight division and seized the IBO title, and later the WBO & IBO titles at 45. He lost those titles at 46 years old, but moved on to capture and defend his IBF title at 47 against a younger contender. He later seized the WBA & IBA titles over another younger champion at 48 in his last fight. Now here he was again at the crossroads of his career in an all important unification bout with all the belts up for grabs.
The cool-headed odds makers had Hopkins as the 5-2 underdog for his fight with Kovalev, but they could have screamed that to the marines, as the pundits and fight fans were split down the middle in predicting the outcome of the fight. Many fans remained in the Hopkins camp because they were tired of betting against him and losing in previous fights, but they could all agree that this was a significant historical event and everybody wanted to see if Hopkins could stun the world yet again.
On November 8, 2014 however, the Alien, in a not too common sight, met his match.
In the very first round, the Alien was sent to the canvas in a flash from a head shot, but he scrambled back up to his feet and characteristically acted as though it was a slip or an illegal shot landed at the back of his head.
Vintage Hopkins the insiders watching at ringside enthused, but he got right back into the fight, losing the first and second rounds only to drop Sergey to the canvas with a flash knockdown of his own, officially ruled a slip from a push, in the third round. He followed that up with some good left hook that got the crowd roaring  because the knew The Alien was there to fight, but Kovalev rallied to land some shots of his own to close out and steal the round.
As the fight progressed it was becoming apparent that Kovalev was cut from a different cloth as he was a much tougher and grittier fighter than past opponents and he kept up the pressure on Hopkins by launching some sticking jabs in the fourth round.
In the fifth round, Kovalev spent most of the round trying to corner Hopkins and land the fight-ending haymaker, but the Alien freak of nature slipped out of many of the traps by bobbing, weaving, and countering with hooks of his own. Eventually, there was some infighting with Kovalez landing some heavy-handed punches in the final seconds to win that round. However by round 6 the futility of trying to corner Hopkins forced Kovalev to slow down, and his many misses appeared to frustrate him and temper his willingness to commit on his jabs and body shots because he wasn't able to successfully measure the distance to Hopkins.
Kovalev eventually switched tactics to mounting a body attack and tripling his combinations when they were up close after listening to his corner and realizing that it was going to be difficult to stake out and finish Hopkins off with a single shot. Over the course of the fight, his punches almost imperceptibly began to take their toll. But Hopkins, the crafty veteran that he is, measures his pace and gives the impression that he is conserving his energy for one last storm offensive, as he has done in previous fights in the past. He also landed a good hook in the seventh round that had the fans chanting Bhop, Bhop, another of Hopkins many nicknames, but he got in close and was roughed up on the inside by Kovalev.
In round eight, an overhand right staggered Hopkins but he quickly recovered and both combatants exchange more heavy shots up close. By round nine Kovalev had perceptibly closed the distance and was backing Hopkins more often into the ropes with jabs and body shots. Eventually he walked into a hook from Hopkins that staggered him for a brief moment in the 10th, but he stormed back with some good hooks to win the round in the final seconds. He kept up the pressure and staggered Hopkins for equal measure in the 11th round.
By the 12th round and final round, Hopkins was far behind on the judges scores cards and he knew it. In desperation he launched an assault that had the crowd whooping in delight and caught Kovalev with a combination, but he was forced to come within range and Kovalev countered his assault and landed a few head shots that visibly shook Hopkins.
Typical of Hopkins after taking a good shot, he grinned at Kovalev to show that he was not hurt. He received a few withering overhands for his trouble and all of a sudden he was in a world of trouble and almost out on his feet in the closing seconds of the round as Kovalev unleashed a strafing combination of flush headshots and chased him from pillar to post to knock him out.
It took all of Hopkins willpower and ring smarts to keep from getting knocked out in those final seconds during which the referee watched the action closely and seemed to be on the verge of stopping the fight, but eventually the bell rang to end the fight with a Hopkins, discombobulated but still on his feet at the end of one of the most defining fights of his career.
The unanimous landslide scores of 106-120 and 107-120 twice against the Alien told the story of the fight, but the standing ovation of the of the 8245 paying fans in the arena who were on their feet for most of the 12th round told the other story.
As Hopkins (55-7-2, 32KOs) contemplates his options, Sergey Kovalev has effectively staked his claim to being the true champion of the Light Heavyweight division with his dominant victory over Hopkins and he now holds three of the four recognized belts.
It is now up to the new champion Sergey Kovalev (26-0-1, 23KOs) to rule the division for as long as he makes up his mind to do as I did in the middleweight summarized the sharp witted Hopkins with one of many smiles during the post fight press conference.
When asked whether this was his last fight, he replied paraphrased here;
"It is like asking a woman who has just giving birth to a new born baby when the she's going to have the next one"
A Great answer that drew laughs from the press corp., but what was missing was an emphatic statement ending his career on this high note which tells you he has not given the idea much thought and will be back in the room soon. His closest associates are unanimous in their belief he will return to the ring as well.
On second thoughts, who can blame him when a sport dominated by supposedly fierce younger men is unable to give him one last beating to make him terrified of ever returning to the ring. It is equally amazing that a sport that is so fraught with the peril of broken bones, torn ligaments, shattered eardrums, and dislocated retinas had not already inflicted enough punishment over the course of his 26 year career to make Hopkins hang up his gloves a long time ago. It is triply amazing that despite all the years of punishment or lack thereof he has still been able to pass the battery of tests administered by the various state athletic commissions to continue to box at his advanced age unlike so many unfortunate younger pugs before him.
So be prepared for the return of "The Alien" as he continues to explore the final frontier of the longevity of fighters in the ring while earning king ransoms in the process from a fan base not able to totally write him off after all the surprises he has pulled off in the past.
See you at the next fight.
WATCH THE FIGHT LIVE AND LISTEN TO OUR RINGSIDE COMMENTARY
RINGSIDE PICTURES
Related Articles: