Categories:
Featured Article
|
Comments Off

on Hoye Heads for Poland, Torres Awaits Debut
Arizona Boxing News & Notes With Don Smith
Boxing Fans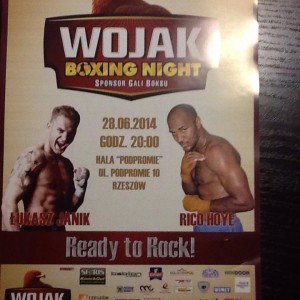 Boxer Rico Hoye has enjoyed being a champion and has endured the agony of being an inmate. At 39, genuine boxing opportunities are rare to come by for returning warriors. He dropped the sport of boxing in 2009 and starting thinking about engineering a return to ring action; more than 18 months ago. When he retired, his record was 26-3 with all three losses coming abroad: Canada, UK and Singapore.
We became acquainted last year and would talk from time to time (mostly through email & phone) and he would always mention a fight that would never materialize for one reason or another.
He is a licensed personal trainer so he had a little coin coming in to provide for family, but the dream of fighting for a title was a lure that he couldn't ignore even though his critics deemed the mission impossible. Everyone except Rico Hoye who insisted he was ready to make noise as a heavyweight or a cruiserweight. At 6' 3" his frame can handle either weight division. In the words of Tina Turner, What's age got to do with it? Please allow me the poetic license to paraphrase.
Rico held his own against Cris Arreola when the big heavyweight was in Phoenix preparing for his bout with Seth Mitchell in the fall of 2013. The two sparred several times at Central Gym in Phoenix. Arreola had good things to say about the former cruiserweight champ and #1 light heavyweight contender
One hardnosed trainer told me Hoye looked good for an old guy; not exactly the kind of endorsement you want to hear as you embark on a comeback in a sport that is brutal at any age. Since his intention to come back, the Arizona resident waited patiently for his ring return only to hear promise after promise that ended in betrayal.
Finally, the father of 4 got his first serious call resume his career, so he traveled to Wisconsin last fall to trade punches with Brandon Winner who entered the ring with a 3-8 record. Hoye coldcocked the journeyman in the first round. Buoyed by his success, Rico waited for the next call and it didn't happen until recently.
On Tuesday, June 17 at 8:18 in the Morning, Rico sent an email that told me he was leaving for Poland to fight contender Lucasz Janik (26-2) on June 28 for what could lead to a title shot. I held off on talking about the Janik bout because there was a slim chance that he would be fighting Charles Martin (17-0-15 knockouts) for the WBO NABO heavyweight title but a contract was never officially offered, so he is headed for Poland. It is a big time gamble, but at this stage of his game, Rico has rolled the dice and thrown the punch and hopes it lands and stuns Janik.
He leaves Phoenix on June 24 and he said training was going great and his conditioning is great. His email ended with the following optimistic statement: "This is a pretty big opportunity for me and I am excited about the chance to once again showcase my talents on a world class level." The Arizona boxing community wishes him the best. Sad To Report: 8 year old Melvin Garcia lost his battle with cancer just hours before a fundraiser in his honor was staged on June 7 at Karla's Bar & Grill in Phoenix. Boxer Raymundo Beltran hosted the event which included special guests, autographs, pictures, etc. My heart goes out to entire family and we hope their pain is comforted by love and prayers from the community. Melvin was one of two young cancer patients receiving help from the benefit. Airum Hernandez, also 8, was the other recipient benefitting from a quickly organized fundraiser. Our prayers and best wishes are directed to her and her family during their time of need. Once again, we mourn the loss of young Melvin and pray for Arium.
Headliner Battle over: Arizona Boxing News & Notes is well aware of the Top Rank/Iron Boy boxing show (Officially titled Iron Boy 14) scheduled for July 26 at the Celebrity Theater which will feature young talents, Oscar Rafael Valdez Fierro, Jose Benavidez Jr. and Trevor McCumby. This column kept a lid on the news as a favor to someone connected to the show. I read what I already knew about the event in another column two-three days ago which signaled a quick trip my keyboard. At least I can add an unknown wrinkle or two to a story that has a bit of sizzle under the headline.
The story behind the scenes was whose name would appear first on the Marquee? Benavidez fans thought their fighter deserved the nod because he lives in Arizona and sports a gaudy unblemished record of 20-0 with 14 knockouts. They said in no uncertain terms, he earned headline status on the card.
And as we went to press the situation was settled, Top Rank and UniMas agreed with the Benavidez Team and popular opinion. Valdez will be the co-main. No pressure, all he (Benavidez) has to do is deliver a spectacular victory in front of a home crowd; otherwise folks might second guess the decision. To mkde the evening a little more special for Team Benavidez and his fans, Jose Jr. will be fighting for the vacant NABF Welterweight Youth Title.
I was told UniMas, a subdivision of Univision, had the final say and they favored Valdez initially because of his Olympic success in representing Mexico in 2008 & 2012. His perfect professional record of 11 wins, all by way of knockout, also figured to be a primary reason in thinking hard about giving the super featherweight top billing over the charismatic welterweight. Not that it matters, but I favored Benavidez over Valdez. I think it came down to loyalty and tenure. With UniMas, the bottom line is usually dollars and ratings.
I wonder if the Benavidez Team brought up the ongoing talks with Top Rank about the renewal of Jose's contract which nears expiration. All kinds of rumors are floating around about letting the contract expire or extending their relationship. They got rid of Ernie Gonzales in a hurry and in hindsight, the right decision was made. Not so with Benavidez!
UniMas visited the Celebrity on Wednesday to look at the venue and survey the site to determine how much work will be required to make the theatre camera and action ready. A representative from Top Rank was expected to be on hand and perhaps the working partners will make an announcement. Thank goodness, it won't be the announcement Benavidez fans fretted about.
What I know about the rest of the card is incomplete. Andrew "Hurricane" Hernandez will take on Joey "The Boxer" Ruelas in what could be the best bout of the evening. Both fighters have a lot to lose.
Thank goodness, Alexis Zazueta is on the card; the kid has big time talent. One trainer, who wants his name out of the news, predicts Alexis will eventually win a world title and be a worthy champion. Francisco C. de Vaca, an Iron Boy protégé is on the card as well as former standout amateur Emmanuel Nieves who will be making his professional debut. The official weigh-in for Iron Boy 14 will be held at Crescent Crown in mesa at 2 pm, on Friday July 25. Tickets are now available at the Celebrity Theatre box-office. Sounds ddlike a potential sell out.
Back in the News: Knucklehead middleweight Albert Onolunose, best known for losing a title shot to Grady Brewer (2009) and losing his freedom over his involvement in a controversial lotto scam (2010) was arrested on June 12 in Calgary for the same kind of dumb stuff. Unless he is saved by a Hail Mary from his defense attorney, Albert could spend some quality time with Bubba. Ironically, Onolunose won the Canadian Middleweight Championship in May of 2013 in Calgary. No word on how a new champion will be selected.
Onolunose, 34, was booked and charged with five counts of credit card data, one count of fraud over $5,000.00, using mail to defraud and counterfeiting stamps. He was arrested with 25 year old gal pal Abeba Girma who was charged with one count of identify theft. Sad end to what should have been a very successful boxing career. He took the Brewer title fight just days before the bout and wasn't ready.
Nelson Inks: Failed to mention in last column that Junior Middleweight Willie Nelson (21-1 w/12 knockouts) has signed with legendary business manager Cameron Dunkin. The Cleveland Ohio native was a big winner on the recent Cotto-Martinez under card. Good signing and special thanks to publicist Emily Pandelakis for the timely information.
Amateur Notes: In my last column, I gave Alejandro Campa (Knockout Boxing) a split decision victory over Anthony Mendez (Strong Enough Boxing). In reality, Campa left the ring with a unanimous decision, sorry! The event was held at the Ray Kroc Center in Phoenix…..Fernando Martinez (Fuentes Boxing) won gold at the Nationals in Charleston West Virginia. Alfredo Escarga settled for the Bronze Medal after losing what was described as a tough and controversial bout. Everyone who competes is a winner…..USA Boxing Officials Clinic is scheduled for Saturday 6/21 at Mesa AZ. Automation Chevrolet. For more info, contact Richard Soto at 602-702-7053….The Iron Boy Gym, in South Phoenix, will host California vs. Arizona on Saturday June 28. Up to 30 bouts, first bout at 1pm and more details can be obtained by calling Coach Juan Varela at 602-327-690. Juan suffered a whiplash when he was rear ended in an auto accident. Hope all is well! ….Our prayers go out to popular boxing coach Andrew Mendez (Strong Enough Gym) after a mechanical pump blew up in his face and the deafening explosion resulted in multiple staples and stitches to his head. He was taken to a hospital in Chandler and released. Tough as nails, the boxing mentor packed his bags and headed for Oxnard California to mentor his son (Anthony) at the Adidas National boxing tournament in Oxnard California, June 18-21. The event is sponsored by Oxnard PAL. Unfortunately, Antony Mendez lost in the preliminaries. Eben Vargas won his bout and Fernando Meza , also of Arizona, was ready to go to war.
Alex Torres Rynn: I sent questions to Mexican/ Canadian boxer Alex Torres Rynn who was born in Mexico City, Mexico and now lives in Calgary Canada where he trains. I assume the questions are still housed in his computer. I sent him a series of questions in early June and his rigorous training schedule didn't permit him to reply right away, so his responses will be read in our next column. Smart kid, his tardiness will give him at least two shots in my column. I sent the last column that included Q & A with his opponent Kyle Oliveira, of Brazilian descent, and he said he wasn't familiar with my work and Oliveira's prediction that he would beat the 4 time Canadian National Champion. Oh well! He may be telling the truth.
Alex's Stepfather is American and Mr. Torres has requested that he be referred to as Alex Torres, 100 percent Mexican fighter. I don't have a problem with that, but I do have a slight concern with subjects who miss deadlines. So, everyone knows I don't hold grudges, I sent Alex Torres an email telling him that I would divulge his anticipated answers to my "brilliant" questions in next week's column.
Alex makes his professional debut against Kyle Oliveira (0-0) on the "Redemption under the Tent" card in Calgary, Alberta on July 6 at the popular Roadhouse Night Club. The show is produced by Fan Base Promotions in concert with Trinity Boxing and will feature six fights. Alex's bout is a four rounder and has generated a lot of interest because Torres is a four times Canadian National Champion and two time member of Canada's Olympic boxing team.
His 85-15 amateur is a remarkable feat given the fact that the 27 year old Torres didn't gravitate to the sport until he was 19. His later than usual start has some boxing insiders wondering aloud if Alex Torres didn't wait too long to start his professional boxing career.
If I had a dime for every hot shot amateur prospect who failed to live up to expectations, I would have my own hot dog vendor cart in Coney Island. I talked to several trainers in Canada who think Torres is the real deal.
All he (Torres) has to do is convince his ring foe, Kyle Oliveira who predicts a major upset. If my schedule allows, I will be at the show and file a full report. I don't have a favorite. By the way, Alex sent in his answers to my questions just before I hit the send button on this column. It will run in a few days.
In the headline bout, Calgary favorite Steve Claggett had to withdraw due to a severe dog bite suffered earl this week. No official word on the health condition of Claggett or the dog. He was to meet Juan Rivera from Mexico. Rivera ( 26-10- 17 knockouts) is one tough hombre. Fan Base and Trinity Boxing is looking for a 147 lb. quality replacement; if interested call 403-926-0269. Applicants need to be serious about their craft. For ticket info: www.fanbaseboxing .com or www.ticketbud.com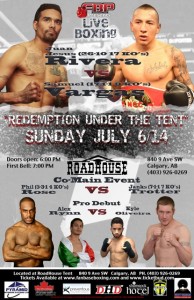 In the co-main, onetime rising star Janks Trotter comes out of a two year self-imposed retirement to take on Phil " The Assassin" Rose whose modest record is 5-3-1 including a victory over Adam Trupish the former two times Canadian Olympian. Trupish scored a 1st round TKO victory over Trotter (7-1-1) who seemed to take the loss personal and left the sport to clear his head and contemplate his future. The 30 year old is back with vengeance and he vows to make amends for his horrific loss to Trupish.
In fighting Rose, the Irish Canadian steps up in weight class to take a calculated risk. He has never fought at 158, but the 30 year old oil rig worker from Lethbridge, Alberta doesn't see the additional pounds as a problem. According to his friends, he loves challenges.
This is a huge fight for both men. Rose, from Whitby Ontario Canada, was once criticized for his training habits, but according to his friend and manager (Don Nelson) a light came on six months ago and the 32 year old with 15-20 amateur fights under his belt has been a warrior in the gym since his awakening. Nelson feels that with any kind of break, Rose's record should be 8-1 not 5-3-1. He is seeking redemption and respect after losing a controversial split decision to undefeated Brandon Cook in Cook's back yard. Rose made his professional debut in 2010 with a victory over Winston Dann. There is talk about Rose getting a shot at a WBC international title in China and a victory over Trotter might be the winner that punches his ticket.
The press conference will be held on Friday July 4 at The Shooting Edge (403-720-4867) in Calgary while the official weigh-in follows on Saturday, July 5, at the Shamrock Hotel, also in Calgary. For more details and tickets go to www.fanbase boxing.com and www.ticketbud.com
Events, Press Conference and weigh-in are open and free to the public. A replacement for Claggett could be announced by this weekend and the names we hear, bandied about, are impressive. Don't be surprised if Fan Base puts a ban on using Claggett on any future card.
If you prefer phoning for your info, call 403-926-0269 and talk to customer service. Directions to the Shamrock Hotel can be obtained by dialing 403-290-0084. Until Next Time!
Related Articles: