Categories:
Featured Article
|
Comments Off

on Interview with Unbeaten Welterweight prospect, Dusty Harrison
By Ike Enwereuzor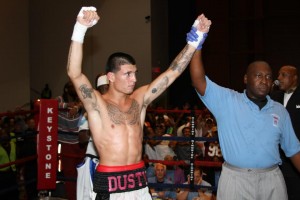 Unbeaten welterweight prospect, Dusty Harrison was born May 24, 1994 in Washinton, District of Columbia and
began his professional career on June 11, 2011 after having over 200 amateur battles. He has an unbeaten professional record with 9 wins, no loss, and 5 by Knockouts (9-0) 5KO's
Dusty was seen last in the ring September 24 and will make his next appearance as a main event at Washington DC Convention Center on Saturday November 3, 2012. Here is the 18 years old welterweight propect had to say…..
Did you see the Paulie Magnaggi vs Cano fight last weekend? What is your thoughts of the fight?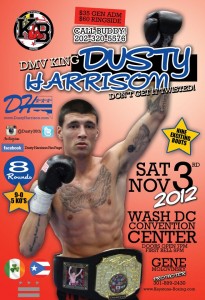 I have met and spoke with Paulie when he was here in Washington DC. I was on the under card of the Peterson vs Khan fight. I think Paulie is a very smart guy. He speaks very clear and knows what he's talking about when discussing boxing. I only seen the last 2 rounds of his recent fight with Cano. Judging the only 2 rounds that I seen, Paulie definitely lost. Also, according to the crowd, he lost too. Keep in mind, I only seen the last two rounds..
Ike: How did you get into amateur first time?
Dusty: My dad has been teaching how to box before I could even walk. I see pictures of me at 2 years old hitting a small kids heavy-bag in the same SE DC apt that I still live in.
Ike: What was your amateur record? You fought in the Junior Olympics, tell us about that and tell us title you won as amateur?
Gusty: I had 197 amateur fights, I won them all with the exception of around 23. My dad still thinks I even won them. I have never been down or a standing 8 count in the amateurs. I have won the Silver Gloves twice, The National Golden Gloves in Las Vegas three years in a row. 2007.2008,and 2009, Ringside Worlds 2 times, Summer Classics 3 times, Mayors Cup in Puerto Rico , etc…
Ike: What do you remember most from your PRO debut?
Dusty: My first pro fight was televised and is on youtube.com. I had just turned 17 a few weeks before the fight. I was not nervous at all, but my mom started crying before the fight. She seen how muscular the guy was and she was really scared. My dad was calm, has been there to watch me fight and spar every single time, so it didn't bother him at all. I remember after the fight, it took me well over an 1 1/2 to get back to the dressing room. Everyone wanted a picture or an autograph. Probably because they announced me as the youngest fighter in America.
Ike: Which of your fights is the toughest and why?
Dusty: Anthony Bowman was the toughest so far, he had over 50 fights to his credit and was could really take a punch. I'd hit him with everything. He even went down in the first but he got right back up.
Ike: Describe your last fight?
Dusty: My last fight was with Shane Geirke, I won by KO in the 2nd. rd. Again, my mom was nervous because the guy was cut up and tattooed all over. I sent him to the canvas 3 times with the first being a perfect body shot to the mid section.
Ike: How is preparation for your upcoming fight? What can you tell your fans about this November 3 fight promoted by Keystone Promotions?
Dusty: My next fight November 3rd., 8 rounds, Main event, DC Convention Center. Training has been perfect so far. My dad and I have a program where I spar many rounds on Mon. and Thurs.. I have a Top Notch Condition Coach "Kim Jackson" on Tues and Fri. Wed is a regular day where I run, shadow box, hit the heavy and speed bag, sit ups. (I do run 5 days a week} A few days ago I ran the mile in 4:39 my best time ever. Sat. and Sun. I hang out with my friends
Ike: What is your prediction for the Miguel Cotto vs Austin Trout fight coming up?
Dusty: I am sticking with the Puerto Rican Miguel Cotto. He's been there done that. I see no reason why he cannot do it again…
Ike: Your prediction for Pacquiao vs Marquez?
Dusty: I think Marquez beats Pacquio and I also think he beat each time before.
Dusty Hernandez Harrison
Related Articles: