Categories:
Featured Article
|
Comments Off

on Iron Boy 12, Boxing Returns to Cinco de Mayo
Arizona Boxing News & Notes
Iron Boy 12, Boxing Returns to Cinco de Mayo | Don Smith
Boxing Fans,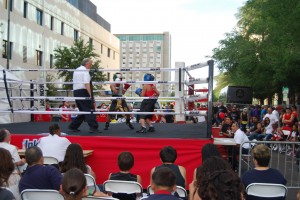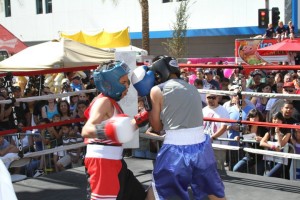 On Saturday, April 19 Iron Boy Promotions held a media workout to promote their Iron Boy 12 show at the Celebrity Theater on 4/26 which features a free live stream. As usual, a number of boxers were unable to attend. Junior middleweight Joey "The Boxer" Ruelas was there and his story is Hallmark Hall of Fame like. Young man gets into trouble, boxing career and life interrupted, lesson learned and the road back begins.
At age 32, Joey is on his way back. His 7-0-1 ring record is one indicator and a new sense of maturity exudes from the Phoenix boxer. I talked to him shortly after his return to civilian life and he was very humble in talking about bad personal choices that sent him reeling in a downward spiral until he hit rock bottom and regained sight of what he valued: family and boxing.
Ruelas was scheduled to meet Lauro Alcantar (8-1) in the main event, but Alcantar withdrew 3 days before the Saturday Contest amidst speculation that he either got cold feet or decided to take another fight.
I did a little grapevine snooping and was told that Alcantar contacted two or three fighters inquiring about Ruelas and his degree of toughness.  Two of the  contacts were reportedly former Ruelas foe  Sijuola Shabazz and one time IBF NABF super middleweight champion Jesus "El Martello" Gonzales.  I know Shabazz gave Joey a thumbs up and I see no reason for El Martillo to bash Ruelas.  Their reports may have caused Alcantar time to pause, reflect and withdraw. I couldn't confirm the third source.
Unless injured, the born in Mexico boxer may be in a world of hurt. He was contracted to fight on the card and now he faces a possible suspension. Matchmaker Mike Sanchez will pursue the matter to the maximum and that doesn't bode well for Mr. Alcantar.
Ruelas will now face Sonora's Fernando Najera (1-1) in a bout downgraded to under-card status. Sanchez was still wrestling with the main e vent replacement as of Thursday afternoon. The life of a  matchmaker isn't a bed of roses or walk in the park.
In addition to exchanging verbal jabs with Ruelas, I talked to Super middleweight  Sijuola Shabazz  (3-1)who is excited about Facing off with veteran Rolling Williams (23-18) who was a once ranked fighter ,but hasn't fought professionally  in 20 years. At 48, It will be interesting to see what the Phoenix boxing coach has left in the tank. Their contest is scheduled for 4 rounds.
Shabazz trains at Pro Edge Gym in Phoenix and works for UPS. He had a successful amateur career in New Mexico, but delayed his professional debut for personal reasons.   While training in the land of Enchantment, he met Boxer Austin Trout who is a big supporter and will attend the Iron Boy 12 event.
The remainder of the card reads as follows; 2 young  prized  fighters (Alexis Zazueta and Carlos Castro) were still looking for opponents just hours before Friday's official weigh-in in Mesa.  The following bouts are set in stone, almost
6 rounds: Rafael Rivera 1-6 vs. Francisco C. De Vaca 5-0 Bantamweight division
4 rounds: Jesus Pacheco 1-3 Vs. Edgar Brito 1-0-1 Bantamweight division
6 rounds: Keenan Carbajal 3-1 Vs. John Herrera 4-7 Super Featherweight division
4 rounds: Juan Carlos Benavidez 4-3-1 Vs. Xavier Montelongo 5-1 Featherweights
4 rounds:  Tim Riddell (debut) Vs. Miguelito Marti 0-2 lightweights
Celebrity Theater doors open at 5 p.m. on Saturday April 26; good seats still available
Boxing Noise:
Boxers Emilio Garcia and Luis Olivares are nursing sore left hands and will take some time off  for injury  evaluation. Garcia is trained by Tom Garcia while SMS prospect Olivares   does his grunt work at Busted Knuckle Gym.
Ray Lampkin Jr. is back in Phoenix working out after an extended stay in Portland. He has ballooned up to 160.  He is trying to sweat it off at Central Gym in downtown Phoenix.
Robert Bennett was named last week to succeed Keith Kiser who resigned   in January as Nevada's Executive Athletic Commission Director. Mr. Bennett, a former FBI Agent, US Marine and boxing judge was one of four finalists.
Heavyweight Franshon McGee, former arena football player, continues to work out at Busted Knuckle.  The 30 year old athlete claims 13 amateur wins with 13 knockouts. No word on when and if he will turn professional.
NABF lightweight champion is moving back to Phoenix this week to be near his parents. The Champ will be working the corner of Amateur standout Eben Vargas (Gene Lewis Boxing) at the Cinco de Mayo Festival in downtown Phoenix on May 30.
Boxing mentor Damien Stone, Stone Hard Gym in Chandler, faced Judge Rogers on Monday April 21 at 1.pm. and accepted a plea agreement to one count of prostitution. His admission of guilt will undoubtedly mean his expulsion from the USA Boxing Arizona organization. AZ. President Jacob Magallanez will make the ultimate decision.
Phoenix Heavyweight Robert Garcia makes his professional debut on June 5 at the Phoenician in Phoenix in a private show. Robert has a wealth of talent and an uncanny knack of finding trouble. Let's hope his troubles are behind him and don't hinder his family ties.  His sparring sessions with Top Rank prospect Trevor McCumby were pretty intense.
Heavyweight Bronco Billy Wright dropped by the Iron Boy X11 workout to chat about his  May 3 bout in Bolivia. The 333 lb. 49 year old is defending three of his belts. Billy wants to be taken seriously in the United States and fight for a world title.  Bronco Billy resides in West Jordan Utah and is a very likeable guy.
                 USA Boxing  Arizona Returns  to Cinco de Mayo In Phoenix
On Saturday and Sunday May 3 & 4, be prepared to celebrate the 21st Annual   Cinco de Mayo Festival in Phoenix. Presented by Mundo Fox Phoenix, the street party takes place at 200 E. Van Buren Street and admission for adults is a cool $5.00 until 5p.m then the price climbs to $10.00. Kids 12 and under walk in free thanks to the generosity of Amica Insurance; one of the events gracious corporate sponsors.
As your volunteer guide, I would suggest wearing a comfortable pair of shoes and sunglasses that keep the rays out. Then you are ready to check out all the food vendors  and merchants  who want to show you something. I always look for the political booths and on hand politicians trying to win my vote for the September and November elections. Of course, not everyone is a serious geek like I am.  I rarely  miss the annual  festival because it is a lot of of fun and attendance supports the community
This year, the entertainment lineup includes Musical Super Star Groups: Los Lonely Boys, Los Lobos, and Ozomatli & El Chicano. Concert performance times are posted on the festival website. There will be a large carnival for the kids and for the food connoisseurs, savor the moment with professional chef Martha Jara. Who needs Martha Stewart? And an added bonus: $100,000 in scholarship awards. Be ready to bump into unannounced celebrities, ala desert Hollywood.
Two months ago, I had a chat with newly elected USA Boxing Arizona Jacob Magallanez  about including USA  Boxing  Arizona in the festival program and he touched noses with Arvizu Advertising  and Promotions and the trick was completed. On Saturday at 2 p.m. the 2014 putting on the Gloves Battle of Cinco de Mayo begins. As a special bonus, the Mayweather vs. Maidana PPV title fight will be available for all festival patrons at no  extra charge.
Gloves Battle will feature 20 amateur bouts. NABF lightweight Ray Beltran will be working the corner of stellar amateur prospect Eben Vargas (Gene Lewis Boxing when Vargas tries to avenge an earlier defeat at the hands of tough Christopher Gonzales from Tucson Boxing.  I will print a list of all the bouts in my next column. Special thanks  to Mike Sanchez for introducing amateur boxing to past phoenix Cinco de Mayo shows  and a big hug  to President Jake starting up the tradition again. It is a huge lift for Arizona Boxing. And I owe Mary Jacobson a huge bow for sending info that made me look smart. On Saturday, Nay 3 the Festival gates open at 2 p.m.  and close at the betwitching hour of midnight. On Sunday May 4, Gatesopen at noon and close at 10 p.m. Tell your friends.
Manny Continues to Survive:
Still waiting for the official PPV numbers from the Manny Pacquiao vs. Timothy Bradley encore battle.  Manny and Top Rank should be happy with  the fight performance and  the correct verdict, a unanimous decision in favor of the Pac Man.  Bradley had his moments, especially in the first round.   After the fight, the former champion told reporters he injured his left leg early in the fight. I did notice a limp when the 30 year old boxer returned to his corner at the end of the second round. I had Bradley winning 3 rounds at best and I'm being generous.
Manny confused his 30 year old foe with a  stick & move lateral movement strategy that worked round after round. It may not have been  vintage Pac Man, but the 35 year old Filipino boxing legend can still wow a crowd.
Bradley showed his ultimate frustration, in my opinion, by deliberately head butting Pacquiao with 30 seconds remaining in the 12th and final round. Bradley deserved to lose his title after sharing his unsportsmanlike moment with the world watching. What a cheap shot!
I didn't watch the fight in Vegas; Instead I accepted an offer to watch the event at Twin Peaks, a Phoenix Sports Bar & Grill located at 2135 E. Camelback Road . Andy Bayless and two partners (including wife Caroline) own the franchised establishment.  The food was scrumptious and the Twin Peak servers are efficient, friendly and very attractive. I settled for a burger while my friend ordered the pot roast. Lindsey was our server  and our service was first  class.
Andy is a good friend of Lightweight contender Raymundo Beltran and several members of Beltran's family were in attendance as well as friends who came to root for "Ray Man" in the co-main against   the number of vocal Bradley supporters could be counted on two hands.  Ray's victory gives him a legit claim to fight Terrence Crawford for his lightweight crown or he can move up to 140 and possible challenge for a  vacant title, as rumored.
I have no qualms about returning to the popular sports bar to watch another PPV fight. Andy plans to show the Mayweather bout on May 3 and the Arreola telecast on May 10.  It is an impressive venue to watch a championship boxing or UFC event. 84 screens, Patio, booths, tables and enough space to be comfortable. There is a nominal cover charge ($10.00) but there are amenities. Checkout  their website for events and location.  As for the number of fights. On 4/12,  4 12 round fights were on the menu. Home TV may field an extra one. Until Next Time!
Related Articles: