Posted by George Hanson., Jr Esq. on Jun 12, 2012

Categories:
Featured Article
|
Comments Off

on Jack-Jack, Jack the Ripper—The King Derails the Iron Horse
The Mouthpiece
Jack-Jack, Jack the Ripper—The King Derails the Iron Horse
By: George H. Hanson Jr., Esq.
Date:                       Friday, June 1, 2012
Venue:                    Sands Casino Resort – Bethlehem, Pennsylvania
Promoters:              Main Events in association with Peltz Boxing Promotions Inc.
Coverage:               NBC Sports Network
Commentators:       Kenny Rice, BJ Flores, Freddie Roach & Chris Mannix
Ring Announcer:    Joe Antonacci
Referee:                  Steve Smoger, Gary Rosato & Shawn Clark
Photos:                    www.christoneyphotography.com
"King" Gabriel Rosado is going to win a world championship! I mounted my soapbox and made my proclamation several years aback.  As comedian Martin Lawrence would say, allow that to marinade while I spend a few sentences explaining  the title of this article before doubling back to tie it into Rosado's pugilistic prowess and his ascension up the ladder of the junior-middleweight division. Sit back, relax, and allow me to take you on a rhetorical ride laced with history.
There are two seminal references to Jack the Ripper using the search engine Google. The first is the name given to the serial killer who terrorized London back in 1888 mutilating female prostitutes from the slums.  He would slit their throats before removing their internal organs with the precision of a surgeon. The murders were never solved but the legend of Jack the Ripper was cemented into popular culture.  The moniker Jack the Ripper was dusted off almost a century later in 1987 by then nineteen-year old rap sensation  James Todd Smith  better known as LL Cool J who released the eponymous song on the soundtrack of the movie Less Than Zero. It was a "diss record" throwing gasoline on the fire of the lyrical  war that had been waged between him and New York cross-town rival Kool Moe Dee.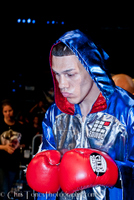 Here's what my game is, kill is what my aim is
A washed up rapper needs a washer, my name is –
Jack the Ripper
Let me add another reference to the infamous killer. Philly junior-middleweight contender "King" Gabriel Rosado (19 wins – 5 losses – 0 draws – 11 kos) is Jack the Ripper of the division— wreaking havoc, leaving bodies on the canvas, destroying the opposition having promoters including Golden Boy fearful of putting their charges against him.  Riding a five-fight win streak, he added perennial contender— the masterful Sechew "The Iron Horse" Powell (26 wins – 4 losses – 0 draws – 15 kos)—to his list of conquests by chopping him down in the ninth round of their scheduled 12-rounder for the WBO Inter-continental belt.  Rosado threw uppercuts and body shots like he was on a sugar plantation wielding a machete harvesting sugar cane. It was an artistic display of punch selection as he anchored the slick boxing southpaw to the canvas forcing referee Smoger to call a halt at 2:43 of the ninth stanza.
Sechew "The Iron Horse" Powell was first to enter the squared circle with Super Bad by the Godfather of Soul—James Brown—blaring over the house speakers.  Richly confident and blessed with impeccable boxing skills it was easy to surmise that the southpaw was going to present many challenges to Rosado. There were many who believed that the Iron Horse was going to steamroll the Philly pugilist by out boxing him.  Powell seemed to dictate the pace early by befuddling Rosado with his southpaw jab and graceful angles. He fought like the Lone Ranger sitting in the saddle surveying the landscape unfettered by the advancing Philly pugilist who just kept coming.  Rosado finally cornered the Iron Horse in the fourth and again in the eighth round. He had Powell reeling after an uppercut connected on the tip of his chin. The Iron Horse was about to be derailed, clutching for dear life before steadying to fight back landing an uppercut at the bell—yelling like a Banshee warrior at the bell.
Rosado's trainer, Billy "The Old Master" Briscoe, is a boxing savant. He is an anachronism—young yet brilliant, old school boxing mind trapped in the wrong era. Back in 2001 I rode the train from Philly to Boston with Briscoe.  The late Raymond Munson, Sonny Liston's right hand man, was seated next to us. We talked boxing the entire six-hour trip and there wasn't a boring moment. Briscoe knows boxing with such detailed recollection that you would tend to believe that he actually traveled with Jack Johnson and Joe Louis—his favorite fighter.  There is little surprise that Rosado has advanced so rapidly and has mastered so much of the intricacies of the sweet science. Turning professional January 13, 2006 after only six amateur fights and a day shy of his twentieth birthday, Rosado has learned the old fashion way by taking on all comers.  He has probably learned more in his five losses than WBC junior-middleweight champion Saul "Canelo" Alvarez has learned in his unblemished 40-win career mostly against Mexican cab drivers!
Rosado has a firm grasp on how to close the curtains on a wounded opponent. Early in the ninth round an uppercut catapulted Powell forward, both hands touching the canvas forcing referee Smoger to call a knockdown. The fat lady cleared her throat as the action resumed and Rosado cornered Powell. It is widely accepted that Jack the Ripper had some medical training based on how he removed the internal organs of his victims.  Rosado—unlike many young fighters who throw wild combinations when they have their victims in dire straits—is composed, precise and deadly accurate. He picks his shots targeting the body, the base of the chin and the side of the head. He is literally a gloved surgeon as he went to Powell's body then back upstairs with deadly uppercuts then mixing in a few hooks and right hands for good measure. Powell toppled sideways as Smoger rushed in to call a halt—Jack-Jack, Jack the Ripper!!
In direct contrast to Rosado vs. Powell, the opening bout was pugilism's response to insomnia. In a four-round heavyweight match-up Eric Newell (4 wins – 1 loss – 0 draws – 2 kos) of Bethlehem, Pennsylvania and Tyyab Beale (5 wins – 3 losses – 0 draws – 1 ko) of Newark, New Jersey made watching cock roaches fornicating a more appealing spectacle. I have seen more action at a retirement home bingo game than what both these behemoths generated over the course of twelve uneventful minutes.  They were so tentative in the opening round it led me to believe that maybe one was a leper and the other was worried about becoming infected.  That quickly changed in the second round when they decided to hold and clutch their way through three minutes. Only in a honeymoon suite would one find more hugging and holding. Again, I found it difficult to award the round to either fighter. And, I couldn't score it for referee Rosato despite his ring generalship and graceful lateral movement.
Much to my astonishment Beale landed two body shots in the third round "dominating" the action.  I am sure that both Beale and Newell will be upset after reading my commentary on their performance. But as the Clark Gable so aptly stated in that epic classic Gone With the Wind, "frankly my dear, I don't give a damn."  If they didn't want to fight they should have joined the Peace Corp.
The final round was much of the same and press row applauded when it was finally over. It was as a split-draw as one judge scored it 39-37 for Newell, with the second having the same score for Beale and the final scoring it 38-38.
Ronald Cruz owns the town of Bethlehem and there is no doubt that if he ran for mayor, he would be elected. His faithful fans packed the newly opened Events Center to watch their hometown hero and favorite son. Occupying most of the ringside seats were members of Cruz's family including his father who made the trip from Puerto Rico to finally witness his son in the squared circle. The elder Cruz had never been to one of Ronald's previous sixteen bouts and was anxiously awaiting his entrance into the ring.
Cruz (16 wins – 0 losses – 0 draws – 12 kos) didn't disappoint his fans as he fought tooth and nail with the enigmatic and entertaining Prenice Brewer (16 wins – 1 loss – 1 draw – 6 kos) of Cleveland, Ohio for twelve rounds capturing the WBC Continental America's welterweight title.  There were no knockdowns as the tall and lanky Brewer came to fight and knew how to use his jab and combinations to keep the advancing Cruz at bay. Cruz was able to hurt Brewer on several occasions however he has not mastered the art of finishing an opponent. Instead of picking his shots and delivering uppercuts, Cruz converted to southpaw and wailed away with hooks allowing Brewer to weather the storm and finish upright.  There were many close rounds and depending on your preference you could have scored them for Cruz or easily handed them to Brewer who never stopped jabbing. However, it was difficult to ignore the pro-Cruz audience as they made their presence felt roaring every time he threw a punch.
After twelve action packed rounds all three judges scored it 118-110 for Cruz.
Taking the fight on a one day notice and having to drop nine pounds in order to make the junior-welterweight limit, Hasan Young (1 win – 0 losses – 0 draws – 0 kos) of Philadelphia found himself in a fight.  Young jumped out to an early start by controlling the action and working the body of debuting southpaw Jerome Rodriguez of Allentown, Pennsylvania.  Young captured the first two rounds and hurt Rodriguez early in the third stanza. But, Rodriguez was unfazed and roared back hurting Young who was fading quickly like a World War II bomber leaking fuel after a bombing run over Berlin.  The Philly fighter was running out of gas and Rodriguez seized the opportunity and captured the final two rounds by simply outworking Young.  One judge scored it 39-37 for Young but was overruled by the others who both scored it identical at 38-38. A majority draw was the right call for this highly entertaining bout.
With  trainer, former middleweight champion, John David Jackson, by his side light-heavyweight Sergey Kovalev (17 wins – 0 losses – 1 draw – 14 kos) of Fort Lauderdale, Florida by way of Russia entered the ring confident for his scheduled eight-rounder.  Already waiting decked out in a clown mask, wearing full-length black leotards adorned by strips of fabric hanging from a waistband, Darnell " Deezol" Boone and trainer Jack Lowe basked in the pre-fight festivities.  Boone (19 wins – 18 losses – 3 draws – 8 kos) and Lowe made the  trip from Youngstown, Ohio to avenge the fighter's 2010 eight-round split-decision  to Kovalev—a fight that they believe that Boone won.
If fights were decided on ring attire, Boone would be undefeated. His costume was superb and it is unfortunate that points aren't awarded for sartorial splendor. But, this is the sweet science and not a costume party.  We are in the hurt business. However, pageantry has always been an integral part of pugilism.
The opening stanza was the traditional "feeling out" round with both men probing for an opening. Boone took the round because he landed three well-placed hooks to the body. However, his success was ephemeral when Kovalev hurt him early in the second round with a left hook forcing him to hang on for dear life to avoid falling to the canvas.  Kovalev moved in for the kill and referee Smoger was about to stop the fight but Boone fired back showing that he was still game.  This happened on two more occasions as the astute Smoger backed off and let the action continued as Boone refused to go gracefully. But, Kovalev finally overwhelmed Boone with a devastating right leaving Smoger no room for discretion. He called a halt at 1:32 rescuing Boone from further punishment.
OTHER ACTION: Philadelphia lightweight Tevin "The American Idol" Farmer (5 wins – 3 losses – 1 draw – 1 kos) had three rounds in the bank when he was floored by Tyrone Luckey (4 wins – 1 loss – 1 draw – 4 kos) of Middletown, New Jersey in the final round of their scheduled four-rounder.  Someone forgot to tell Luckey that the originally scheduled six-rounder was reduced to four. Thus, he was surprised when his corner man was taking off his gloves after the fourth round.  Luckey started late as Farmer had out boxed him to the point of the knockdown.
Two judges scored it 39-37 for Farmer with the final judge having the same score for Luckey.  Farmer captured a well-deserved majority decision. Undefeated Brooklyn, New York welterweight Anthony Irons (4 wins – 0 losses – 1 draw – 2 kos) boxed masterfully and captured a unanimous six-round decision over hard-hitting Rafael Montalvo (2 wins – 1 losses – 0 draw – 2 kos) of St. Clair, Pennsylvania. Irons kept the action at the end of his jab not allowing the deceptively powerful Montalvo to sneak up on him like a stealth bomber and unload his dreaded uppercut.  Purposely patient, Montalvo fell behind on the scorecard and was unable to deliver a knockout blow. All three judges scored it 58-56 for Irons.
It was another fantastic night of the sweet science as the capacity crowd, comprised mostly of Ronald Cruz's fans, enjoyed the show.  Watching the action at ringside next to Philly heavyweight contender Bryan "By By" Jennings was the Easton Assassin—and one of  the greatest heavyweight champions—Larry Holmes. Seeing him brought back fond memories of his epic battles with Earnie Shavers and his destruction of Gerry Cooney.
Despite him clamoring for Saul Alvarez before and after his fight, it is safe to surmise that Golden Boy Promotions will try to protect their golden goose by keeping Alvarez away from Rosado. Fighting washed up fighters and Mexican cab drivers leaves the young  boxer ill-prepared to withstand the fury that would be unleashed on him by the Philly warrior.
Jack  the Ripper, a man not a myth—Gabriel Rosado—a fearsome fighter, a harbinger of pain and destruction.
Continue to support the sweet science, and remember, always carry your mouthpiece!
Related Articles: