Categories:
Featured Article
|
Comments Off

on Just Another Heavyweight Title Fight; Blame Emmanuel Steward
By Michael Amakor | July 4, 2011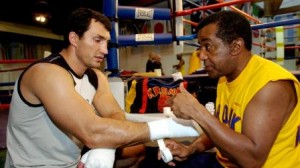 On July 2, 2011, boxing fans were treated to another lack luster heavyweight fight when Ukrainian Wladimir "Dr. Steelhammer" Klitschko (55-3, 49kos) the reigning IBF/IBO/WBO champion annexed and added the WBA title to his ever expanding collection of trophies by outpointing Briton David "Hayemaker" Haye (25, 1, 23ko's) by clear unanimous decision scores of 108-118, 109-117, 110-116 at the mtech-Arena, in Hamburg, Germany.
To say that this fight was a disappointment to diehard boxing fans is an understatement, but it wasn't really as bad a fight as you would think after the initial disappointment wore out and you got to see a re-run. However, the universal consensus is that the fight was a let down, because despite all the pre-fight promotion, full court press, and the arrogant and blabbermoutish offensive taunts of challenger David "always pontificating his moniker Hayemaker and waving his fist" Haye, did not provide the ingredients to stir up the pot to manifest a great and memorable heavyweight fight for the titles once held by the ferocious Iron Mike Tyson, the tenacious Evander Holyfield or the fast as a butterfly sting like a bee Mohammed Ali who always seemed to back up his rhetoric by providing fans with awe inspiring performances.
Instead, fans were treated to tactical affair between two highly skilled, and well-trained pugilists who seemed unwilling or unable to launch any sustained offensive attack to press their desire for induction into the pantheon of legendary fighters. The fight simply lacked the fire or the fury that was anticipated and the end result for every participant in this over-hyped event is exasperation and frustration.
The exasperation with David Haye stems from the feeling that he took the whole boxing establishment on a roller coaster ride, with his bashful, almost amateurish antics of hounding the Klitchko brothers, Wladimir and the elder brother Vitali the reigning IBF/IBO/WBO and WBC champion respectively for months, including cornering them at airports to challenge them face to face, going on a media crusade to call them out, even challenging their manhood, declared them the worst heavyweights in history and vowed to clean them out from the heavyweight scene, because the are boring as hell. He even went to the extent of prouncing around town and during the pre-fight press conferences wearing a t-shirt depicting him holding the decapitated and severed heads of the klitchko brothers.
In the midst of media frenzy he created he still backed out of a scheduled fight with Wladimir in 2009 and against Vitali several months later, and again in 2011, through all that he still kept up the trash talking attacks. By the time he signed up for the fight he had everybody foaming at the mouth inching for a fight and buying into his prophetically delivered vows and promises that he would knock out Wladimir Klitchko. However he was unable to deliver and save for a few sporadic explosive starts was unable to mount any sought of offense and ended up being outpointed, leaving the spectators with a feeling akin to rage for buying into his hype machine. His attempt at dousing the anger against him by providing evidence after the fight to show that he had fought with a fractured pinky toe completely missed the point because everyone now knows that he was just full of shit.
The frustration with Wladimir Klitchko performance is not too difficult to fathom, because he is a sight for the sore eyes of any macho man wannebe. He is a broad shouldered physical specimen standing at over six foot six and half inches tall and weighs more than 250 pounds, with an outstanding amateur career including winning gold at the 1996 Olympics in Atlanta who still despite all these attributes has been unable to capture the hearts and minds of the boxing world, and who to date has no signature win to define his legacy, you just know he wins.
"Why" his critics would point out, "is he so cautious in the ring", his fights are always all the same, he always gives distance and picks his opponents apart from the outside with jabs which he can throw all night until he tires his dispirited opponent towards a safe and comfortable points win, and if the opponent just happens to wilt too much he just punctuates the end with a heavy over hand right to seal the deal without the concerted bloodthirsty ferocity fight fans would love to see. That may all be very well, and good for him, but fans are beginning to sense that he lacks the red-hot killer instinct that made Mike Tyson a sensation. With all his physical attributes and advantages, one would assume particularly for this long awaited grudge match that Wladimir would throw caution to the wind and go for broke to get David Haye out of there as soon as the bell rang. But in this fight like the previous ones before, you get the same tactically and technically sound yet lack luster performance that most boxing purists would admire, but would eventually come to loathe with time.
However, one need not investigate any further as to why we have not seen any awe inspiring performance from him to capture our imagination, because the common denominator in all his fights has been the presence of the legendary and universally acknowledged best trainer in the world the great Emmanuel Steward belovedly known as Manny by all, in his corner.
Before Manny took over the reins as head trainer for Wladimir, it was generally agreed that Wladimir was still a damaged gem in progress as he had many defensive lapses, and stamina issues that contributed to monstrous and unpredictable defeats that almost had him written off by his current praise singers. However his handlers did a complete assessment and reached out and contracted Manny to hone his skills and preserve his career after his shocking loss to Lamon Brewster in 2004.
Manny's selection was not too hard of a decision to make going by his prior accomplishments. The world of boxing took note of how he transformed former undisputed heavyweight champion Lennox Lewis (41-2-1, 32kos) another similar physical specimen into a complete fighter with an impregnable defense, and well conditioned to fight tall and strong always keeping his opponents at the end of his range finding spear tip of a piston like jab; totally discouraging any inside fighting, and take no chance approach to each fight to secure each win even if he did manage to knockout his opponent.
And for Wladimir Klitchko, Manny Steward did exactly what he was contracted as trainer to do and has virtually turned Wladimir, into a complete fighter who fights according to the script; keep your opponent at a distance with your 81 inch superior reach for as long as you can and coast towards a decision and if the knockout comes it comes. At the end of the day Wladmir is now a unified heavyweight champion, and that might be all that matters to his management team that heavily relies on Manny's counsel. Why take any chances, what are you trying to prove that you haven't done so already" the team aided by manny might help Wladimir reason, because beyond the glory of the ring, boxing is indeed a very brutal sport which takes no prisoners.
Boxing, is one of the few sports that has no medical disability plan for its participants, and a loose to no regulatory structure regarding rules for fighter compensation. This situation leads to most fighters getting meagerly monetary sums for fights and ending their careers with nothing to show for it. The are usually almost brain dead from being beaten to a pulp during their career ala Mohammed Ali, to actively pursue any other career to maintain a decent living. Of course there is the rare exception where super stars like Oscar De La Hoya have walked away from the sport with multi-million endorsements and with their prize winnings intact, but they are few and far in between. So can we blame the fighters for not going for broke in every fight so that the can walk away from the sport with their smarts intact and enough money to enjoy the good life after the hang up the gloves for good, Certainly Not.
A veteran trainer like Manny Stewart, who most definitely must have been a first hand witness to the damage repeated blunt force punches can do to a fighter, would certainly have adopted the highest professional code of ethics to train his fighters to the best of his ability to ensure the have the tools to protect themselves at all time. You can also reason that he is buying into Wladimir unstated goals of walking away from the game with his wits intact, and would further structure his training delivery to impart the "hit", "but don't get hit" message with regularity, which is what boxing is all about fundamentally at the end of the day.
But then again even the mentor can get frustrated when his protégé follows his counsel too much to heart as evidenced when he uncharacteristically began yelling at Lennox Lewis in the corner when Lewis seemed passive and was taking his time in dispatching a spent Mike Tyson during their epic fight back in 2002, "Get this motherfucker outta there" he repeatedly screamed at the calm Lennox Lewis who was following the script too well.
But that may have been a momentary flare-up, and the reasoning seemed to have persisted one fight later after Lennox Lewis survived the manic attack from the dreaded Vitali Klitchko in the toughest fight of his career in 2003. Lewis probably would have considered himself lucky to have survived that onslaught particularly as that fight got stopped because he accidentally opened up a gash over Vitali's eyes, but not before he had been taken to the gates of hell and not liking it one iota. His desire to retire after that fight may have been his personal decision, but no doubt aided by the cautious fighting techniques and philosophy he imbibed over the years from Manny, and besides you have many other options out there "why get hurt hunting for fame" his team would add.
So brace yourself for more re-runs of the reliable performances by Wladimir Klitchko due to the super training regimen Manny Steward has perfected for super sized athletes like Wladimir, because one thing is for certain no matter how vigilant we the boxing fans are, history does indeed have a way of repeating itself as described.
Related Articles: