Categories:
Featured Article
|
Comments Off

on Ray Narh vows to beat Alvarado
By Prince Dornu-Leiku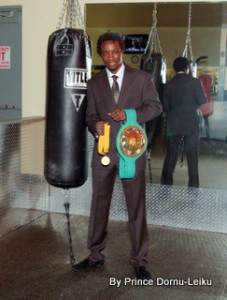 Ghana's Sugar Ray Narh has sworn to defeat opponent Michael Alvarado when the two knockout specialists fight for the vacant World Boxing Council (WBC) Continental Americas Super Lightweight title on the undercard of the much publicized Manny Pacquiao vs. Sugar Shane Mosley WBO Welterweight epic on May 7, at the soldout MGM Grand in Las Vegas, USA.
Narh's opponent is unbeaten (29-0, 21 KOs) and comes into the May 7 fight on the back of winning 11 of his last 13 fights by knockout. He has not had a fight go to the judges' scorecards in two years. A boxer-puncher, Alvarado boasts knockout victories over former world champion Cesar Bazan, former world title challenger Michael Clark, and world-rated contender Emmanuel Clottey, Narh's Ghanaian compatriot. Alvarado also enters this fight fresh from a fourth-round knockout victory of Dean Harrison in February.
But currently world-rated No. 6 by the WBC, Ray Narh popularly called Emperor, (25-1, 21 KOs), is counting on his own magnificent knock-out record to snuff out the threat of Alvarado. The Ghanaian is riding a seven-year 15-bout winning streak, 12 of those victories by knockout and returns to the ring fresh from a 10-round unanimous decision victory over former world champion Freddie Norwood in March.
Recent victories over prominent opponents include Angel Hernandez, Francisco Campos Luis Bolano and 2000 Turkish Olympian Ramazan Palyani, who entered their bout undefeated.
In the following question and answer interview with Ghanaian freelance sports journalist Prince Dornu-Leiku, Narh pledges to win on May 7 no matter the resistance of Michael Alvarado.
He further throws up the challenge to world champions of his division, Amir Khan, Timothy Bradley and Zab Judah, promising to beat any of them, why he sees the fight against Alvarado on the undercard of the Pacquiao-Mosley pay-per-view showdown as the perfect platform to make a statement to the boxing world.
Below are excerpts:
Q: First of all, is the notice for this fight too short?
A: Yes the notice for this fight is short, only got 3 weeks to get ready but I am in a so so shape already before the call up came so I should be fine. This preparation is not the best of preparation I ever had but I'll be fine by fight time.
This is the opportunity I've been waiting for all my life so I said to myself, if this is the time God wants to give me this chance then I have to take it because I know I can do anything through Christ who strengthens me.
Q: Could this be your toughest fight? Unbeaten opponent who also boasts a good knock-out record?
A: Maybe or maybe not, it'll depend on what type of game plan he brings to the table. He is not the first unbeaten fighter I am going to fight. I fought Ramazah Palyani in Philly on his own home turf for the Pennsylvania State Lightweight belt and he was unbeaten with a 13-0 record and guess what I did to him? Big KO.
I intend to do the same to this Alvarado kid and make his 0 go to 1 loss. He's got a good knock-out record just like me and I know I'll beat him because I know I have been brought up a lot tougher than him.
You all will see my ring supremacy in this fight and that will give a wake-up call to the gate keepers of my division, WBA champ Amir Khan, WBC and WBO king Timothy Bradley and IBF champ Zab Judah who are holding my world belts for me not to run any more but to fight the Emperor now.
This boxing match is the opportunity for me to make a statement to the whole world about the arrival of Sugar Ray Narh which is why I took it regardless of the short time involved.
Q: Fighting on the undercard of Pacman-Shane, PPV with the whole world watching… What does this mean to Ray Narh?
A: Oh my God! It's a big big blessing for me and my family! I have been waiting all my life for a chance like this to shine but it never came, you dig? So I was happy that finally God has answered my prayers and now I am going to share the same ring with the best pound for pound fighters in the world. This is just awesome. This opportunity gives me the edge and the power to go out there and I'm leaving no rock unturned.
Q: How do you intend to take advantage of the situation?
A: I am not going to slack but live up to expectation because I got so much to lose in this boxing match and that is not happening to me. I am going to fight my heart out and come out clean with my hands raised high at the finish line as the winner.
Q: Finally, what are you promising your fans and Ghanaians?
A: I am promising Ghanaians and my fans in the whole world that am going to win this WBC Continental Americas belt and add it to the WBC USNBC belt that I still got so they should help me in any and all ways they can so that I make mother Ghana proud.
This is our time and don't know nobody stopping us. I want to say a big thanks to the higher man for giving me this call up. Big up Jehovah! Jah Rastafaria Sellasie I!! One Love!!!
Sugar Ray Narh's Opponent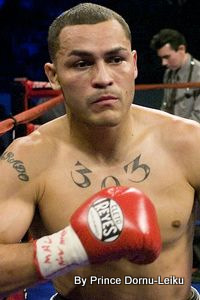 Related Articles: