By Prince Dornu-Leiku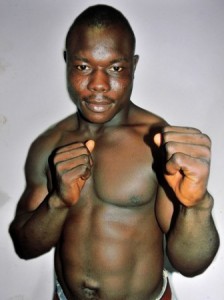 Emmanuel Danso, Ghanaian the boxer aptly nicknamed Kwahu Mike Tyson, has sworn to achieve the dream he always harboured as a child to become a world boxing champion.
Danso, the first boxer to come out of the Kwahu area since Ramos Agyare, says the support he has from his manager Kwame Acheampong, his trainer as well as the Ghana Boxing Authority, behoves on him to reward all with a world title within two years.
First though, Danso must overcome compatriot Anyetei Sowah whom he fights in a Light heavyweight championship over 8 rounds next Monday December 26 on the undercard of the 'Put up or Shut up' promotion at the Lebanon House in Accra. The boxer says he is ready to demolish Sowah on the night.
"Boxing is my life and I'm very determined to bring glory to Ghana by winning a world title in the next 2 years. 
"I expect bigger fights next year that will open the way to the top for me and nothing can stop me, not my next opponent. 
"I thank my manager Kwame Acheampong for his motivation and I promise to win for him," unbeaten Emmanuel Danso told Ghana-based newspaper ALL SPORTS.
Backing Kwahu Mike Tyson with belief, inspiration and financing is the manager Kwame Acheampong who is popularly called To Be in the Kantamanto business hub of Accra. To Be is reposing a massive dose of confidence in Danso. 
"Since he was a little boy, he has always had the ambition to be a boxer. I am assuring him of my full support and from the level he has reached thus far, I am sure he can get to the top like Mike Tyson and Lennox Lewis. I believe in him," Mr. Acheampong stated confidently.
Related Articles: