Categories:
Featured Article
|
Comments Off

on Learn to box before you step into the ring; Benson, Sims, Venroy July Win
By Michael Amakor | Saturday November 19, 2011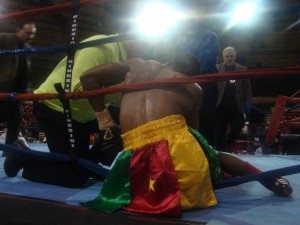 Some might say boxing is losing its luster because it does not draw out spectators for small cards like in the days long past, but it is serious business, to the various mysterious stake holders and die-hard boxing fans who come out to have a good time and to watch these fighters straining at their leashes to spill blood and leave their guts in the ring.
So when I heard about the card organized by Keystone Boxing in the penny saver paper, I placed a quick call to Gene Melovinsky, the venerable and affable patriarch of Keystone Boxing.
We relived some of the great fights he had promoted that I had the pleasure of watching including the Jimmy Lange vs. Joey Gilbert and Jason Naugler vs. Purcell Miller fights and then we got down to the discussing the upcoming fight paraphrased here.
"A few people had dropped out in organizing the fight, he told me.
No, he had too many demands that I couldn't meet, so he is off the card, he quipped when I asked him about a certain fighter to have been featured on his card.
I don't do this for the money, I do it cause I love boxing, if you are thinking about money you ain't gonna host any of these shows.
But then there will be some great fights and everybody is going to be there" he reassured me.
So with my reporter kit in hand, I drove down to the Show Place Arena in Upper Marlboro Maryland for this fight card labeled "In Yo Face, and like Gene said, no sooner had I arrived, I spotted former WBA Middleweight Champion William Joppy hussling about, he would later work one of the amateur corners, also in attendance was a trim looking Tony Thompson a one time IBF heavyweight title challenger and former welterweight champ Sharmbe Mitchell ringside.
What the event lacked in crowds, it made up by being well-organized with the Maryland state athletic commission out in force.
The amateurs started off the nights festivities with some fast and furious action, some of them had their hands raised in victory, other including the very young Martinez Williams who lost to a much bigger opponent was so upset about losing you thought he had lost for the Olympic gold medal, encouraging words and his trophy which he got for participating did not assuage the disappointment this young fighter felt, also in part because of the referees cautionary but timely stoppage of his fight, hopefully he will be back in the win column, after learning a few more tricks in the gym.
Everybody exhibited a high degree of sportsmanship and it was refreshing to see the ringside doctors inspecting these amateurs after each fight.
When fighting as an amateur, you must wear headgear to protect yourself from the concussive blunt force trauma of punches to the head, and the safety of these amateurs is of paramount importance. However once you become a professional, the gloves come off, and you can no longer hide behind the protection of headgear and quick stoppages, you are given the benefit of the doubt because it is assumed that you should have learned your craft in the gym. Most unfortunately however, some fighters never do, which brings me to the curious case of:
Olinga Out for the Count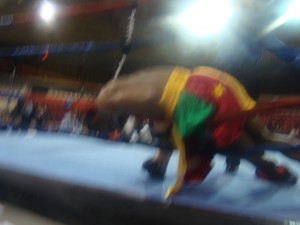 The first professional bout of the evening the fight between Benjamin Olinga (0-1) from Cameroon against and Kevin "The Scarecrow" Womack, Jr, (1-0) both barely out of the amateur ranks in a welterweight clash.
Before this fight I had a brief conversation with El Zeke Thompson, Olinga's trainer in the dressing room.
It's a long story he told me when I asked him about his move from the Sugar Ray Boxing Gym to Tony's gym, but I like this guy gesturing to Benjamin, he is hardworking and respectful, he told me switching the subject to his fighter.
How about Alexander "The Great" Johnson, I asked in reference to another promising prospect that he trains.
I'm still working with him, honing his skills, but nobody wants to fight him, they are ducking him" he declared as he shifted his focus to the serious business of wrapping Olinga's hands for his present assignment.
In round one the low crouching Olinga showed how much work he put in the gym as he came out very aggressively attacking Womack to the body backing Womack against the ropes and pummeling him frenetically. Womack countered and jabbed in brief spots and seemed to catch Olinga to late to lose the round on my score- card.
In round two Womack began boxing as Olinga resorted to more brawling tactics, Olinga began tripling his jabs and banging away at Womack's midsection, but Womack began boxing by countering and jabbing to control the distance, but Olinga does enough to win the round on my scorecard.
In round three Olinga tries to box and is landing jabs and pressuring Womack who responds with some helecious shots followed by uppercuts that knocked out Olinga mouthpiece forcing a timeout, Olinga stormed Womack who counters and uses combinations to steal the round.
In round 4, Womack used his boxing skills to control the fight and to land more combinations against Olinga who begins to fade out, and as Olinga rushed to launch another assault he got hit by a brutal right uppercut that sent him crashing and floundering heavily in between the ropes almost inert, for a few seconds everybody was frozen slow motion absorbing the horror of the moment.
After what seemed like an eternity, but was only a few seconds, the controllers and medics stormed the ring and delicately maneuvered Olinga down unto the canvas and tried to revive him. It was an uncomfortable almost half of an hour before he was revived and made to sit on a stool followed by a cautious wait before he was reclined back down unto a stretcher and hustled out of the arena supposedly to the hospital for a cat scan as a precaution.
During those tense moments a worried El zeke Thompson told me that Olinga has always had suspect conditioning, a weak chin and a dubious amateur record of 0-5-0 before he was tasked with training him at Tony's gym.
Sims Outboxes Trotter
Muscled bound bald headed Barry Trotter (2-0) from Columbia Maryland fighting out of the old school boxing gym and trained by Dustin Huffman swarmed Omar "The Machine" Sims (5-4-3, 3kos) and among other things used shoulder rolls to pulverize Trotter who began breathing heavily through his mouth as he back peddled throughout the round to lose it on my score card.
In round two Omar began boxing and landing some jabs until Trotter corners him, Omar drops his hands as he runs away to regain his position but he is beginning to put his punches together and begins to try to keep some distance between them to work his jab and upper cuts, Omar Wins on my score card.
In round 3, trotter is still landing to the body, but it is Omar who is tripling his combinations and hooking and countering the stronger but out generalized Trotter to lose rounds three and four on my score card.
The judges scored it 38-38, 39-37 twice for Omar. If I were Omar I would work on my conditioning, before an outing against a more seasoned opponent would lead to a devastating knockout.
Jeter Brutalizes Dunham
This bout featured a one sided trashing of Ken Dunham (6-12-1, 4kos) after a flash knockdown in the first round after that Tony "Mo Better" Jeter (11-2-1, 9kos) comprehensively swept the cards by seemingly immobilizing Dunham by ripping and banging him to the body, including low blows to the hips, Dunham to his credit absorbed the tremendous punishment and would occasionally unleash a combination, but he seemed unable or unwilling to mount any sustained offense and just absorbed punishment, to my amazement the referee Gary Camponeschi allowed the one sided punishment to continue despite my alarmed plea to stop the fight.
After the one sided win 40-36 twice and 39-37 for Jetter, he took the stage thanked everybody and announced that his next fight would be on December 17, 2011 at Fort Myers in Maryland.
Dozier Mesmerizes Allen
Lenwood "Mr. Composer" Dozier (6-3-1, 2ko's) came into the ring with "Steve Ray" emblazoned on his very colorful outfit with matching footwear.
Was this a comedian or another bearded Santa Claus looking real deal.
The audience did not wait long to find out because after a few feeling out seconds Dozier unleashed a lightening hook to drop Norman "The Shadow" Allen (6-5, 3kos) for a standing count.
Dozier proceeded to feint time and draw Allen in as he telegraphed his body movements using very little movement or energy to drop Allen again in the 2nd round and another shot that wobbled Allen before a straight right against the ropes crumpled out Allen forcing referee Ken Chevalier to wave off the fight.
Excellent boxing by Dozier who won, I adjudged him a comedian no more, he made it look so easy.
Dennis Benson Shocks Akinyanju
In the co-main event Abodurin "Big Mo" Akinyanju (4-1, 3kos') one of the few fighters to have defeated prominent heavyweight Seth Mitchell in the amateurs and living up to his moniker came into the ring with much fanfare and weighing in at perhaps a career high 293 pounds ensuring that he was unable to use his experience to control Dennis Benson who was making his professional debut. A clash of heads rattled Big Mo somewhat as Dennis Benson forced the action to ropes as he tried to batter Akinyanju against the ropes and regain his wind.
Akinyanju seemed to get back into the fight in the 2nd round, and snapped out Benson mouthpiece with a cross while trying to keep Benson off of him with some inside hooks as Benson repeatedly wrestled him to the ropes.
Akinyanju seemed to be on his way to controlling the fight when a combinative flash sent Akinwanju crashing to the canvas flat on his back with his leg flailing in the air. He got up very quickly but his legs gave out under him twice forcing referee Gary Camponeschi to stop the fight.
"Do some sit-ups" someone yelled from the sparse crowd,
I couldn't help but agree, and so did most of the people at ringside.
Venroy July Stops The Mason
In the main event of the evening Suitland Maryland based Venroy "Hard Work" July (8-0-2, 2ko's) came into the ring to beat I'm so special, I'm so special so special so special by reggae musician mavado and he is indeed quite special. Not only is he a practicing attorney at a prestigious law firm, which is a prize for the sport, he is so far undefeated in his ring campaign, and he has veteran trainer Adrian Davis in his corner to butte.
After a brief scuffle, he methodically used straight lead combinations to back up the mason against the ropes followed by an uppercut to overwhelm and dispatch Jason "The Mason" Pauley (5-5, 1ko) from Chesapeake, West Virginia at the 2:29th mark of the very first round to the delight of the crowd in attendance.
The Venroy Hardwork express marches on, undeterred. He is now undefeated in nine fights, his boxing future does look indeed look very bright right now.
A few days later when asked about the fights I had watched, I immediately began a lecture about my belief that you really need to do your homework in the gym before you step into the ring, because it is SERIOUS BUSINESS AND YOU COULD GET HURT, before stepping down my high horse to relate the stories.
LISTEN TO POST FIGHT WRAP UP



Related Articles: