Categories:
Featured Article
|
Comments Off

on Leslie Hernandez, Commission Move, Boxing News
Arizona Boxing News & Notes With Don Smith: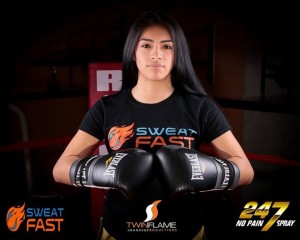 Boxing Fans, I was invited to cover the Smoker Boxing Tournament at the Kroc Center in Phoenix on July 11. The day and night affair featured 33 fights and first bell was scheduled for 2:00 PM despite a gusty wind advisory: Presidential candidate Donald Trump was in town; drum roll please!
I had to leave after bout #17, but some trainers took the time to call me a few results that I wasn't able to witness. The tournament lasted until 11 PM which motivated some fans and tournament participants to complain and I wholeheartedly support their lobbying efforts to limit the number of bouts per day.
Trump joke aside; amateur (or professional) boxing events rarely start on time. It is an accepted tradition that the sport of boxing disregards any compliance with reporting or starting on time. As a writer, I am expected to be on time if not early, so I showed up at 1 O'clock to collect a bout sheet and snack from the concession stand. Oops, the bout sheet wasn't available and the snack bar was closed; but the lone attendant promised to open before the commencement of the first fight. There was already a line and I was informed that the venue provided several beverage and food vending machines for my convenience, but I don't trust any vending machine to take my $20.00 and give me the correct change; so I stayed in line.
Later I was introduced to Mikayla Galindo (Salvation Army Kroc Center) by Promoter Maritza Miranda Saenz (BMBP) and she asked if I had suggestions on how she could improve future boxing events at the facility and she listened and promised to make changes. We talked about a list of minor and significant things that should be reviewed including number of bouts scheduled. Ms. Galindo promised to implement some changes.
At 2:44 PM (according to my trusty Timex) the first fight was introduced. I grabbed my food and was headed to ringside when I saw a security guard (TSA bound, I suspect) looking at me menacingly as if I was Joaquin "El Chapo" Guzman the escaped drug lord. Perhaps the fact that I was entering the gym with food might have triggered his curiosity.
I didn't see anyone else with food inside the gym, so I asked members of the Taz Boxing Club (near the entrance) if I could store my snack on their bench and two of the boys said yes, but there was a little teasing and taunting until the last morsel was consumed, but no tasting.
The first fight paired two 8 year olds Brady Ochoa (Cross Driven Boxing) vs. Dsae Zeballos from Madison Boxing. Please accept my apologies if any of the following names listed are misspelled. I was given a bout sheet filled out by a volunteer who left early and was unable to translate what appeared to be written in Greek shorthand to me. Ochoa won because he was busier and landed harder blows; good bout.
Chris Bojorquez (Maricopa County Sheriff Boxing) defeated Adrian Rodriguez (Unattached) in the second bout. Both kids (80 lbs.) were wild high, but entertaining. I stood behind Chris's stepmom in the concession line and she will back my story about the long wait in line; Writers always need a witness because of the trust factor.
12 year old Thomas Valerio (Central Boxing) extended his undefeated record to 6-0 with a UD over game but inexperienced Damian Valdivezo (Phoenix Boys Center). Valerio is headed for the regionals in Mesquite Nevada next month.
In a battle of 75 lb. boys, 10 year old Anthony Hernandez (J-C Boxing) muscled a win over 9 year old Armanda Lucio (Taz Boxing). The Hernandez corner thought Anthony wasn't aggressive enough, but it was a good fight.
Fight # 5 on the card pitted 17 year old Leslie Hernandez (J-C Boxing) against 30 year old mother of two Marie Gonzalez (Old School Boxing). Marie was listed as a 17 year old in fear of possible discrimination (I guess) but that lady can fight even though the contest was stopped in the last Stanza and the declared ending came after absorbing 4 standing 8 counts from the presiding referee. Gonzalez coach Chris Valdez (Old School) was proud of his fighter's effort and thought the standing 8 counts were premature. It was Gonzalez's third fight and she could be encouraged to continue boxing based on her 7/11 performance. Her record stands at 2-1.
Hernandez is a gifted fighter and a role model for other kids to follow. Her success story is just beginning. Leslie was born in Mexicali Baja California. She came to the United States as a young child. She has two siblings (Antony and Litzy and like their big sister, they both box. Her father boxed, but dropped the sport due to financial and family considerations.
Her amateur record is 11-0 and after her victory over Gonzalez (also a personal trainer), the 122 lb. Trevor Browne graduate (Honor Roll) hurried home to pack for another tournament in California. Her trainer (Abel Cortes) said he is preparing her for fights in Mexico and she admits to thinking about a berth on Mexico's 2020 Olympic Team. She is the epitome of hard work and determination.
In the meantime, she is busy attending Phoenix College where is studying Criminal Justice and hopes to transfer to ASU after she completes qualifying courses. I forgot to ask her when she sleeps.
Also during her few waking hours, she works at My Big Fat Greek Restaurant, a popular downtown Phoenix eatery where she earns high marks as a food server.
During our telephone chats and email exchanges, the 5' 2" 17 year old student athlete disclosed that she wrestled for four years (Trevor Browne HS.) and she holds a 3rd degree belt in Taekwondo and would love to become a pro MMA fighter. Her two siblings may follow in her footsteps.
To help achieve her dreams, Leslie applied for a document referred to as an Advanced Parole for DECA students and was granted permission to travel in and out of the United States; it is a godsend for her. Hopefully, the red tape that accompanies a Green Card application will we minimized and she will be allowed to compete and achieve her dreams. Leslie is a remarkable young woman.
Here is a brief name recognition of tournament winners. Keep in mind, unattached boxing designates gyms that aren't members of USA Boxing Arizona. Each tournament the number of unattached gyms seems to grow.
Winners: Jaciel Carbajal (Fuentes Boxing), Andrew Perez (Boxing INC), Mario Munro (Unattached), Myran Bridges (Unattached), David Vera (Unattached), Jose Lara Salvation Army), Santos Acosta (Tucson Southwest), Michael Garcia (Salvation Army), Zues Pinder (Unattached), Ruben Gonzalez (South Mountain), Fabian Longoria (Salvation Army), Robert Meriwether (Knockout), Mariah Martinez (Knockout),Sergio Rodriguez (Knockout), Jorge Campbell (Old School) was a knockout winner as was his Old School teammate Juan Armenta. Old School boxing coach Chris Valdez called me to make sure I mentioned the results of his three fighters and he said he was very proud of his warriors and the impact Old School Gym has in the Tucson Boxing Community. Sorry, I couldn't print all of the winners, but unfortunately a team effort was lacking; perhaps next time!
Commission Move: The Arizona Boxing & MMA Commission will remain in the same building (1110 W. Washington) in Phoenix, but visitors will have to take the elevator or steps to the 4th floor (Gaming Department), suite 450. The monthly meeting scheduled for Monday July 13 is now penciled in for Monday August 10 at 10 AM. I received 3 calls asking if current Executive Director Matthew Valenzuela is still manning his post and the answer is yes; glad to address the erroneous rumor. Matthew does the best he can under difficult circumstances. It is assumed the commission will keep its' listed number (602-364-1721); if not; call the Gaming Department at 602-771-4263.
Boxing News: In our last column we were skeptical about Mario Esparza fighting in El Paso because we couldn't find his bout listed anywhere, but it has been confirmed that he did fight in Texas and won via unanimous decision raising his record to 4-0-1…..According to internet shouts, boxing announcer Ralph Velez Jr. is pursuing MMA opportunities; we wish him the best…… CEO Keith Veltre of Roy Jones Jr. Boxing has confirmed a working agreement with Iron Boy Promotions on the August 15 Battle of the Unknown show at We-Ko—Pa Resort & Conference Center. In the Main Event, defending Junior NABF Middleweight Champion Louis "The Unknown" Rose (12-2-4 Knockouts) will do battle with Arizona's native son, Andrew "Hurricane" Hernandez (9-1-1 w/ 1 knockout). In the featured co-main, undefeated Phoenix, Arizona Prospect Francisco "Panchito" Vaca (11-0) steps up his quest for a title shot in taking on tough contender Oscar Frias who has a perfect slate at 16-0. Tickets are available online and at the We-Ko-Pa Resort and Conference Center…..Fight Hard Promotions will host their next show at the Renaissance Hotel in Glendale, Arizona on Friday, September 4. It will be a tribute to the women and men who serve our country as members of the United States military team, past and present….Jose Benavidez Sr. reports his new downtown Phoenix Gym is doing well and there are no new bout dates for his two boxing sons (David & Jose Jr.). Sr. told me he is still pitching a fight with Terrence Crawford for Jose Jr and there was an offer forwarded to the former lightweight champion.. Most local observers think Benavidez isn't ready for the Omaha, Nebraska based boxer but Team Benavidez disagrees; maybe it's time to rumble!……Until Next Time!
Related Articles: