Posted by George Hanson., Jr Esq. on Mar 17, 2014

Categories:
Featured Article
|
Comments Off

on Made in Jamaica—Alicia "Slick" Ashley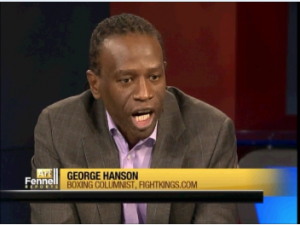 The Mouthpiece
Made in Jamaica—Alicia "Slick" Ashley
By: George H. Hanson Jr., Esq.
Alicia Ashley is an extraordinary woman—a four-time world boxing champion; a Black Belt in karate; a graduate of Baruch College; and also the second oldest world champion behind IBF light-heavyweight champion Bernard Hopkins. Like the 49-year-old Hopkins, Ashley at age 46 continues to wage war with Father Time. Hailing from the Rockport section of Kingston, Ashley and WBA featherweight champion Nicholas "Axe Man" Walters are Jamaica's only current reigning world boxing champions. The youthful skilled boxer claimed her fourth world title on July 23, 2011 winning the vacant WBC super-bantamweight belt taking a 10-round unanimous decision over Christina Ruiz in the Bronx, New York. An elusive southpaw, I am confident that Mike Tyson would say that "her style is impetuous and her defense is impregnable." Thus, it is only fitting that her moniker is "Slick."
Boxing didn't course through Ashley's veins like many world champions who were nurtured on the sweet science at birth by close family members. Ashley's dream was to follow in the footsteps of her father—a professional dancer and choreographer. She started dancing at the age of five and continued when she migrated to New York at the age of eleven along with her siblings to join their parents. Ashley is the youngest of five children— she has three brothers and one sister. Her brother Maurice—older by only a year—is the first African-American International Grandmaster of the game of chess.
Ashley excelled as a dancer and earned a full scholarship to the famed Alvin Ailey American Dance Theater School. As fate would have it, a torn meniscus during her second year at Ailey derailed the dreams of a 19-year-old Ashley. Without missing a beat, she enrolled at Baruch College to pursue a degree in computer science. And around the same time she began taking karate lessons from her older brother Devon—a fifth degree Black Belt and four-time world kick boxing champion. Ashley competed in karate tournaments, eventually migrating to kick-boxing. It was during her first kick-boxing match against a boxer that she discovered the striking advantage of her adversary who was steeped in the sweet science. She wanted to learn more about the sweet science and started boxing with Devon as her coach.
Ashley compiled an impressive record of 18 wins – 2 losses as an amateur winning three consecutive New York City Golden Gloves from 1996-1998, and the USA Boxing National Amateur 125-lb Gold Medal in 1997 and 1998. Devon had taken her far and they sought the services of professional trainer Hector Roca as she joined the professional ranks on January 29, 1999 with a six-round split-decision over Lisa Howarth. In only her eleventh bout on February 23, 2002, she captured the first world title—the International Women Boxing Federation featherweight belt—winning a 10-round split-decision over Kelsey Jeffries in Atlantic City, New Jersey.
On October 23, 2013, Ashley strolled into the ring in Las Pulgas, Mexico— decked out in the colors of Jamaica with a black, gold and green flag adorning her head—Bob Marley's Buffalo Soldier blasting over the house speakers for the third defense of the WBC super-bantamweight title. Supremely confident she engaged challenger and hometown hero Zenny Sotomayor in a chess match—picking her apart, distributing discomfort and pain, dismantling her to her demise forcing the referee to conclude the casual carnage at 1:43 of the fifth stanza. It was only Ashley's second stoppage in a career that spans fourteen years and thirty fights.
People marvel at the accomplishments of IBF light-heavyweight champion Bernard Hopkins who one year shy of his fiftieth birthday is still winning on the scorecards against undefeated Father Time. Ashley—46-years-old and on her fourth reign as a world boxing champion—should be placed on the same platform as the age-defying Philadelphia pugilist. Both world champions have never been knocked out or suffered a loss by technical knockout. Unlike the Philly fighter, her boxing style isn't predicated on a half-minute of combative engagement and two and a half minutes of strategic holding and rabbit punching. Ashley not only looks half her age, but she also fights at a pace and cadence of a 23-year-old—rarely clinching or holding, perpetually motion punching and probing, a true performer on the pugilistic stage.
Boxing remains the last bastion of resistance to change and the Feminist Movement appears to have walked right pass its door without even knocking. Women professional boxers continue to be ignored by major promoters and television networks for televised bouts. Similar to WNBA players, female world champions earn a small fraction of their male counterparts' purses and perform less frequently. Thus, Hopkins is a mainstay on the networks while Ashley labors in virtual obscurity for much less. However, it is a labor of love and despite male machismo, ignorance and insensitivity, history is recording her accomplishments. And for that, she will one day grace the halls of the International Boxing Hall of Fame.
Because the purses for men are so lucrative, I doubt that there is a male world boxing champion who works a nine-to-five. However, Ashley has always worked full-time. A former corporate computer technician, she not only trains at the famed Gleason's Gym in Brooklyn, but she is also employed there as a personal trainer. It was at Gleason that she met her husband of four years, Matthieu Ashley. No, she didn't marry a family member. She confessed that it wasn't love at first sight because her first thoughts were "this guy is really skinny." An iconoclast and French citizen, he opted to take Alicia's last name. In jest, many of us Jamaican men would argue that her pugilistic prowess and Black Belt in karate were the deciding factors in Matthieu's new surname.
Fighters at the lighter weights tend to regress considerably at the age of thirty. But Ashley is thirteen years older than male WBA & WBO super-bantamweight champion Guillermo Rigondeaux who at thirty-three is considered old for the division. It is ironic and uncanny that they are both southpaws who use the squared circle like a chess board—putting opponents in places and positions where they believe they are winning— only to secure their downfall.
"I am a performer, I am always performing. All eyes are on me and my opponent is my back-up dancer" stated Ashley. No surprise that the reigning Pound for Pound King Floyd "Money" Mayweather is atop her list of favorite boxers. "He is a smart fighter, who makes it as easy as possible." Similar to Mayweather, she befuddles and beguiles her opponents, rarely ever taking any punishment while boxing to the final bell. She is a gloved chess master outmaneuvering and adjusting, always changing the script.
Despite boxing professionally for over fifteen years, Ashley has never fought in Jamaica. Similar to fellow countryman former light-heavyweight world champion Glen "The Road Warrior" Johnson—she has traveled and fought all over the globe. Her passport is stamped with immigration ink from Canada, Argentina, Austria, Guyana, Germany, North Korea, China and Mexico. It is her goal and dream to fight in her homeland in front of family and friends.
Her manager, Luigi Olcese—the Al Haymon of women professional boxing—is confident that Ashley will defend her title in Jamaica in July as part of the Contender series that has swept the island and has placed the sweet science at the forefront of everyday discourse right next to Cash Pot —the local

lottery—and Prime Minister Portia Simpson Miller's next destination. It appears the Prime Minister has a propensity for flying overseas! Wi all kno sey Portia tek plane like how Kim Kardashian tek man! Hopefully, she will be on the island and ringside when Alicia "Slick" Ashley makes her ring-walk—Bob Marley blaring Buffalo Soldier to a deafening crescendo.
Continue to support the sweet science, and remember, always carry your mouthpiece!
[email protected]
Related Articles: