Categories:
Featured Article
|
Comments Off

on Marco Huck: My 2012 Fighter of the Year
By Michael Amakor | January 30, 2013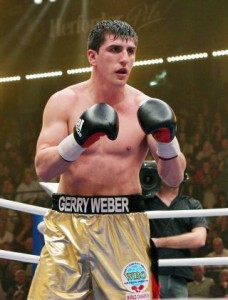 Too often in boxing, great fights never get seen because they did not get featured on HBO or Showtime.
Even when they do, those fights get quickly forgotten when more popular fighters repeatedly take center stage.
In deciding on my fighter of the year for 2012, I used several factors to arrive at my decision including giving more points to fighters from heavier weight classes, rating the caliber of competition, judging the entertainment value of fights they had and post fight sentiment, and removed the restriction that they fighter remain unbeaten during the year.
Using those factors I choose Marco Huck (35-2-1, 32KO's) the reigning World Boxing Organization's (WBO) Cruiserweight champion and #1 ranked fighter in the division according to Fightnews.com as my fighter of the year, a brawler popular in Germany but virtually unknown in the United States.
Here's why, in February 2012, Huck stepped up in weight to challenge Alexander Povetkin the World Boxing Association's (WBA) Interim heavyweight champion and former Olympic gold medalist in one of the most exciting heavyweight fights in recent years.
During that fight he took Povetkin to the very limit of his conditioning using a stiff and heavy jab, to repeatedly snap Povetkin's head back while storm rushing him throughout that fight.
At the end, Povetkin looked every bit the beaten and spent fighter that he was, but a gang of three blind mice at ringside – the judges – awarded the decision to Povetkin to the disbelief of the crowd in attendance and infuriating many boxing scribes who had scored the fight for Huck.
It is a well-known fact in boxing that losing weight can be very demanding to a fighter because in most cases, a fighter complains about feeling dehydrated and drained from struggling to shed all that muscle for a fight.
In Huck's case, he had to lose nearly thirty pounds of muscle for the mandatory defense of his title against interim titlist Ola Afolabi a regular sparring partner of the Klitschko brothers, the dominant and reigning heavyweight champions.
That fight turned out to be another classic with both guys unrelentingly firing bombs at each other for twelve rounds.
Huck had to dig very deep in the championship rounds to return fire in order to pull out a draw which prompted the crowd to give both fighters a standing ovation after the final bell.
Fast forward six months later, Huck perhaps may have thought he would be getting a break, when he agreed to fight forty plus year's old former WBA champion Firat Arslan, but he was sadly mistaken.
In that fight, Huck had to endure the manic pressurized attack from Firat Arslan who took him to the very limit of his conditioning. Somewhat through it all he regained control of the fight and returned fire in the championship rounds to convincingly pull the fight out of the fire to close out his year with another classic fight.
All of Huck's fights in 2012 were fast-paced action fights against elite level fighters who came to fight unlike the opponents of the Boxing Writers Association of AmerIca's fighter of the year Nonito Donaire who froze when they faced him in the ring.
Furthermore, Huck already has a trilogy scheduled against Afolabi and readily acknowledges that Firat deserves a rematch.
Huck has also met the criteria for elevation to the status of Super Champion according to WBO rules after his tenth title defense against Firat Arslan to embellish all the reasons to proclaim him the fighter of the year for 2012.
Related Articles: