Categories:
Featured Article
|
Comments Off

on Mark "Too Sharp" Johnson to be inducted into IBHOF
Compiled by Michael Amakor and Ricky Womack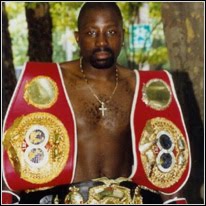 The International Boxing hall of fame has long since announced that Mark "Too Sharp" Johnson will be inducted into its hall of fame in a ceremony at its much fabled headquarters in Canastota New York on June 10th 2012 to the delight of boxing fans, but most especially to his hometown fans in Washington DC and the surrounding boxing crazy beltway region.
A decorated amateur, Mark "Too Sharp" Johnson won the National Golden Gloves title in 1988 and the 1989 ABF championship and was the First African-American to win world titles in the flyweight and super flyweight division. He was  an elite top ranked pound-for-pound fighter for several years and earned the nickname "Too Sharp," from delivering precision punches with a combination of power and blinding hand speed. He simply rampaged through his opponents and 21 knockouts before the fourth round attest to both his athleticism and his advanced boxing skills that set him in a class of his own.
It is widely believed that Johnson's resume was largely devoid of star names because standout fighters of the day, such as Johnny Tapia, Danny Romero, Michael Carbajal and Ricardo Lopez avoided fighting him. Nevertheless he he still amassed an outstanding record winning 44 fights, 28 by knockout  including victories over Alberto Jimenez, Jose Quirino, Josue Camacho, Francisco Tejedor,Ratanachai Singwancha, Jimenez (SD12), Quirino (KO3), Camacho (TKO8), Tejedor (KO1), Singwancha (UD12), Montiel (MD12) to name a few before finally retiring in 2006 after a sixteen year career after only suffering five defeats.
He captured the following World Championships:
World Boxing Board flyweight title  (1993-1995)
IBF Flyweight title (May 4, 1996-September 4, 1998);
IBF Super Flyweight title (May 1996-November 19, 1999);
WBO Super Flyweight Title  (August 16, 2003-September 25, 2004)
ALL HAIL THE CHAMP AND SHOW YOUR SUPPORT BY GOING TO CANASTOTA TO WATCH HIS INVESTITURE
Ricky-C and Company and Ham A.C. Bus Trip to the Induction of Mark "Too Sharp" Johnson into the International Boxing Hall of Fame in Canastota New York June 9th and 10.
Tickets $175 (double occupance) $250 (single room) Ticket includes Round Trip Bus Transportation, Hotel Stay at Marriott Gardens, Tour of Boxing Hall of Fame, Ticket to Hall of Fame Museum and Ticket to Hall of Fame induction Ceremony…also being inducted Thomas "Hit Man" Hearns, Freddie Roach, Michael Buffer, Al Bernstein, Michael Katz…not included Card Show and Autograph Signing, Vip Banquet ($135 advanced Reservations)
For more information call Ricky-C 202-528-7694…Ham 202-669-9726…*limited seats available*
Sources
Wikipedia
IBHOF
Related Articles: