Posted by George Hanson., Jr Esq. on Dec 8, 2010

The Mouthpiece
Barranquilla, Barranquilla! – Miranda Upsets Simon!
By: George Hanson Jr., Esq.
Date:       Friday, December 3, 2010
Venue:     The Rollins Center at Dover Downs Hotel & Casino, Dover, DE
Promoter:  Dover Downs Hotel & Casino
Ring Announcer:     Larry Tornambe
Referees:              Gary Rosato & Vic DeWysocki
Matchmaker:          Nick Tiberi
Coverage:             www.mcnsports.tv
Commentators:       Larry Tornambe, George Hanson Jr. & Henry Milligan
Photos:                 www.christoneyphotography.com 
You ever been to Barranquilla, Colombia? The birthplace of Grammy winner Shakira, strategically located in Northern Colombia by the delta of the Magdalena River, is the largest industrial city and port in the country. The first airport in South America was built there in 1919. It's no surprise that the world's second oldest commercial airline is still in business— SCADTA (now named Avianca) was founded in Barranquilla, the cradle of Colombia's aviation. Barranquilla is also renowned for boxing—boasting some of Colombia's toughest gyms packed with aspiring prodigies. Just ask WBA junior-welterweight champion Amir "King" Khan who was confronted with a blitzkrieg and separated from his senses in 54 seconds by Barranquilla's favorite son, Breideis Prescott, back in September 2008.
Therefore, I wasn't surprised when Prescott's homeboy, middleweight Dionisio "Mister Knockout" Miranda (20 wins – 6 losses – 2 draws – 18 kos) now based in Miami, flew into the opulent Las Vegas-style backdrop of Dover Downs and left with the WBC Continental Americas middleweight title. Shakira couldn't have made a more truthful statement in the video of her chart-busting single "Hips Don't Lie" in predicting the winner. And, Philadelphia middleweight contender Lajuan "Simply Marvelous" Simon (23 wins – 2 losses – 2 draws – 12 kos) attested to the veracity of Miranda's punches—fists don't lie—dropping a 12-round split-decision for the vacant title by scores of 116-112 and 115-113, the dissenting judge had it 115-114 for Simon.  
Someone from central casting forgot to remind Miranda that having been knocked out in his last two bouts he was suppose to be tentative, wait to get hit and then find a comfortable spot in the ring where he could count the ceiling lights while laying on his back. I can only speculate that the man from Barranquilla assumed that because Dover Raceway was next
door it was only fitting that he speed out to an early lead. The gong sounded for the opening round and Miranda stood right in front of Simon jabbing and launching his potent right hand laced with Nyquil in hopes of knocking the former title challenger prostrate and to sleep. This bout was going to be fought at close quarters typical of Simon, who for 12 rounds blanketed then IBF middleweight champion, "King" Arthur Abraham like a cashmere overcoat in a losing effort.
Unlike his encounter with Abraham, Simon's legs didn't have the same bounce and his body lacked the definition of one that has been put through an arduous and tortuous training camp. Who knows, maybe he thought Miranda would be gun shy and his chin fragile from the punching bombardment issued by his last two conquerors—Giovanni Lorenzo, who stopped him in two and Roman Karmazin who dismissed him in ten. Thus, Miranda outworked Simon round-after-round rocking him with a hard left hook in Round 4 that caused the Philadelphian's legs to quiver momentarily. 
Miranda never faded down the stretch, fighting on even terms as Simon tried to turn up the heat in the sixth stanza. However, Miranda matched him every step of the way standing at close quarters, trading jabs and right hands, matching his adversary's punch count and stealing some very close rounds. The fight was in favor of Miranda who displayed a solid chin, conditioning and undiminished courage. He held his own in clinches and was unscathed in implementing his fight plan. Simon didn't appear to be the same lean, mean well-tuned fighting machine that swapped punches with Arthur Abraham. Then again, perhaps it was the Barranquilla in Miranda that made the difference.
Wilmington, Delaware's heavyweight Amir "Hardcore" Mansour (10 wins – 0 losses – 0 draws – 7 kos) is on a tight timeline. His story has been well-chronicled—Mansour resumed his boxing career, scoring his 10th victory, literally hours after being released from prison on August 27, after serving a nine-year sentence for a drug conviction. A youthful 38-years-old, the insightful and articulate boxer told me that he isn't leaving a stone unturned. Thus, he has been honing his skills by sparring with IBF cruiserweight champion, Steve "USS" Cunningham, and heavyweight contender, Chazz "The Gentleman" Witherspoon. 
Mansour's opponent, Joseph Rabotte (9 wins – 14 losses – 1 draw – 3 kos) of Myrtle Beach, South Carolina has been equally assiduous in his pursuit of the sweet science. Rabotte, a disc jockey and on-air radio personality in his hometown, tried his hands at professional boxing three years ago without one amateur fight. This scheduled 8-round engagement with Mansour would be his eleventh fight of 2010. The 31-year-old told me that his plan was to "be fast and be first."
It was fast, as the southpaw Mansour came storming out his corner like a rodeo bull hell-bent on bucking off his rider. Call me Nostradamus, but I sensed that this bout wasn't going to conclude with ring announcer Tornambe announcing a decision at the end of eight rounds.
Back pedaling out of danger, Rabotte decked out in full-length white tights, resembled a giant elf being attacked by a Tasmanian devil. In the second round, Mansour started to punish his opponent with some vicious left and right hooks to the rib cage causing me to wince at ringside. However, Rabotte survived the onslaught and made it to Round 3 where a straight left ricocheted off his head introducing him to the canvas. Rising on unsteady legs at the count of four, Rabotte was precluded from continuing by referee Rosato who called a halt to the beat down at 1:04.
I don't believe that I have ever witnessed a lackluster boxing match involving two women. Maybe women are genetically predisposed to annihilate each other when wearing boxing gloves. Tonight was no different as junior-middleweight Rachel "The Joker" Clark (5 wins – 4 losses – 1 draw – 4 kos) of Fayetteville, North Carolina and Michelle "The Monster" Garland (0 wins – 0 losses – 1 draw – 1 no contest), attempting a comeback, squared off in a scheduled four-rounder. The quiet demeanor of the tall, statuesque southpaw Clark was a direct contrast to the artistic purveyor of pain that metamorphosed at the opening bell. You just knew that this was going to be an exciting bout since the shorter 21-year-old Garland, returning from a three-year hiatus in which she became a mother, was weaned on the sweet science in the gyms of Philadelphia. She comes from a fighting family— older sister, Kymmberli Stowe, is a nationally ranked amateur champion who is vying for a spot on the 2012 Olympic team.
Clark stuck to her game plan and boxed using her long jab keeping Garland at bay, dropping the straight left whenever she thought her opponent was about to get too close. What Garland failed to bring in the ring was her timing, which was lost to three years of inactivity. However, she came forward, but Clark used angles to evade her advances taking the first two
rounds. With the drop-dead gorgeous Stowe looking like she just left a photo-shoot for Essence magazine yelling instructions, Garland came out for the third round not wanting to disappoint big sister. She cornered Clark midway through the round and they rained down punches on each other with neither woman giving ground. However, Clark listened to her corner and went back to boxing from a distance popping her rapier jab, keeping Garland away. It was textbook boxing as Clark captured a unanimous decision, 39-37 on all three scorecards.
The show opened with cruiserweight Dan "Bada Bing" Biddle (4 wins – 1 loss – 0 draws – 4 kos) of Hockessin, Delaware avenging his only loss by besting Zeforino Albino (3 wins – 11 losses – 2 draws – 1 ko) of Philadelphia. Biddle told me earlier that he was going to even the score—it was Albino who handed him his first defeat back in 2008. Anxious to score a knockout, Biddle almost punched himself out in the opening round after he hurt Albino with a combination and went ballistic throwing punches not caring where they landed. To his credit, Albino slipped and rolled as punches whistled past his head. He survived and made it to Round 2 where he got on his Harley Davidson and moved around the ring almost aimlessly with Biddle in pursuit trying to refill his tank while on the attack. Bada bing, bada boom, Biddle was able to regain his composure as Albino offered very little resistance by staying on the outside and moving around the ring. Biddle won a unanimous four-round decision 40-36 and 39-37 twice.
 Welterweight Michael "No Joke" Stewart  (45 wins – 7 losses – 2 draws – 24 kos) of New Castle, Delaware demonstrated all the tricks of the trade out-boxing and out-thinking southpaw Chad Greenleaf (13 wins – 16 losses – 1 draw – 6 kos) of Parkersburg, West Virginia over six rounds, capturing a unanimous decision by scores of 59-55 twice and 58-56. Returning after a 10-month layoff, the likable Stewart was relaxed and confident in the dressing room. After 14 years as a professional in which he lost a 12-round decision to Sharmba Mitchell for the IBF junior-welterweight title in 2004, Stewart seemed like a businessman who was just going to the office to complete a routine assignment. Engaging and
insightful, Stewart was generous with his time speaking with me in the dressing room for over 30 minutes about the sweet science.  A good body puncher, I wasn't surprised when he shared with me his admiration for Jamaica's first world boxing champion—Mike "The Body Snatcher" McCallum. I was almost certain that Greenleaf's ribs and midsection were going to be the beneficiary of our forum on the art of body punching. 
The man from West Virginia captured the opening stanza by setting the pace and outworking Stewart. However, his success was short-lived as Stewart steadied the ship in Round 2 and started working the body, whacking away at his opponent's sides, hitting him at the tip of his elbows and spinning him into the ropes whenever he wanted. Round after round he used every trick in the book to confuse Greenleaf who switched intermittently from southpaw to orthodox. Greenleaf had no solution for Stewart who seemed to be enjoying himself working the body and tying up his opponent and hitting him in the hips and thighs away from referee DeWysocki's view. It was no surprise when the decision was announced.
Other Results: Smyrna, Delaware's super-middleweight prospect "Mighty" Mike Tiberi (14 wins – 1 loss – 0 draws – 7 kos) won a tactical unanimous six-round decision of 60-54 on all three scorecards over Marcus "The Barber" Hall (11 wins – 5 losses – 0 draws – 4 kos) of Savannah, Georgia. Tiberi was committed to working the body early and never wavered. Hall was never in any serious trouble, but Tiberi's body punching took its toll in the later rounds.
 Lightweight "Rockin" Ryan Belasco (13 wins – 4 losses – 3 draws – 3 kos) of Wilmington, Delaware won a unanimous six-round decision over tough Philadelphia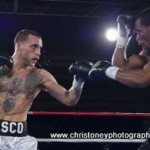 southpaw Gustavo Dailey (4 wins – 8 losses – 0 draws – 1 ko) by scores of 60-54 twice and 59-55. Belasco looked sharp in boxing behind his jab and picking off many powerful shots by Dailey who never stopped coming. 
Light-heavyweight Anthony "The Bull" Caputo Smith (7 wins – 0 losses – 0 draws – 5 kos) of Kenneth Square, Pennsylvania forced Cleoney Fuqua Jr. (2 wins – 3 losses – 0 draws – 2 kos) of Columbus, Mississippi to take a knee after landing two vicious hooks to his body. Fuqua who has another fight scheduled for next week in Georgia, stayed on one knee listening as referee DeWysocki counted to 10, ending this match at only 55 seconds of the opening round. It is safe to presume that Fuqua didn't want to risk next week's payday by getting knocked unconscious and facing a 90-day suspension.
I have never been to Barranquilla, which is probably celebrating Miranda's victory, just as I had never visited Dover Downs, despite its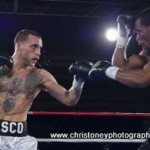 close proximity to Philadelphia. My first trip left quite an impression. I was surprised at the similarities between the atmosphere of Dover Downs and Las Vegas. The casino, hotel and amenities were fabulous! Why go to Vegas? Hell, Miranda flew into the Rollins Center and in front of a packed house gambled by fighting within 12-inches of Simon and won a title. Perhaps a visit to Dover Downs will cause you to also leave a lucky winner. Check it out!
Continue to support the sweet science, and remember, always carry your mouthpiece!
Related Articles: