Posted by George Hanson., Jr Esq. on Feb 5, 2014

Categories:
Featured Article
|
Comments Off

on Misdemeanor!—Stevens Crushes Majewski
The Mouthpiece
Misdemeanor!—Stevens Crushes Majewski
By: George H. Hanson Jr., Esq.
Date: Friday, January 24, 2014
Venue: Resorts Casino Hotel, Atlantic City, New Jersey
Promoters: Main Events, Peltz Boxing Promotions Inc., & DiBella Entertainment
Coverage: NBC Sports Network
Commentators: Kenny Rice, BJ Flores, Chris Mannix & Larry Hazzard
Ring Announcer: Joe Antonacci
Referee: Lindsey Page, David Fields & Ron Huggins
Photos: www.christoneyphotography.com
"It was a misdemeanor. Stevens missed this one, now he is meaner," said the voice on the other end of the line—my old trainer Charles "Cornbread" Ramey on the night of November 2, 2013. We had just watched and were discussing WBA middleweight champion Gennady "GGG" Golovkin's dismantling of Curtis "Showtime" Stevens punctuated by an eighth round technical knockout. There were chinks in Golovkin's armor that weren't exploited by the powerful and relentless Stevens who swung for the fences but couldn't land the one punch that would have turned the tide. Ramey's trademark response is only accorded to fighters that he believes will rebound unfazed and even better from a setback. Yes, Stevens had missed victory over Golovkin and now according to Ramey—who made the trip with me to Atlantic City and was in the fourth row—was meaner.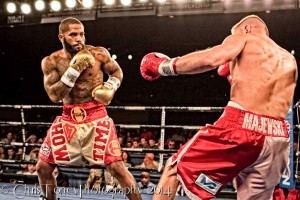 The ballroom erupted in cheers and applause as middleweight Patrick "The Machine" Majewski (21 wins – 2 losses – 0 draws – 13 kos) of Radom, Poland, now residing in Atlantic City, exited the dressing room and made his way to the ring with trainers Bill Johnson and Arnold Robbins ensconced in the heart of his entourage. A sea of red painted the crowd as Polish flags waved in support of the hometown hero. The ropes parted as Majewski and his handlers entered the ring and took residence in the blue corner ready for battle. You knew that Curtis "Showtime" Stevens (25 wins – 4 losses – 0 draws – 18 kos) of Brooklyn, New York was spotted enroute to the squared circle as a cacophony of boos pierced the air and rose to a deafening level. Unaffected and unfazed, the short cinder block of a man with his chin erect strolled to the ring—flanked by trainer Andre Rozier and his entourage— like Hannibal—the great Carthaginian general—crossing the Alps.
Ring Announcer Joe Antonacci introduced the combatants; referee Lindsey Page did the formalities and the gloved gladiators returned to their respective corners. Bending at the waist both hands dangling at his side, Stevens intermittently scraped the soul of his shoes—while moving each leg back and forth—on the canvas in what has become his pre-war ritual. The gong sounded and Stevens met Majewski in the center of the ring. Majewski was circling, but with barely ten seconds expiring Stevens landed a jack hammer jab that deposited him on the seat of his trunks as referee Page jumped in to begin the count. Rising as the count reached two, the referee wiped Majewski's gloves and the action resumed. Stevens waded in with a combination including a crushing left hook followed by a right that crashed off Majewski's cranium forcing him to the canvas for a second trip. Up at the count of three, Majewski responded to the referee and the action resumed. You just knew that there was a higher probability of spotting Big Foot on the boardwalk than Majewski making it out of the round. True to form, Stevens continued his attack with power and precision landing a vicious combination that reacquainted his opponent with the canvas causing the referee to call a halt at 46 seconds of the opening round in accordance with the three-knockdown rule. Ramey was right, Stevens was meaner!
I thought that prior to Stevens and Majewski taking the ring we should have vacated the ballroom because it required fumigation, since Thabiso "The Rock" Mchunu (14 wins – 1 loss – 0 draws – 10 kos) of Natal, South Africa and Olanrewaju "God's Power" Durodola (17 wins – 1 loss – 0 draws – 16 kos) of Lagos, Nigeria stunk up the joint in the previous bout—a ten-round snoozer for the NABF cruiserweight title. Had we been in Colorado or Washington State, I am confident that Main Events and Peltz would have distributed stogies of medicinal marijuana to ease the pain suffered by having to watch the shorter counter-punching southpaw Mchunu throw what appeared to be five punches per round and Durodola waiting hoping to land a big right.
Mchunu is listed at 5-feet-8-inches leading me to believe that he was measured while wearing platform shoes. Had he been born close to a racetrack he would have been a jockey instead of a professional pugilist. Despite his height deficiency, Mchunu is a brilliant counter-puncher of the highest order who fights at a distance off his back leg waiting for his opponents to get within punching range so he can counter with a straight left and sweeping right hook when they are on their way out.
If Hollywood decided to remake the movie Mandingo, there is no question that Durodola, a former police officer in Nigeria, would be given serious consideration for the lead role made famous by former heavyweight champion Ken Norton. Tall, chiseled and imposing, it is surprising that he fights at the cruiserweight limit and not as a heavyweight.
The fight began and immediately the script unfolded as Dudordola came plodding forward and Mchunu side-stepped like Fred Astaire while resembling Pernell Whitaker on steroids. The one seminal moment came in the second stanza when Dudordola walked into a Mchunu straight left followed by a right hook that introduced him to the canvas for a short three-second respite. The fight resumed and it is safe to say that I have nothing positive to impart about this lackluster fiasco. Anything more would be considered "piling on" or gratuitous criticism. The fight followed the same pattern, round after round—not much punching and plenty of posing as Mchunu was the busier of the two. When it concluded the judges had it 98-91, 97-92 and 96-93, all for Mchunu. I have to visit Colorado!
In an eight-round junior-middleweight bout Atlantic City's DeCarlo "3Mendo" Perez (11 wins – 2 losses – 1 draw – 4 kos) and Wilky "Silky" Campfort (15 wins – 1 loss – 0 draws – 9 kos) of Haiti now residing in Miami, Florida tore the ring down fighting at a frenetic pace from start to finish. This bout could have been fought in a phone booth because it was toe-to-toe action with the Haitian landing hard to the body and Perez returning fire. It is unfortunate that this bout wasn't televised because it was twenty-four minutes of non-stop action that would have frozen viewers in front of their television sets. When it was over, two judges had it 78-74, 77-75 for Campfort, while the third scored it 77-75 for Perez. The Haitian exited Atlantic City with a split-decision.
The opening bout was a six-round cruiserweight battle between two immigrants—one a corporate attorney taking a break from the courtroom to bring the fight to the squared circle. "Fifteen wins, one loss, two draws with six knockouts—a graduate of the University of North Carolina and Duke law school, from St. Catherine, Jamaica, Venroy "Hard Work" July!" blared ring announcer Joe Antonacci. He then proceeded to introduce Sevdali Sherifi (9 wins – 2 losses – 3 draws – 8 kos) of Albania. Referee Page gave the instructions, Antonacci exited, the bell rang and the southpaw July came out working behind a stiff right jab. I had July winning every round on my scorecard, hurting Sherifi badly in the second stanza opening a cut over his right eye in the fourth. July dominated the encounter better than when Johnnie Cochran outwitted and outclassed prosecutors Christopher Darden and Marsha Clark during the OJ Simpson trial. I began to believe that he was getting paid by the round because he had Sherifi in dire straits and took his foot off the gas allowing the Albanian to survive. One judge had it 59-55 while the other two scored it 58-56, all for July.
Undefeated light-heavyweight Ilshat "The Sheriff" Khusnulgatin (11 wins – 0 losses – 0 draws – 6 kos) of Samara, Russia strolled into the ring with Bob Marley blaring, "I shot the sheriff!" over the house speakers with his opponent Roberto Acevedo (7 wins – 1 loss – 0 draws – 4 kos) of Miami, Florida patiently waiting in the blue corner. By the time the bout concluded it was Acevedo who shot the Sheriff in self-defense leaving him in a crumbled heap in the neutral corner.
The 6-feet-3 ½-inch Khusnulgatin was struck with a blistering overhand right that ricocheted off his jaw early in the opening round of the scheduled eight-rounder. How the Russian remained upright is a testament to his chin and intestinal fortitude. Despite wobbling and appearing to be seriously hurt, he managed to continue punching when referee Page was on the verge of calling a halt. Surviving on instincts, Khusnulgatin fought off the ropes as Acevedo swung for the fences hoping to end it early. The war waged on with Khusnulgatin moving on weakened knees from one end of the ring to the next when another right hand exploded on the side of his head sending him straight to the canvas on his keyster with his head slumping as though he was in deep prayer. Referee Page called a halt immediately at 2:09 of the opening round, as Acevedo fell to the canvas bursting into tears of victory.
Other Results; Philadelphia junior-welterweight Hasan "The Hitman" Young (4 wins – 1 loss – 1 draw– 2 kos) pitched a shut-out against game but outclassed Justin "Baby Boy" Johnson (6 wins – 5 losses – 4 draws – 0 kos) of Pittsburgh, Pennsylvania in their six-round encounter. Young treated Johnson like a yo-yo bouncing him off the canvas, scoring four knockdowns—two in the second stanza and one in the fifth and sixth, respectively. Johnson had difficulty in evading Young's right hand which caused his descent on three of his four trips. Young captured a unanimous decision by scores of 60-50 twice and 60-51. 2012 Dominican Republic Olympian Wellington Romero (1 win – 0 losses – 0 draws – 0 kos) now residing in Newburgh, New York dropped Ismael Serrano (1 win – 0 losses – 0 draws – 0 kos) of Bethlehem, Pennsylvania in the opening round with a right hook. Serrano was able to make it to his feet before the count of three
and continue the fight. But, the southpaw Romero cornered him and unleashed a combination forcing referee Huggins to call a halt at 1:29. Undefeated Philadelphia heavyweight Mark Rideout (4 wins – 0 losses – 1 draw – 1 ko) fought to a four-round draw with Fred Latham (4 wins – 0 losses – 0 draws – 2 kos) of Pittsburgh, Pennsylvania. Rideout hurt Latham in the opening round and did enough in the later rounds to garner the decision. But, all three judges scored it even 38-38 much to the surprise of the crowd.
It was an exciting night of boxing despite Mchunu and Durodola providing a cure for insomnia. It is unfortunate that USBA cruiserweight champion Garrett "The Ultimate Warrior" Wilson—who was scheduled to face Mchunu but suffered an injury in training camp—missed an opportunity to test the South African's chin with some of the bombs that he detonated on heavyweight Vyacheslav Glazkov last November in a losing, but divinely entertaining effort. Wilson, unlike Durodola, would have been all over Mchunu like a leather cat suit.
Curtis Stevens once again proved that—according to trainer Rozier— he was "destructive, fast and furious" showing no effects from the Golovkin debacle. That loss was truly a "misdemeanor"—Curtis missed that victory—now he is meaner!
Continue to support the sweet science, and remember, always carry your mouthpiece!
Related Articles: