Categories:
Featured Article
|
Comments Off

on Moore Victorious Against Fernandez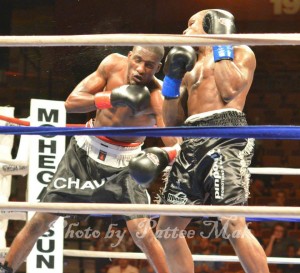 Ringside by Pattee Mak – UNCASVILLE, Conn. – Oct. 5, 2013)
Another exciting night of boxing at Mohegan Sun, Uncasville, Connecticut.   Although there were only six bouts, nothing stopped the cheering fans from coming out and seeing their favorite professional boxer.
Two fighters, one ring, Michael Moore a southpaw, now of New Haven, Connecticut vs. Antonio Fernandez, an orthodox fighter out of Brockton, Massachusetts, Round 1 Moore backed up Fernandez up against the rope and what appeared to be some sort of wrestling move. Round 3 Fernandez gets hit with a low blow and Moore does some damage while landing a heavy right hook on Fernandez. Round 5 Moore lands a body shot that staggered Fernandez unfortunately Moore didn't take the opportunity to finish him off.  Moore continues to go to the body. Round 6 Moore staggers Fernandez again combined with more body shots and left and rights to the head. Round 7 Moore continues again to the body.  Round 8 Fernandez is taking a lot of punishment.  Round 9 Moore landed a great left hook. Round 10 Was a better round for Fernandez but he just couldn't pull it off to win the fight.   After 10 rounds the scorecard read 98-92, 98-92 and 100-90 all for Moore.
Moore increased his perfect record to 13-0-0 and Fernandez decreased his record to 3-13-2.
Originally Moore was scheduled to fight Alexis Hloros (16-5-2) for the vacant World Boxing Council U.S. National Boxing Council (WBC USNBC) title but due to what I believe was meds, you know the drill, things change.  Prior to the event, I asked Moore's strength and conditioning coach, Luis Antonio Pagan, prior to this match up how Moore was feeling going into this fight? His reply "Our training camp has been working with Michael Moore for eight weeks.  His trainer, Mike Conroy has been working day in and night on his technical skills and also had Michael Moore sparring with worthy sparring partners preparing him for this fight.  Working on his offense and defense coming up with a game plan to defeat his opponent.  I'm Luis Antonio Pagan Michael Moore's Strength and Conditioning Coach.  I've been working with Michael Moore putting him through eight weeks of grueling exercises. We had worked on core, strength and conditioning and many more exercises.  This is the end of our training camp.   Michael Moore is in the best shape of his career.  I've prepared him for war incase the fight went the distance. Which our camp if confident that it won't make it that far.   Michael Moore's great skills of boxing and conditioning will break down his opponent way before the 10th round. We have a great team and our camp was very strong.  We ask Michael Moore how he feels. He said he feels great mentally and physically and ready for war and feels very confident like a complete fighter ready to bring home the WBC US WELTERWEIGHT CHAMPIONSHIP BELT home.
Co-Main event:
Two fighters with no losses on their record, appeared in tiptop fighting shape and came ready to fight.   New Haven, Connecticut's native Edwin Soto vs. Hartford, Connecticut's Zack Ramsey.
Ramsey who has a style of fighting with his lowering his left while Soto kept his hands up as a typical fighter. In the earlier rounds both fighters were having good offence and defense with Ramsey clearly winning the earlier rounds and trying to find an opening. At the end of round 3 Ramsey wobbled Soto with a left. At the end of round 8, Soto landed a great right hook on Ramsey. At times Ramsey taunted Soto in the ring.  While Soto changed his stance from Orthodox to Southpaw.  In the end Ramsey was just too quick for Soto.  From what I saw Soto's nose was bloody while Ramsey's right eye was a bit swollen.  After 8 rounds the bout went to the scorecard.  All three judges scored the bout 78-74 for Ramsey.
Zack Ramsey was a true warrior in the ring and increased his perfect record to 6-0-0 and put the first loss on Edwin Soto's record to 9-1-2.  Some in the audience weren't in agreement with the results of the judges.
Immediately after the bout I spoke with Ramsey's second corner man, Alexander Hernandez and he stated, "Zack is too good.  You can't touch him and he only trained 3 weeks for this fight."
Ramsey also won the "Fighter of the Night" award.
Heavyweights Solomon Maye vs. John Desmond.  Looking at Desmond in the ring before the opening bell I thought to myself "This is going to be an interesting bout".  It was scheduled for 4 rounds. Desmond who looked like a lumberjack weighed in at 304 pounds, while Maye weighed in at 234.  Maye even brought some fans with him.  Maye after the opening bell of round 1 and until .37 seconds into the round was in complete control landing punches mostly to the body before referee Danny Schiavone stopped the bout due to the lack of ability of Desmond defending himself.   Desmond looked stunned and confused at the stoppage. Winner Maye by TKO and gets his first win of his pro career.
Welterweights Christian Lao vs. Evincii Dixon.   Round 3 Dixon came out of his corner like a jackrabbit while Lao landed a great right hook on Dixon.  Both fighters fought a tough fight.  Both judges Bill Morande and Clark Sammartino scored the bout 38-38 while judge Don Trella scored it in Lao's favor of 39-37.  The difference was the opening round, which Trella scored in favor of Lao while Morande and Sammartino awarded it to Dixon.  The fight ended up being a majority draw.
Light heavyweights Charles Foster vs. Greg Hackett.  Winner by UD Charles Foster in front of his large fan base.  All three judges scored the bout 40-36.  Foster keeps his winning streak and increases to 5-0.  Heckett decreasesto 2-13-0.
Light middleweights David Wilson vs. Danny Lugo.  Winner by UD David Wilson.  All 3 judges scored the bout 40-36, three times.  Lugo was tough but just wasn't tough enough.
"Showdown At The Sun" was held at Mohegan Sun Casino and promoted by Jimmy Burchfield's Classic Entertainment & Sports.
On hand during the event were pro boxers, Mike "The Machine" Oliver, 2013 CT Boxing Hall of Fame inductee Luigi "Kid Dynamite" Campurato, and mma professional fighter Todd "The hulk" Chattel.
Related Articles: