Categories:
Featured Article
|
Comments Off

on Osumanu Adama vows to claim IBF world title
By Prince Dornu-Leiku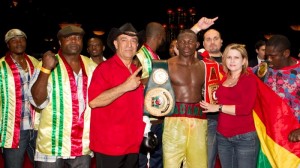 With his life long dream now here, Ghana's Osumanu Adama has sworn to wrestle away the IBF Middleweight title when he fights incumbent champion David Geale on March 7 this year at the Derwent Entertainment Centre, Hobart, Tasmania, Australia.
Adama whose camp failed to get their desired wish for the bout to be moved from Geale's home country of Australia, has vowed to claim the title to fill the current void that Ghana has no boxing world champion.
"I'm ready, I'm fit, I'm training and nothing is going to stop me from winning this title. I am surely going to win this title and fighting him in his hometown will not affect me. This is what I've been waiting for all my life, no way I'm losing it now, no way," Adama nicknamed Machine Gun told Ghana based newspaper ALL SPORTS exclusively from his US base yesterday.
The contract for the fight was signed just a couple of days ago under the auspices of CFC Promotions who handle the Ghanaian boxer.
Adama (20-2, 15 KOs), is therefore calling on his countrymen to support him with their prayers and hopefully on March 7, precisely 6 am when Ghanaians will be just getting out of bed the morning after the nation's independence day, he will defeat Geale (25-1, 15 KOs), to give the nation a new world champion.
"Tell Ghanaians and my fans that they should pray with their support as they do for me always and I thank them for that.
"I'm also grateful to my promoters CFC Promotions for everything they are doing for me and I promise to win for them," Machine Gun has confidently pledged.
Related Articles: