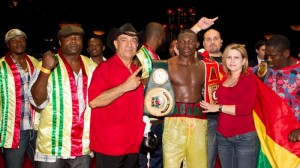 Following last Friday night's 9th round stoppage win over former world champion Roman Karmazin in an IBF Middleweight eliminator, Osumanu Adama has declared a readiness to win all four major world titles in the division.
Osumanu has exclusively told Ghanaian website www.sportsinghana.com from his Chicago base that he is up for the challenge of either of IBF champ Daniel Geale, WBO champ Dmitry Pirog, WBC king Julio Cesar Chavez Jr. or WBA champion Gennady Golovkin.
"Karmazin is a very experienced boxer, it was not an easy fight. But during the 8th and 9th rounds I punished him too much and his corner man threw in the towel. I want all four belts IBF, WBO, WBC and WBA, I deserve these belts because I am the best. Peter Manfredo Jr. (who fights WBC champ Chavez Jr. next month) is running away from us, (NABF champ) Andy Lee is running from us too but they can't run for long," Osumanu nicknamed Machine Gun, said.
When asked about WBC Diamond Middleweight champion Sergio Martinez, Osumanu said, "the easiest one to beat is Sergio Martinez, he puts his hands down like he doesn't respect boxing, and he only fights with people he knows he can beat. This guy if they put me in front of him I will make sure that he thinks twice about boxing ever again."
He also remembers his countrymen even if he is far away from home nowadays. Adama told www.sportsinghana.com: "I thank all Ghanaians for their support and prayers, they helped me to get to the top. I also thank all the Chicago fans for supporting me. My coach Joseph Awinongya gives me the best strategy for beating my opponents. We train hard and win hard.
And if the boxer is very impressed with his coach, then the trainer is also in heaven over the output of Osumanu Adama.  He told SportsInGhana.com: "I was very nervous during this fight but we worked out a good game plan. I told Osumanu to use Karmazin's own style to beat him. We timed every punch, it was truly a chess game. For every punch he threw I told Osumanu to throw the same punch back so we can break him down slowly. One thing about Osumanu, he knows how to adjust to every situation."
Mr. Awinongya, owner of the Will County Boxing Gym where Osumanu trains is also requesting the IBF to straight away sanction a fight between his protégé and champion Daniel Geale. "Now, Osumanu will be ranking #1 in IBF. The IBF champion Daniel Geale knows Osumanu is one tough opponent so he is trying to fight Sergio Martinez. He cannot run away from us," the trainer said.
He is also dreaming of Osumanu Adama replicating what none than the legendary Azumah Nelseon did when he fought a countryman of Daniel Geale's. "When the fight between Daniel Geale and Osumanu Adama happens we will beat him in America and then knock him out in Australia like Azumah Nelson did to Jeff Fenech. This will be something the world wants to see. Azumah will be there cheering Osumanu on as he replays history over again," stated Joseph Awinongya.
Mr. Awinongya also featured in "Dreams," the movie starring himself, Osumanu Adama, Tommy Ford, Vicky Winans, Angie Stone, Geoffrey Owens of the (Cosby Show), Terri Van Martin, Mel Jackson, Lisa Tucker, Albert Mensah, and Syesha Mercado of (American Idol) . See the movie  www.dreamsthemovie.com